Hidden magic of county-level economies
Reform, opening-up transform hinterland, benefiting China and the rest of the world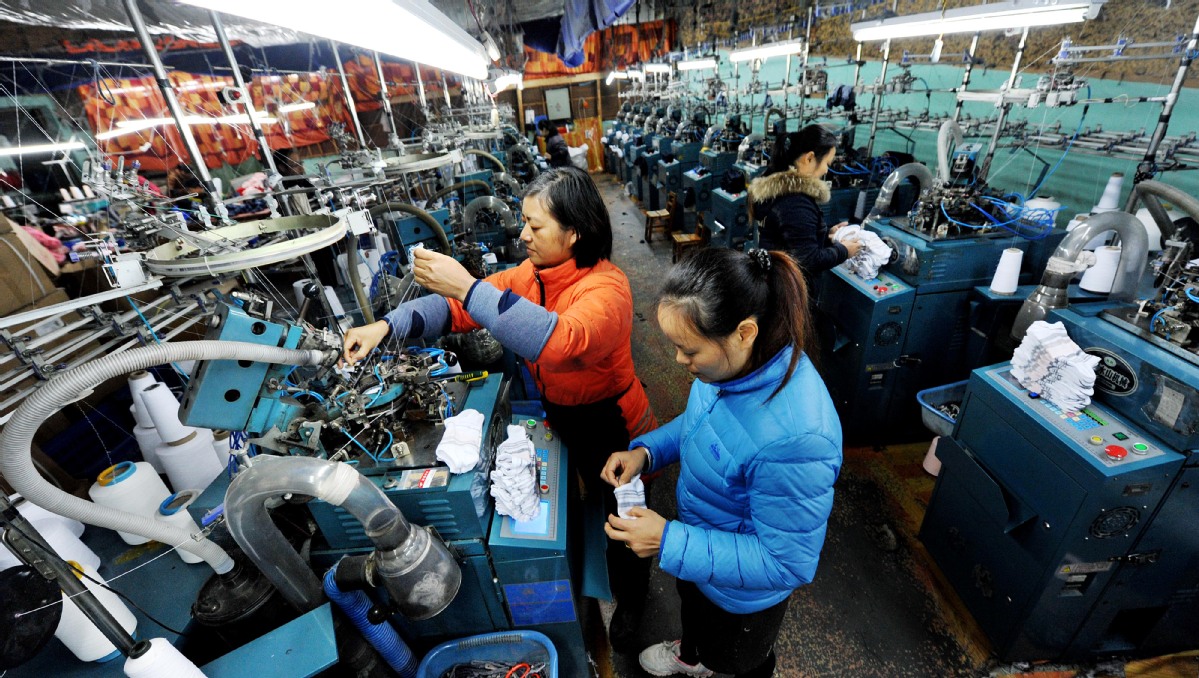 Workers make socks at a production line in Dexing, a county-level city in Jiangxi province. The cotton socks are exported to all parts of the world. [Photo by Huo Zhongwei/For China Daily]
Though it is almost dinner time, Guanyun Midnight Charm Garment Co's warehouse in Guanyun county of East China's Jiangsu province is a beehive of activity. Workers busily print delivery waybills, stuff sensual underwear and various lingerie products into boxes, prepare parcels for dispatch...
The address labels on some parcels bound for the domestic market state the contents inside are garments (or household articles). This is to protect the privacy of the consumers concerned, besides making it easier for both courier firms and their deliverymen to sort various items.
Many parcels are bound for overseas markets as well. Guanyun county's overall daily delivery volume is around 20 million parcels, mainly to countries such as Japan, South Korea, Thailand, the United States, and many others in the European and Middle East Markets.
Once a poor county located in the northern part of Jiangsu province, Guanyun is home to residents and even government leaders who were either shy or reluctant to talk about their popular business a decade ago. Lingerie manufacturing today has replaced agriculture to become the county's pillar industry. It supports over 20,000 jobs for the local community.
Lu Xijuan, director of the e-commerce office at Guanyun county's commerce bureau, said the boom has not only created over 500 lingerie factories with 2 billion yuan ($284 million) in sales revenue last year and 3,045 online shops on Taobao, an e-commerce platform owned by Alibaba Group, but attracted the county's migrant workers back to their hometown to join the business.
This is just one example of how China's reform and opening-up has created a positive impact on not just urban areas but counties and rural areas. Why, even the global supply chain has benefited a lot, said market analysts.
In addition to China's status as the only country in the world to get all the industrial categories listed in the United Nations industrial classification, many unknown areas of China's factory business are hidden in its counties. A large number of China's small and medium-sized enterprises are operating in these areas with various characteristics, said Li Zibin, chairman of the China Association of Small and Medium Enterprises, which is based in Beijing.
"Even though the GDP of many county-level economies is relatively small, they produce a variety of products and they have worldwide influence," he said, noting if one county shuts down its factories, supply shortages may rock the global markets.
A growing number of Chinese counties have emerged as the capital of various goods in the world. For example, Shaodong county of Hunan province exported over 5 billion lighters to global markets last year. Zhuji and Shengzhou, two county-level cities in Zhejiang province, are major suppliers of socks and ties respectively to the world markets.
"Despite many counties not having advantages like natural resources, their compact industrial structures and typical acquaintances across the society are key to the formation of industrial clusters," said Qiao Runling, deputy director of the China Center for Urban Development, which is a part of the National Development and Reform Commission.
Qiao said as long as there is a person or a business to find the road to get prosperous, an entire county or town may decide to tread a brand new economic track.
By the end of 2018, the number of SMEs surpassed 30 million and the number of self-employed industrial and commercial households exceeded 70 million in China, data from the Ministry of Industry and Information Technology showed in September.
These contributed over 50 percent of the country's tax revenue, over 60 percent of the GDP, over 70 percent of technological innovations and more than 80 percent of labor force employment.
Eager to compete with its rivals in Guangdong province in the area of lingerie manufacturing, Guanyun county plans to invest 3.25 billion yuan to build a new industrial zone in its eastern part over the next three years. It has set a goal of creating 80,000 jobs and 5 billion yuan in annual sales revenue in the long run.
Currently, about half of its lingerie products are shipped to the US, according to Lu from Guanyun's commerce bureau. He said unlike Chinese consumers, manufacturers found that the consumers in the US prefer to have lingerie with bright colors and flashy styles.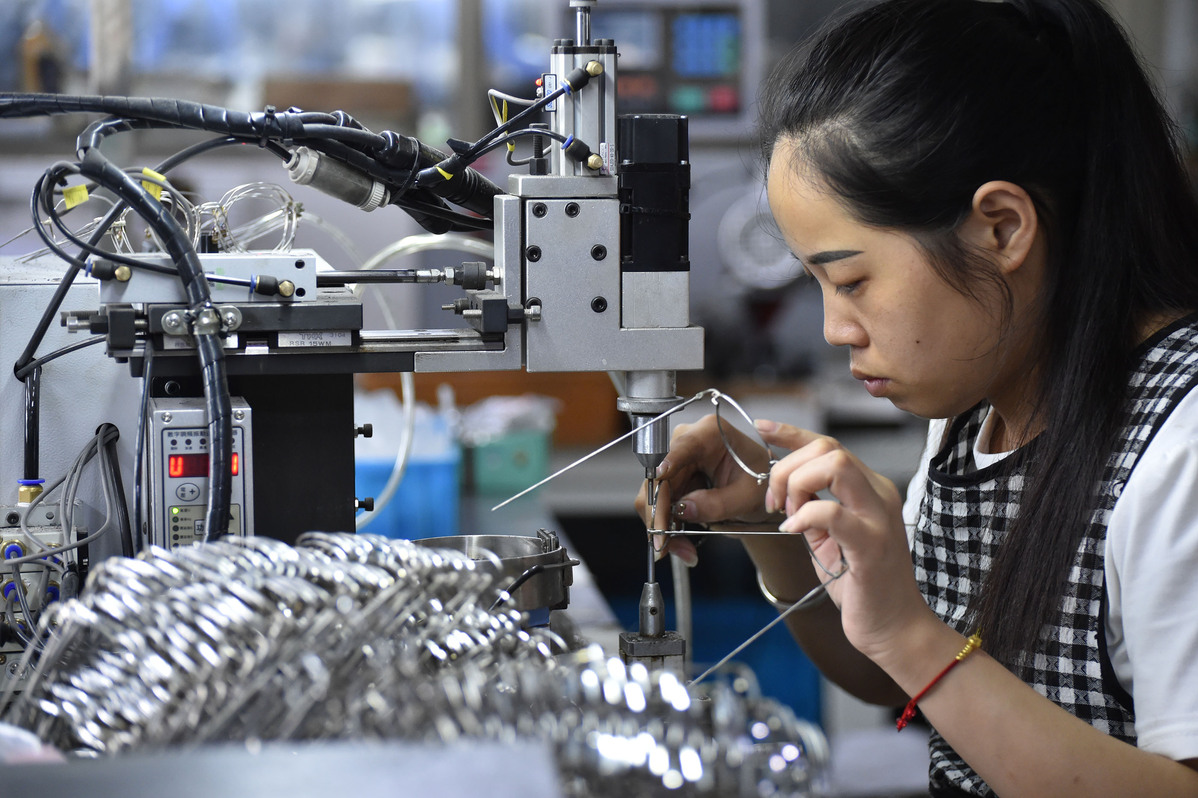 A worker fixes glasses to a spectacle frame at Fangshi Glasses Manufacturing Co Ltd in Ruian, a county-level city in Zhejiang province. [Photo by Pan Haisong/For China Daily]
About 420 kilometers from Guanyun county, workers from Caoxian County Huifengyuan Wooden Products Co are also busy to put pet casket wood and wood coffins engraved with dragons and phoenixes, into the container trucks in Caoxian county in East China's Shandong province. These goods will be shipped to Japan via Weihai Port, another coastal location in Shandong.
Traditionally famous for its timber processing skills in China's northern region, about 70 percent of its coffin products, made by around 2,000 wood processing factories, are exported to Japan annually, which faces a rapidly ageing population. In addition, other related items such as cinerary caskets, memorial tablets and sacrificial altars are also popular in many Asian countries.
This business received a push from China's cremation policy to save valuable farmland and change traditional burials, as well as from trade globalization. However, it still has a place in Japan backed by its accumulated skills in the timber processing business.
"Japanese clients are strict with details, from raw materials to sizes and decorations, or even smells," said Tian Liang, a manager at Dehong Wood Product Co in Caoxian county.
The company currently partners with four listed companies in Japan, and has exported more than 200,000 coffins to the country, with an annual revenue of more than 90 million yuan.
To secure their market share in Japan-the county's biggest overseas market for coffins and related funeral products-many local businesses have also studied their clients' demands relating to coffin weight, carvings, appearance, designs and materials. For instance, they make coffins decorated with sakura elements during the flower's blooming season in Japan.
Huang Qunhui, an industrial economics researcher at the Chinese Academy of Social Sciences in Beijing, said coordinated development in a region relies on county-level economies, which helps bridge the economic coordination among medium-sized and large cities in a region, and helps optimize resource allocation.
"There is no way that a region can develop well if it has weak county-level economies," Huang said.
To boost county-level economies, it is important to devise development strategies based on geographic locations and regional resource advantages, to forge an industry chain that suits the development of the region, instead of blindly copying development models of others and chasing after hot industries, he said.
By June this year, China counted 1,879 county-level economies, including 375 county-level cities and 1,335 counties, according to data from the Ministry of Civil Affairs.
For 15 years now, Kunshan city in Jiangsu province has been topping the list of China's top 100 counties and county-level cities. Its rankings for China's top 100 counties and districts revealed the most economically vibrant county-and district-level regions, the Research Institute of Development Strategy for Small and Medium Cities said in October.
The county-level city of Kunshan has a strong economy with dozens of industrial clusters, and 912 companies, each of which has an annual output value exceeding 100 million yuan.
East China, especially the region's coastal areas, has the largest number (62) of counties making the list.
China's reform and opening-up began with its coastal areas. East China got into global trade and resources allocation earlier than the other regions, and so had the early advantage to attract foreign capital and form industrial chains, said Zhou Mi, a senior researcher at the Chinese Academy of International Trade and Economic Cooperation.
He said many county-level economies' development is still weak in many parts of China, especially in its central and western regions.
So, it is critical to ensure development directions based on geographic locations and regional resource advantages in these regions, to build an industry chain that suits the development of the region, he said. It is not a good idea to copy industrial models of others or to blindly chase after hot industries that demand a large amount of initial investment.
To further ease the burden on SMEs, especially those in the country's western and central regions, the Chinese government introduced a series of tax reforms since 2018. It plans to cut the tax burdens and social insurance contributions of companies by nearly 2 trillion yuan this year.