China steps up measures in cold-chain transportation to contain winter resurgence of COVID-19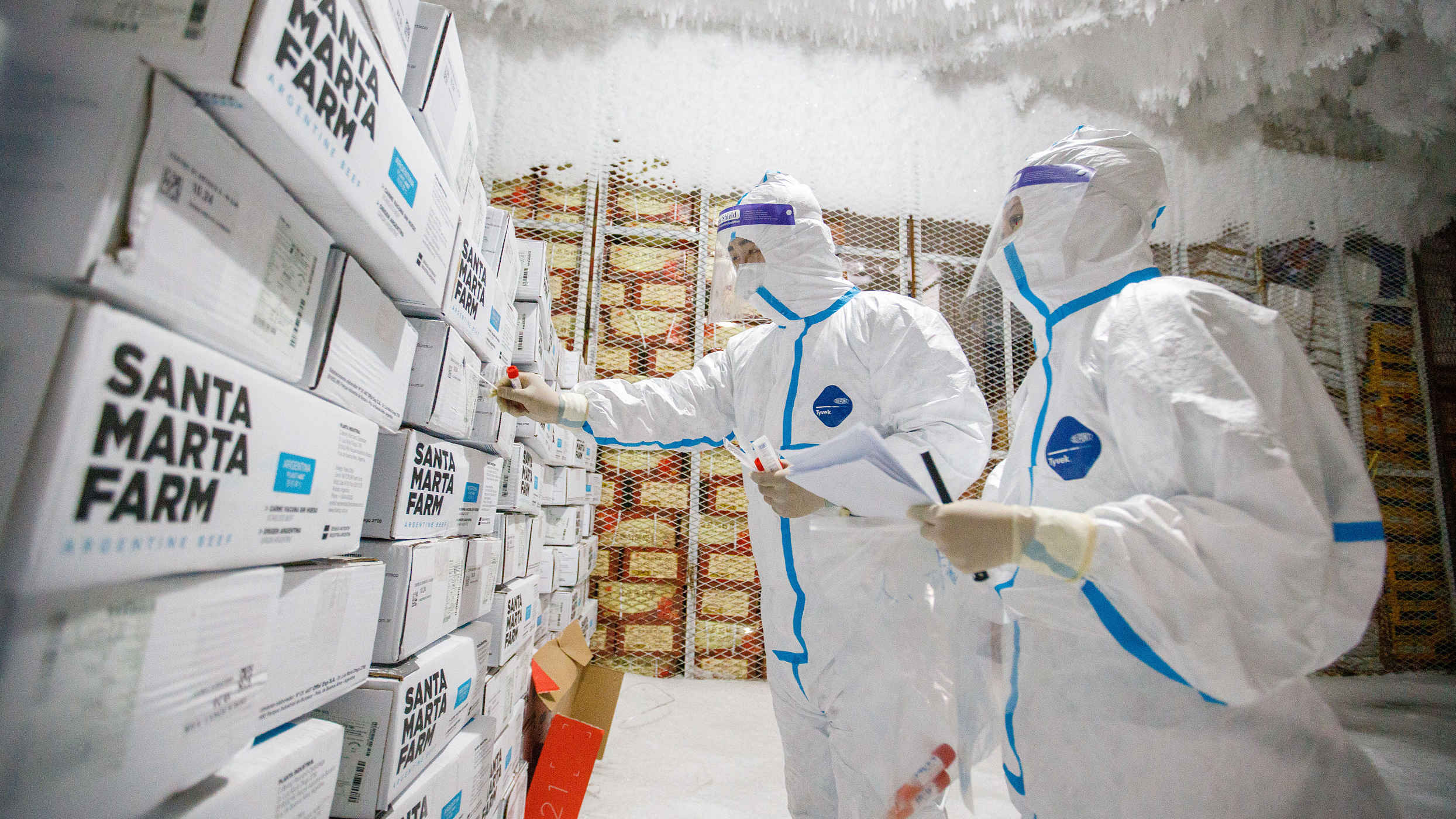 The center of disease control in Wuhan City inspected three samples tested positive for novel coronavirus at a local refrigeration storage on Thursday.
Investigation shows that the samples were among a total of 1,006 boxes of beef weighing 27 tons imported from Brazil. The bunch of beef entered the country via Huangdao customs in Qingdao City, Shandong Province, and arrived Wuhan on August 17. The frozen products have never entered local markets, according to the local CDC.
Wuhan's CDC has launched a series of immediate activities, including sealing off all the products, screening, testing and quarantining all related staff, disinfecting the location, and conducting an epidemiological investigation.
The information was published on the website of Wuhan Municipal Health Commission on Friday, and it was also part of routine inspection as China has recently tightened inspections of imported coronavirus via cold-chain transportation.
Starting in June, several Chinese cities, including Beijing, Dalian, Qingdao and Tianjin, have reported cases related to cold-chain transportation.
On November 9, Chinese authorities issued a new document, requiring thorough disinfection of imported cold-chain productions.
Wu Zunyou, chief epidemiologist at the Chinese Center for Disease Control and Prevention, said in an interview on Tuesday that starting from the outbreak in Xinfadi market of Beijing, experts have paid attention to the potential risks in cold-chain food transportation. China has already included the inspection of the cold-chain transportation into its normalized containment measures.
The State Council held a press conference on Thursday afternoon, introducing the country's tightened measures against potential resurgences during the winter. Cold-chain transportation was among the mainly targeted fields as well.
According to Bi Kexin, head of the Bureau of Import and Export Food Safety of the General Administration of Customs, the Customs has communicated with the departments of 109 countries which has cold-chain food trade with China, urging them to produce, process, store and transport the products in accordance with the instructions of the Food and Agriculture Organization (FAO) and World Health Organization (WHO) of the United Nations (UN).
He added that the Customs has also tightened sampled inspection on the products imported through cold-chain transportation. As of Thursday, a total of 873,475 samples were tested, among which 13 were positive with coronavirus.
Bi said that for the imported products that are tested positive with the virus, the relevant companies would be suspended for one to four weeks for import declaration, as part of the measures.
The State Administration for Market Regulation has also tightened its inspection and containment measures in relation to cold-chain foods. All the foods must remain traceable during the whole process of transportation.
Meanwhile, companies dealing with cold-chain food trades, should require for nucleic acid testing report and disinfection certificate, in order for the products to go on sale.