On the road: Revitalizing energy on Spring Festival travel market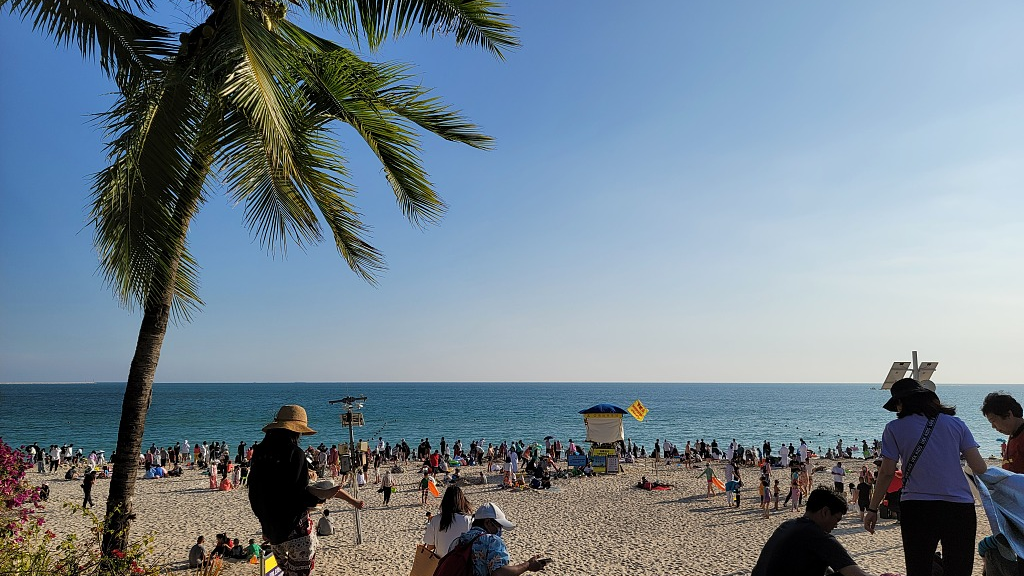 Spring Festival is unleashing China's largest seasonal travel rush, while travel and tourism have become a popular way for many people to spend their Spring Festival holiday in recent years.
China is expected to see a Spring Festival holiday with the largest number of travelers in three years, with soaring domestic tourism and recovering outbound tourism, data from online travel platforms show.
Hottest inbound travel destinations
Tourists prefer to enjoy warmth and sunshine in the country's south or embrace ice and snow in the north. Tourist locations such as Xishuangbanna, Sanya, and Xiamen in the country's south and Changbai Mountains in northeastern Jilin Province are among the most popular during the holiday season, according to the online tourism platform TravelGo.
According to data given by several domestic provinces and cities on Monday, the country's scenic locations attracted a significant number of tourists, demonstrating a robust rebound of the domestic tourism market.
According to the data, on January 22, Dali Bai Autonomous Prefecture received 342,900 tourists, with an increase of 506% year-on-year, and the scenic spots received 143,672 tourists, Dali Bai Autonomous Prefecture culture and Tourism Bureau said on Monday.
Sanya's tourism market has been steadily recovering against the backdrop of the overall recovery of domestic medium-distance and long-distance travel. On January 20, 114,600 people entered and exited Sanya City, up 4.89 percent year on year, while tourism attractions attracted 115,600 tourists, up 62.44 percent year on year, according to the data provided by Sanya Tourism Promotion Board.
Harbin is famous for its rich ice and snow resources. This winter, the city opened three ice and snow-themed parks, debuted 12 ice and snow experience products and ten such tourism routes, and developed more than 100 associated events to boost the growth of winter tourism, culture, fashion, and sports. Up to January 18, a total of 1.612 million passenger trips have been made by the China Railway Harbin Bureau Group Co., Ltd. during this year's Spring Festival travel rush, up 68.8 percent year on year.
Outbound travel market sees recovery
According to data from the United Nations World Tourism Organization (UNWTO), before the outbreak, China was one of the world's leading consumers of outbound tourism.
As China downgraded its management of COVID-19 and facilitated the smooth and orderly cross-border travel of Chinese and foreign nationals in early January, the outbound travel market, which had been almost dormant for the past three years, quickly recovered during the Spring Festival.
On January 20, the Ministry of Culture and Tourism released a circular to revive outbound group travel to 20 countries with friendly entry policies towards China, including Thailand, the Maldives, the United Arab Emirates, Russia, and New Zealand.
Chinese tourists are now more likely to choose overseas destinations with more open and friendly entry policies.
In the past week, the number of Thai visa applicants in China increased by three times compared with last year, while the number of people buying tourism products for Thailand surged by ten times year-on-year, according to data from Alibaba's travel branch Fliggy.
The Maldives welcomed the first direct flight with over 190 Chinese tourists aboard from China last Wednesday with a water cannon salute at the Velana International Airport. In 2019, nearly 300,000 Chinese tourists visited the Maldives, accounting for around 17 percent of total tourist arrivals that year.
The Maldives earlier forecasted 1.8 million tourists for this year, and at least a 10 percent increase is expected from the original forecast as Chinese tourists, who had contributed a lot to the tourism market of the Maldives, are arriving again.
(With input from Xinhua)