China calls for facilitating cross-border movement of people, goods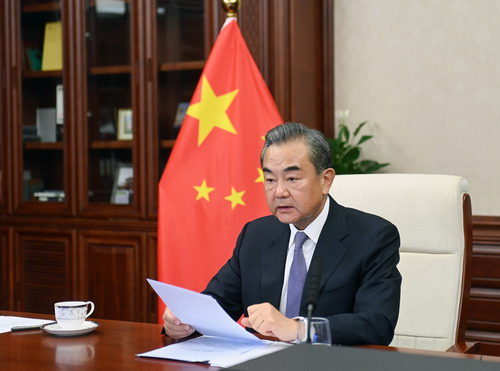 Photo: Chinese State Councilor and Foreign Minister Wang Yi attends a video conference of the Group of 20 (G20) foreign ministers in Beijing, China, September 3, 2020. /Photo via Chinese Foreign Ministry
China is willing to work with all parties to promote an initiative on facilitating the cross-border movement of people and goods, State Councilor and Foreign Minister Wang Yi said Thursday when attending a video conference of the Group of 20 (G20) foreign ministers.
Wang said it was very necessary and timely for the conference to focus on personnel exchanges and border control issues. All parties should gradually and orderly expand personnel exchanges and upgrade the established bilateral channels to multilateral networks under the premise to ensure COVID-19 pandemic prevention.
All parties should strengthen mutual reporting on pandemic information, implement remote nucleic acid testing and mutually recognize test results and health codes.
All parties should also build a "green channel" for goods, improve the efficiency of customs clearance, unclog the supply chains and the industrial chains and explore the feasibility of implementing zero tariffs on important medical materials and products, he said.
"If G20 members can take the initiative and strengthen cooperation in this regard, it will not only help us to restore growth but also play an important leading role in the recovery and reconstruction of the world economy," Wang said.
The G20 members should strengthen cooperation in vaccine development and establish an "anti-pandemic firewall," said Wang, adding that China is actively considering putting forward a proposal on maintaining data security.
The G20 members should enhance cooperation in solidarity, promote vaccine accessibility and affordability, release the potential of the digital economy and increase support for countries that were severely hit by the pandemic, he said.
The conference was chaired by Faisal bin Farhan Al Saud, the foreign minister of Saudi Arabia, which is chairing the G20 this year. Foreign ministers or representatives of G20 members and guests, as well as leaders of relevant international organizations, attended the meeting.
All parties agreed that the pandemic has caused an economic recession and barricaded personnel exchanges and trade in goods. The G20 should act as pioneers and strengthen cooperation to play an important leading role in reducing the impact of the pandemic and restoring the world economy.