Mutually beneficial cooperation cornerstone of China-EU relations: Ambassador
People's Daily
1590969028000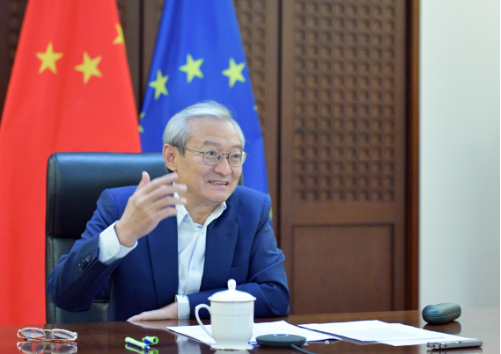 (Photo: Xinhua)
Brussels (People's Daily) - China's Ambassador to the European Union Zhang Ming met with the South China Morning Post on Friday. Zhang said, "China's policy toward Europe is defined by its 'three supports' namely, its support of European integration, a united and stronger EU, and a bigger role by Europe in international affairs."
Recently, the EU celebrated the 70th birthday of the Schuman Declaration. Zhang pointed out that the establishment and growth of the EU are historically significant and inspirational for integration on other continents.
Chinese philosophy holds that with every crisis comes opportunity.
"In such challenging times, complaints only lead to nowhere, and efforts must be made to turn difficulties into opportunities. The history of the EU is a telling example as it has turned every crisis into a development opportunity," Zhang noted.
With Brexit, last year's European Parliament election saw record turnouts. Zhang said, "I have been watching the EU's response to COVID-19. Despite the difficulties and challenges at the beginning, the EU has been able to handle the crisis well and smartly, giving a boost to its integration process and putting its development on a more resilient track."
Zhang also pointed out how China adheres to the Five Principles of Peaceful Co-existence. Non-interference in the internal affairs of others is a basic principle of Chinese diplomacy. China has long followed this diplomatic policy.
There isn't another major country that has been so unequivocal and consistent in expressing the "three supports" toward Europe. European integration remains in China's best interests, along with continued development of China-EU relations.
China-EU relations include every member state, which reinforces rather than undermines specific members. Zhang stressed how China is open to dialogue and cooperation with all players who are committed to growing China-EU relations.
"This contributes to mutual understanding, and the EU's peace, stability and development. Such cooperation is not based on ideological or geopolitical considerations, and therefore, should not be politicized," he added.
Zhang also pointed out that in the past 45 years, since the establishment of formal diplomatic ties, mutually beneficial cooperation has been the cornerstone of China-EU relations, which will never change.
"I have heard voices blaming China who follow a geopolitical agenda and divide Europe. This is nothing but groundless speculation. China has no intention, motivation, nor the capability to divide Europe, not least because a divided Europe would not be in China's interests," Zhang said.