Donations of sanitary products aid women in fight against virus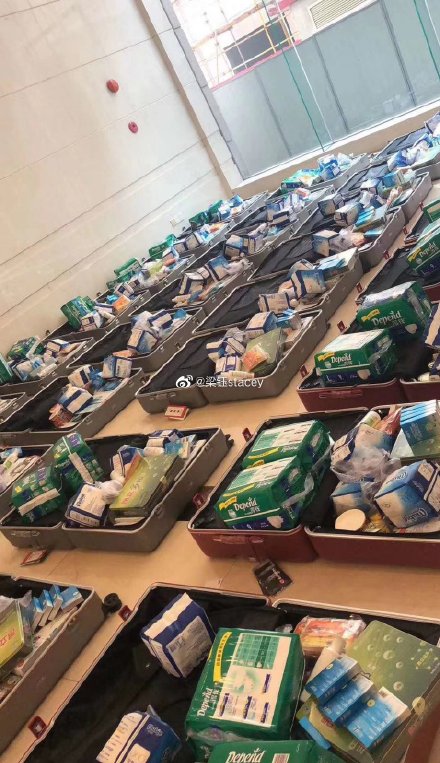 Photo: Sina Weibo
FUZHOU, Feb. 12 (Xinhua) -- Within two days, 32,000 shorts-shaped pads loaded in volunteers' minivans were shipped to 10 hospitals in Wuhan and the neighboring city of Xiaogan in Central China's Hubei Province to aid women fighting the deadly novel coronavirus outbreak there.
The sanitary products, donated by Hengan Group, a sanitary napkin manufacturer based in eastern China's Fujian Province, are part of a campaign to show care and respect for female medical workers and patients on the frontlines.
Since the virus outbreak picked up speed in late January, tons of supplies from home and abroad have been donated and shipped to Hubei to ease the shortage there. However, there was one basic need left unnoticed: sanitary pads.
"Female medical workers here are in dire need of comfortable pads. It is difficult to purchase such products due to the lockdown of Wuhan and other cities," said Lin Jing, a nurse of the first medical team sent from Fujian to Wuhan to aid the epidemic prevention and control there.
On Feb.7, a netizen named "Liang Yu Stacey" on China's twitter-like Weibo launched the campaign "reassurance for sisters fighting the virus," calling to attention women's needs for sanitary pads in Hubei.
The initiative became a trending topic on Weibo, attracting over 53 million views and 51,000 comments. "We understand that there is a shortage of medical supplies in Hubei, but women's basic needs should also be seen, understood and respected," one comment read.
Companies including Hengan and charity groups answered the call quickly and started donating hygiene products to hospitals and aiding medical teams in Hubei.
Chinese company Kingdom Healthcare has donated 28,800 shorts-shaped pads and Purcotton has donated 20,000 pads. Meanwhile, feminine care brands owned by overseas companies including P&G, Kimberly-Clark and Unicharm have donated at least 2,700 boxes in total.
As of 5:00 p.m. Monday, 170,000 shorts-shaped pads and other hygiene products have been sent to 26 hospitals in epidemic-hit cities.
More people are taking action.
Zhejiang Women and Children's Foundation launched a project to raise funds on Weibo to purchase 10,000 such pads, which cost about 705,000 yuan (101,000 U.S. dollars). So far, the project has raised over 116,800 yuan.
Hengan Group is also planning on expanding its donation. The company said it will work with e-commerce platforms and online influencers in various ways including launching an appeal for donations during live stream shows.
Lin was glad that people across the country show growing concerns over their needs in this difficult time.
"We are doing our best to treat and comfort patients, and people are also showing care for us," the veteran nurse said. "It is such a heartwarming surprise."
As of Feb. 9, a total of 11,921 medics across the country have been dispatched to Hubei to join the local medical personnel to fight the virus, according to the National Health Commission. At least half of them are wome