Reopened Wuhan sees over 660,000 inbound and outbound passengers in first week
WUHAN, April 15 (Xinhua) -- The number of inbound and outbound passengers in coronavirus-hit Wuhan has exceeded 660,000 since the megacity lifted outbound travel restrictions on April 8, said local authorities Wednesday.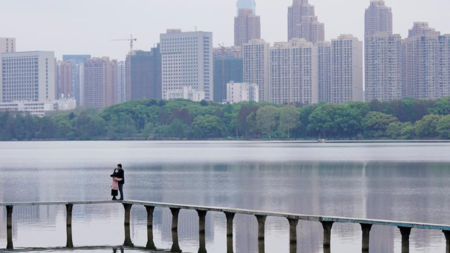 Photo: CGTN
Among the passengers, 325,000 people have entered Wuhan by train, air and bus, while 336,000 people have left. The number of urban public transport passengers has reached 5.08 million, according to the city's transport department.
Over the past week, the city has resumed the operation of railways, airport, highways and parts of public transport lines in an orderly manner, said Liu Ziqing, deputy mayor of Wuhan.
At present, Wuhan has reopened 17 railway stations and all domestic flights except flights to Beijing. The inner provincial services of nine long-distance coach stations have been restored.
Meanwhile, 346 bus routes, seven subway lines and 15,000 taxis have resumed operations, according to local authorities.
The airport in Wuhan has seen 949 flights and the passenger throughput has reached 41,000 trips since the city's lockdown was lifted. The airport has been thoroughly disinfected twice a day, and key areas have been also disinfected every two hours, said Zhou Xueyun, general manager of Hubei Airport Group.
Liu Nanhua, deputy chief of the city's public security bureau, said the city has seen the number of vehicles in transit return to 80 percent of normal levels since April 8.