Hong Kong riots 'secessionist' movement in essence
Global Times
1564941384000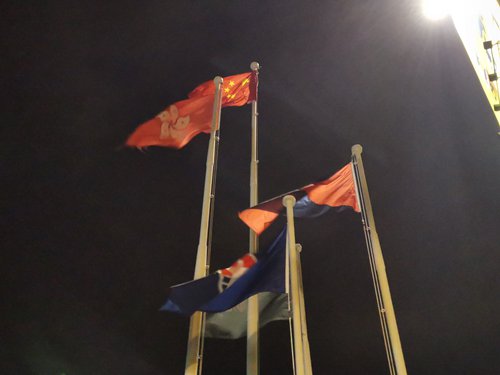 Chinese national flag flies at Hong Kong's Victoria Harbor early Sunday morning, after some protesters on Saturday removed a Chinese national flag from its pole and tossed it into the Harbor in a move clearly aimed at challenging China's sovereignty. (Photo: Global Times)
Protests in Hong Kong hijacked by anti-mainland activists have escalated into riots and disrupted operations of a world financial and trade hub.
Chinese experts said the secessionists trashing "one country, two systems" principle are leading the city nowhere.
Chaos, anger and clashes summed up another weekend in Hong Kong, as a mass rally hit Mong Kok Saturday afternoon, blocking some of the city's busiest shopping districts and causing serious traffic jams.
Black-clad activists prepared supplies such as helmets, umbrellas and steel bars for clashes with the police as the night descended.
The experts said that under the guise of the anti-extradition bill, demonstrations have evolved to not only damage the Hong Kong government and police but also to seriously challenge national sovereignty, an action firmly condemned by Hong Kong people.
After deviating from the police permitted route Saturday, groups of radical protesters headed to the Star Ferry pier and tossed the Chinese national flag into the harbor.
Such behavior is playing with fire, the experts said, as it violates the National Flag and National Emblem Ordinance which states that "a person who desecrates the national flag or national emblem by publicly and willfully burning, mutilating, scrawling on, defiling or trampling on it commits an offense" and is liable to a fine and up to three years' imprisonment.
After throwing the Chinese national flag into the sea at Tsim Sha Tsui on Saturday, separatists held flags with "Hong Kong-independence" at the venue and made speeches promoting separatism. They have shouted "Recover Hong Kong!" and "Recover red lands!" in the last few weeks.
The Global Times reporters have seen elements in LIHKG and Telegram social network platforms advocating secession and opposition forces have turned protests into a secessionist campaign.
Some young protesters have not read the whole extradition bill but only cared about how to provoke the police and escalate the violence.
Their ultimate goal was to capture footage of police enforcing order and then accuse them of using excessive force.
Separatist nature
Illegal activities such as tarnishing the national flag and defacing the emblem prove that these protests using the extradition bill are actually a series of well-planned separatist movements reinforced by foreign forces challenging China's sovereignty over Hong Kong.
The endless violence that has harmed the police and ordinary people laid bare foreign interference, the observers said.
The essence of Hong Kong unrest is a West-led color revolution, several observers told the Global Times in interviews.
Song Luzheng, a research fellow at the China Institute of Fudan University told the Global Times that there is no denying that smearing and insulting the national flag and emblem in Hong Kong has two clear meanings: challenging "one country, two systems" and promoting separatism.
Those radical and violent extremists who challenge China's sovereignty in Hong Kong and spread "Hong Kong-secession" in the city are not just protesters, they are separatists whom need to be cracked down upon with no mercy, Song said.
Both the Hong Kong government and the liaison office of the central government in Hong Kong strongly condemned the flinging of the Chinese national flag.
Challenging sovereignty and "one country, two systems" was absolutely unacceptable, the government said.
Former Hong Kong chief executives condemned the challenging of China's sovereignty in Hong Kong.
There could be no compromise with those who challenge China's sovereignty and damage the city's stability, said former chief executive Tung Chee-hwa.
Leung Chun-ying, another former chief executive and Carrie Lam's predecessor, posted on his Facebook page Saturday that he will offer HK$1 million ($176,000) to any resident who can provide information leading to the arrest of radical protesters who threw the Chinese national flag into the sea.
Secessionism unacceptable
During the demonstrations, some protesters waved the national flags of the UK and the US, and even the colonial flag, which was erected on the podium when they stormed the Legislative Council complex on July 1.
Victor Chan Chi-ho, 33, vice chairman of the Hong Kong Association of Young Commentators, told the Global Times that "the protesters have changed their ordinary purposes already.
Anti-extradition bill is no longer their goal after the Hong Kong government announced the death of the bill which actually responded to the public already."
"Now the situation shows that their real goal is to challenge Beijing, which will definitely harm the national security and sovereignty and it will become a huge disaster for Hong Kong's development."
Some lawmakers from opposition groups have been inciting violence by praising the so-called "warrior spirit" of radical protesters.
"Years ago, when we saw young people gearing up and coming out, many were furious," Claudia Mo, a pro-democracy legislator, was quoted as saying in media reports on Saturday.
"But now everything is changed. Hong Kong people should stand with these young people."
Violence is violence, and Mo, and other pro-democracy lawmakers, are urged to say no to the violence and secessionists, as trashing "one country, two systems" will lead Hong Kong to nowhere.
Cheung Yuen Sum, convener of Hong Kong-based think tank IDEA4HK, told the Global Times on Sunday that through observing these illegal and violent activities, it is not hard to find out that the protests are not peaceful and lawful anymore.
"Fewer and fewer Hong Kong residents still support or show sympathy for these protesters," Cheung said.
Cheung noted the peaceful and reasonable people are now rarely seen at protests, whereas those radical violent people who remain protesting and keep acting illegally are "mostly Hong Kong separatists and anti-mainland extremists."
Tang Fei, a member of the Chinese Association of Hong Kong & Macao Studies, said if demonstrators followed the approved route to voice their opinions and did involve themselves in secessionist activities, they would "draw a fine line with secessionist forces."
"If the opposition forces continue to collude with secessionists, they should be ripped of election rights," Tang said. "If they take part in secessionist activities and at the same time participate in elections, this violates the basic principle of a democratic society ruled by law."
Hong Kong and Taiwan secessionists use "de-Sinicization to curry favor," Tang noted.