Online retailers expand into lower-tier markets
China's next big wave of consumption is likely to occur in the lower-tier cities, as consumers living there put more emphasis on high-quality and imported products, along with improvements in living standards and rising disposable incomes.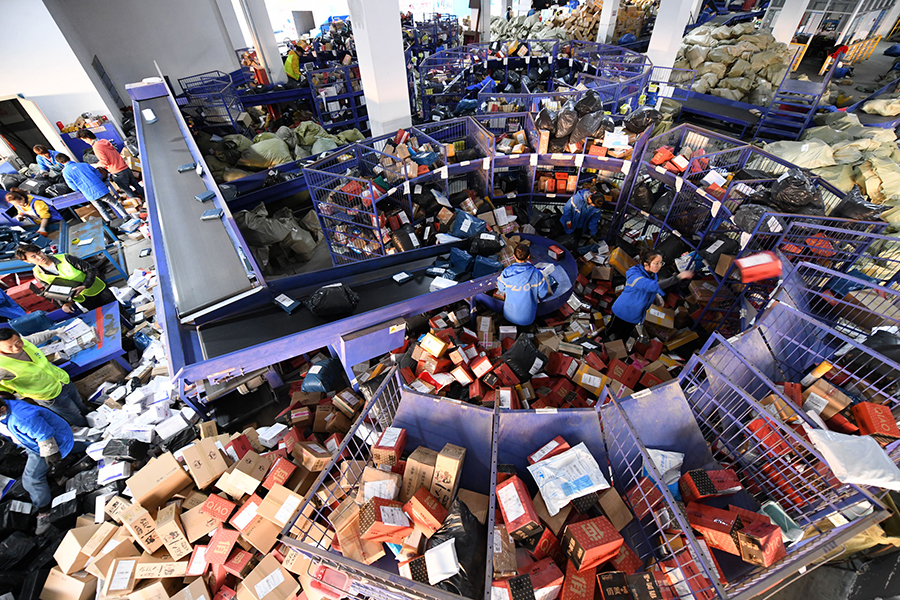 Employees of a logistics company sort packages in Weifang, a third-tier city in Shandong province. (Photo: China Daily)
Major Chinese online retailers are accelerating efforts to expand their presence into the country's lower-tier markets to further unleash consumption potential, partly owing to the flattened growth of online shopping in first-and second-tier cities, said industry insiders.
Chinese e-commerce giant JD said its orders from third-tier cities and below surged 60 percent year-on-year during this year's Singles Day shopping spree from Nov 1 to Nov 11, and more than 70 percent of new users placing orders on JD came from lower-tier cities.
Xu Lei, chief executive officer of JD Retail, said the user growth rate from third-to sixth-tier cities is higher than that from first-and second-tier cities.
JD launched a social e-commerce platform named Jingxi in September, providing coupons and incentives on team purchases to target users.
Shoppers can share an item with friends to gain major discounts, or simply join an ongoing group buying deal on the app. It also offers flash sale deals and goods at bargain prices.
Jingxi is an upgrade from its predecessor JD Pingou, which mostly targets Chinese female consumers and small-city shoppers with low-priced items.
From Oct 31, Jingxi users could access the service through WeChat, Tencent's popular social media platform. Nearly 60 million products were sold on the first day. Female consumers accounted for 62 percent, and the new users from third-to sixth-tier cities made up about 74 percent of the total new users.
In addition, quicker delivery and improved infrastructure have helped to improve the efficiency of transporting goods. JD Logistics, the logistics arm of JD, is beefing up its presence in lower-tier cities to offer fast and efficient delivery services.
"We will continue to open our logistics services to third-party clients and enter more fourth-to sixth-tier cities and townships, where orders can be delivered right to the customers' homes within 24 hours," said JD Logistics CEO Wang Zhenhui, while noting the improvement of logistics efficiency will give a big boost to the wholesale and retailing of its products.
Wang added along with the enhancement of logistics and infrastructure, the consumption in these lower-tier cities will rise further. Moreover, the cost of logistics is also dropping due to the company's fast expansion into these cities, especially the grouping of a large number of third-party orders, he added.
In April, JD spent 1.27 billion yuan ($181 million) to buy a 46 percent stake in Chinese home appliance retailer Five Star, which operates a chain of more than 220 brick-and-mortar stores in China, with its online stores focusing on second-to fourth-tier cities.
The company also announced in July that it will buy a 9 percent stake in Beijing Digital Telecom, better known as Dixintong, which operates more than 3,000 physical stores that sell phones, computers and other consumer electronics in China. This move will expand JD's offline presence across the nation, especially in lower-tier cities.
At present, JD has more than 12,000 JD home appliance stores, over 2,000 exclusive stores and more than 160 computer and digital products stores in smaller cities.
According to global data analytics company Nielsen, there are 953 million people living in third-tier cities and below, far surpassing the 427 million people in the first-and second-tier cities. It shows that smaller cities have huge untapped consumption potential.
The per capita disposable income for China's rural residents continued to grow at a faster pace than that of the country's city dwellers in the first three quarters of 2019, according to the National Bureau of Statistics.
The inflation-adjusted year-on-year growth of per capita disposable income in rural regions was 6.4 percent in the January-September period, compared with 5.4 percent for urban areas.
"With continuing urbanization, development of industry, and strong employment policies, consumers in smaller cities are becoming more affluent. At the same time, these lower-tier cities are growing in importance for retailers and manufacturers looking for China's next wave of growth," said Andy Zhao, president of Nielsen China.
Zhao added that they see strong consumer willingness to spend and high demand for quality of life products and services. This is both an opportunity and a challenge for retailers and manufacturers.
Online discounter Pinduoduo Inc has already gained a foothold in the lower-tier markets. It offers users deeper discounts on mostly generic products if they buy in groups, and encourages them to share purchases through messaging app WeChat.
E-commerce behemoth Alibaba Group Holding Ltd is banking on Juhuasuan, its group-buying and flash-sale online platform, in an attempt to grab more market share in lower-tier cities and towns across the country.
In September, Alibaba held a Super Bargain Day starting from Sept 1, offering as much as 50 percent discounts on more than 1 million products, coupons and incentives. More than 28 million orders were placed during the 10-day event, surging 500 percent compared with the same period last year.
Liu Bo, general manager of Juhuasuan, said it has seen massive growth in lower-tier cities, which is an engine of future growth.
"Some brands at Juhuasuan have witnessed sales growth from fourth-to sixth-tier cities that is three times higher than that from first-and second-tier cities since last year," said Chen Hao, general manager of Juhuasuan's brand operation department.
Furthermore, Juhuasuan announced new strategies to further increase traffic to the website. It aims to help foster as many as 100,000 brands, create 1 million sought-after items and nurture 10,000 digital platforms. It also plans to build new supply centers in lower-tier cities aimed at connecting farmers and manufacturers with online merchants.
In the quarter ended June 30, Alibaba reported that 70 percent of its new annual active users came from less developed areas across the nation.
Chinese commercial giant Suning.com Co Ltd has accelerated the expansion of its brick-and-mortar stores in lower-tier cities. It has opened more than 4,400 cloud stores across 31 provinces, municipalities and autonomous regions in the country.
Zhang Jindong, chairman of Suning, said the lower-tier cities and towns are a huge blue sea market, which has become a new track for various industries, and is ushering in the best period of entrepreneurship.
Suning has also established about 1,000 customer service centers, which provide the distribution, installation, cleaning, maintenance and recycling of home appliances in counties and towns. This figure is expected to reach 1,500 by the end of this year, covering more than 95 percent of counties and towns in China.
Chen Tao, a senior analyst from market consultancy Analysis, said people in smaller cities and towns are seeking high-end products, along with the rising e-commerce penetration rate in these lower-tier cities.
Cao Lei, director of the China E-Commerce Research Center, said e-commerce players are seeking new growth points from smaller cities and below this year, as online shopping in major cities is slowing down.
"Not only for social e-commerce platforms, but also for comprehensive online marketplaces like Taobao and JD, the third-to fifth-tier cities and rural areas have become a new source of new customers," Cao added.