Nine regions in China launch survey of coronavirus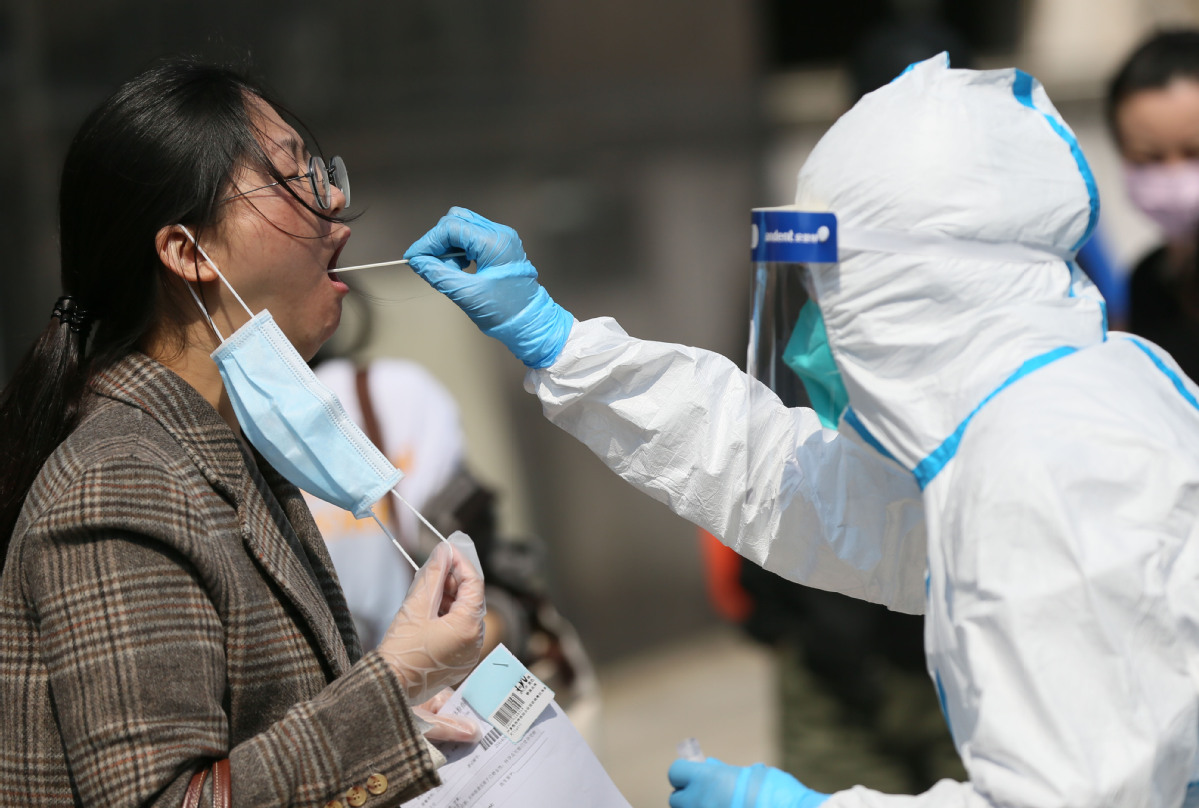 Health workers in Wuhan carry out physical examinations for employees at a company who return to work on April 9, 2020. (Photo by Zhou Guoqiang/for chinadaily.com.cn)
Checks for asymptomatic people and immunity levels aid anti-virus efforts
China has launched a major epidemiological survey of the novel coronavirus in nine provincial-level regions, including hardest-hit Hubei and its provincial capital Wuhan, in order to evaluate the scale of asymptomatic infections and immunity levels across the population, and thus assist in the facilitation of upcoming epidemic-control measures.
On Tuesday in Wuhan, lines began forming at a sports stadium in Jiangxia district, where workers collected blood samples and throat swabs from residents who were randomly selected from local communities to take part in the survey.
Nucleic acid tests using throat swabs will reveal asymptomatic infections, and tests for antibodies in blood samples are expected to help researchers determine if a person has been infected or if an immune response has been generated.
"The goal is to understand the antibody levels in communities and provide scientific evidence for future adjustments in strategies to control the epidemic," Ding Gangqiang, head of the Chinese Center for Disease Control and Prevention's National Institute for Nutrition and Health, said on Tuesday. He is also in charge of epidemiological research in Wuhan.
Ding added that the testing program will facilitate the detection of asymptomatic cases-people who are infected but show no symptoms-which is among the chief concerns of epidemic-control authorities guarding against a fresh wave of infections.
"The survey is of great urgency and significance, and its results will enable us to take targeted prevention and control measures after we completely prevail over the disease," he said.
Other regions that are involved in the survey are Beijing, Shanghai and Chongqing municipalities as well as Liaoning, Jiangsu, Zhejiang, Guangdong and Sichuan provinces.
Wuhan will enroll 11,000 of its 11 million residents in the survey. The sample collection procedure, starting on Tuesday, is expected to be completed by Thursday, according to the local government.
Survey participants-the majority of them regular residents, along with a small number of virus control workers such as security guards, taxi drivers and volunteers-come from 100 different communities across the city's 13 districts. The population and the tally of infections in each district are taken into consideration to determine each area's sample size.
A 72-year-old resident surnamed Yu said his entire family of six was selected for the survey.
"I was informed of the testing on Sunday, and the whole process on Tuesday took about 15 minutes," he said. "Because some asymptomatic cases have emerged recently, I believe that such tests are beneficial for myself, my family and the entire society."
Ding, from the China CDC, added that an education campaign is also being rolled out in tandem with the sample collection to help spread awareness about disease prevention and control knowledge.
Although China has basically blocked the local transmission of the virus, medical experts have warned that much remains unknown about the novel coronavirus and that the task of fending off a new surge of cases remains daunting.
On Monday, the leading group of the Communist Party of China Central Committee on coping with the epidemic also stressed during a meeting that swiftly expanding testing will not only reassure the public but also help bolster the resumption of work nationwide.