Be the first to know: New highlights of the 2nd China International Import Expo
People's Daily app
1564064589000
Shanghai (People's Daily) - The second China International Import Expo (CIIE) is about 100 days away. A variety of departments and enterprises in the host city Shanghai are gearing up for an expo with more attractions and a larger scale.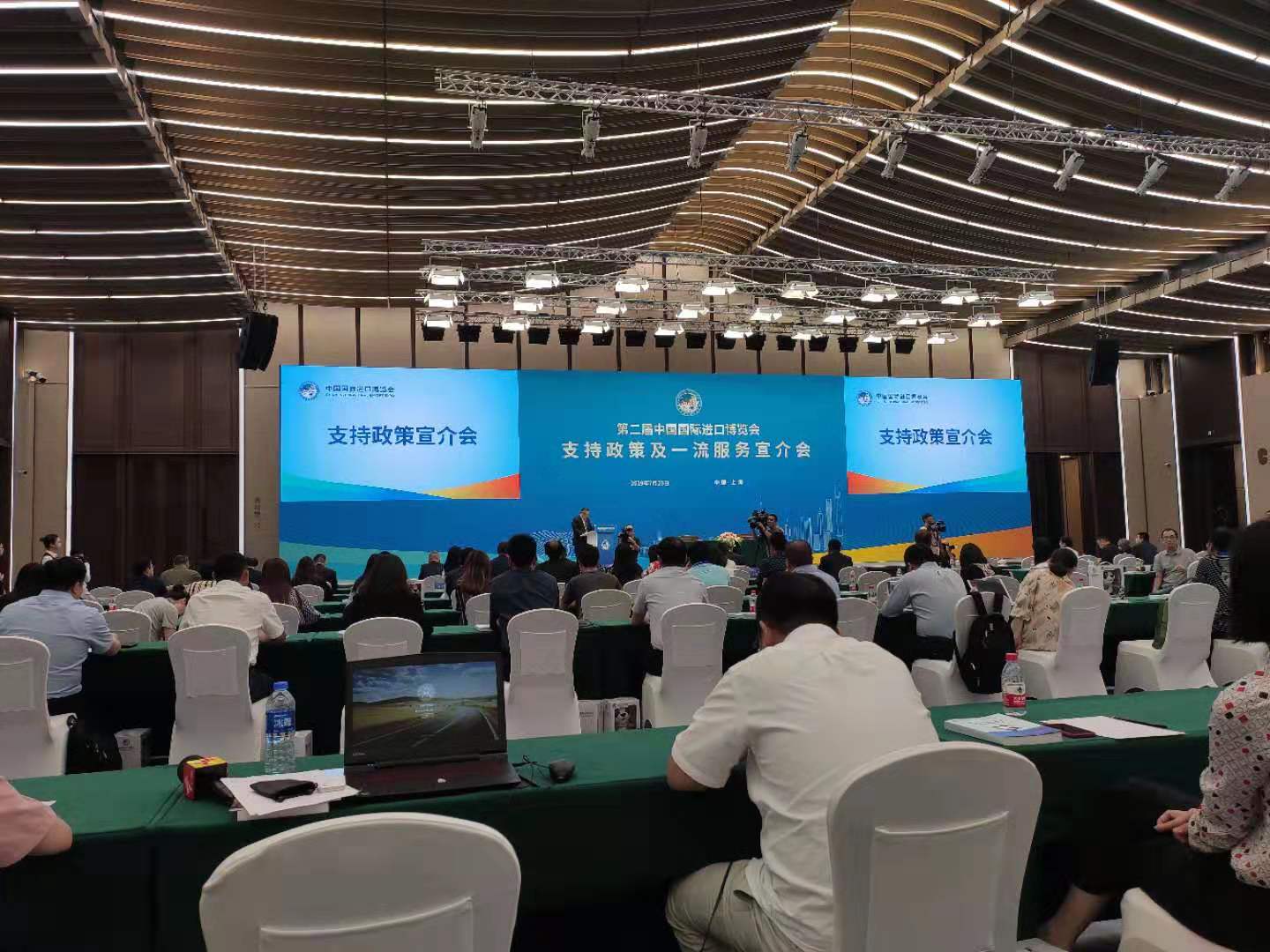 A meeting is held at the National Exhibition and Convention Center in Shanghai on July 25 to introduce the supporting policies and highlights of the 2nd China International Import Expo. (Photo: Huang Jingjing/People's Daily app)
In addition to hosting more exhibitors, the expo, a major initiative of China to widen market access to the rest of the world, is expected to see more new elements, such as self-driving cars using a 5G network, cultural performances, and smart robots, according to Fang Hui, general manager of the operations department of the National Exhibition and Convention Center (Shanghai), where the expo is held.
There will be more service stands, consulting points, and shuttle buses. The exhibitors will need less time to get related licenses, and the food supply capability during peak times will be upgraded by 15 percent, Fang said on Thursday at a conference held in Shanghai to mark the 100 days countdown to the second CIIE.
He also revealed several new highlights of the upcoming expo. Let's get a glimpse of some in advance.
Special zone for debut of high-tech products
The expo plans to set up a zone in the north for exhibitors to display their new products and technologies, comprehensively presenting the world's most cutting-edge and representative products and services.
Autonomous driving zones using a 5G network
A venue of 20,000 square meters will be set up for the autonomous driving experience. The world's top autonomous driving enterprises will gather and demonstrate their latest achievements that are fully integrated with 5G technology.
Jinbao Robot
Customized intelligent machines in shape of Jinbao, the mascot for the expo, will be featured at the expo. The machines can provide help with greetings, answer questions in two languages, give directions, and check tickets.
Central square stage
A stage will be set in the center of the plaza, where cultural activities and performances from participating countries will be shown, in an effort to enhance cultural exchanges and present the cultural diversity among participating nations and regions.
Intangible cultural heritage zones
A special zone to present Chinese intangible cultural heritage will be set up. Through displays, performances and interaction, the zone is expected to be a platform to promote national culture. So far, several provincial delegations have applied to participate, showcasing making of Shaoxing wine from Zhejiang, and Dezhuang hotpot from Chongqing. Yueju opera from Zhejiang, one of the most popular forms of Chinese opera, is also expected to be performed on the central stage.
New garbage bins
More than 2,000 240-liter garbage bins will be placed in the exhibition center, and a team of more than 30 people will be organized to transport the waste. In addition, a group of waste sorting supervisors have been trained to ensure all the waste be correctly sorted and recycled.