Festive mood prevails in Macao for anniversary day
MACAO, Dec. 18 (Xinhua) - Strolling around the Macao Special Administrative Region (SAR), tourists and local residents could easily enjoy a festive atmosphere these days, as Macao is fully prepared to celebrate the 20th anniversary of its return to the motherland.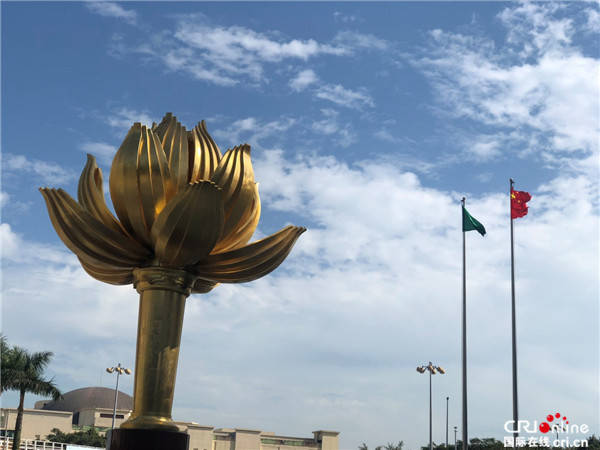 (Photo: CRI)
Macao's main buildings were decorated with colorful light installations. Red national flags and green regional flags flew high in the wind along the streets. Signs of Chinese and Portuguese which read "celebrating the 20th anniversary of Macao's return to the motherland" were also displayed on the lamp posts along main streets.
Wong Fung, a resident who runs a candy store near the Ruins of St. Paul's complex, one of Macao's best-known landmarks, told reporters that she was excited at the high-profile return celebrations.
"Macao people love the motherland, and hope Macao could become better," she said.
At the Golden Lotus Square, a tourist surnamed Li asked her husband to take several photos of her before a grand golden lotus sculpture, which was presented by the central government to the Macao SAR in 1999.
The couple said they were impressed by Macao during their first trip to the region. "The streets are clean and vehicles give way to pedestrians crossing the street. The residents treat tourists warmly and friendly, and you can feel their happiness," they said.
"Everywhere you go, you can see festive decorations. As Chinese, we are certainly glad to see how well Macao has developed over the past 20 years," they said.
Inside the Macao Tower, the festive slogan of "celebrate the 20th anniversary of Macao's return to the motherland" and the national and regional flags were displayed on the large screen.
Yang Xuan, a senior high school student, said that his school has organized activities such as watching movies and raising the national flag to let students know more about Macao's achievements since its return.
The general post office of Macao will issue stamps marking the return anniversary Friday. A sports and art performance will also be held on the same day.