China contributes to global fight against COVID-19
HANGZHOU, March 12 (Xinhua) -- As cases of the novel coronavirus disease (COVID-19) are trending downward in China, other countries now have a major battle on their hands.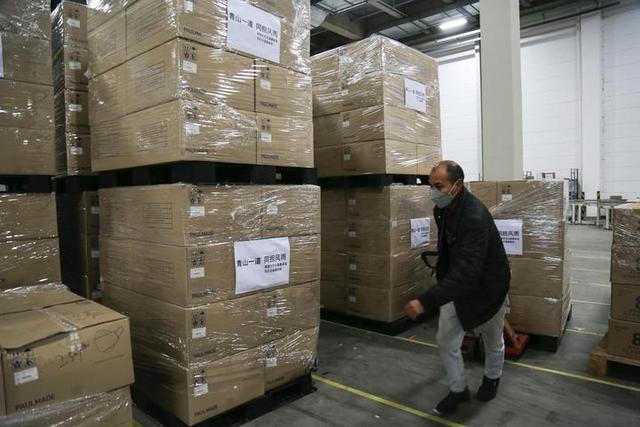 Photo: Agencies
According to the World Health Organization (WHO), over 110 countries and regions had reported 118,326 confirmed cases of COVID-19 as of Wednesday, including 37,371 cases outside China.
When the COVID-19 outbreak began in China, goodwill offers of support and medical supplies from foreign countries, international organizations and people around the world poured in to help the country combat the epidemic.
Now China is returning the favor.
CONTINUED GOVERNMENT SUPPORT
China has been joining hands with the world to fight COVID-19 by donating medical supplies as well as sharing information and experience, among others.
Starting March 3, the Chinese Foreign Ministry, the National Health Commission and the Red Cross have held video conferences with health experts and government officials from Azerbaijan, Belarus, Georgia, Moldova, Armenia, Turkmenistan, Italy, and 10 Pacific island countries to share China's anti-epidemic experience.
China has published seven guidelines on COVID-19 diagnosis and treatment and six guidelines on prevention and control, all of which have been translated into multiple foreign languages.
According to the National Health Commission, China has so far shared such epidemic prevention and treatment guidelines with more than 100 countries and over 10 international and regional organizations around the world.
More than 20 technical exchanges have been held between China and those countries and organizations through teleconferences and other means to share China's anti-epidemic experiences in a timely manner.
Meanwhile, since March 7, China has sent a number of teams consisting of voluntary medical experts to Iran, Iraq, and Italy to support local epidemic prevention and control.
China has also provided some countries with detection kits and donated anti-epidemic supplies through the Red Cross and other channels.
As of March 11, the Chinese government has donated 1.1 million masks and other medical materials to the Republic of Korea, a batch of detection kits, 5,000 sets of protective suits and 100,000 masks to Japan, and 5,000 detection kits and 250,000 masks to Iran, as well as 12,000 detection kits to Pakistan.
While holding a phone talk on March 10 with Italian Foreign Minister Luigi Di Maio, Chinese State Councilor and Foreign Minister Wang Yi said that even though China still needs a large amount of medical supplies, China, despite its difficulties, stands ready to provide Italy with medical supplies and accelerate the export of supplies and equipment to meet Italy's urgent need.
"With openness, transparency and a high sense of responsibility for global public health security and people's well-being, we will continue information-sharing with the international community," Foreign Ministry spokesperson Geng Shuang told a news briefing Wednesday. "We would like to collaborate with other countries in medicines, vaccines and testing reagents, contributing China's wisdom and proposals to securing an early global victory over the virus."
GOODWILL GESTURES OF CHINESE PEOPLE
A cargo plane loaded with 3.86 million pieces of disposable masks, N95 respirators, goggles, latex gloves, and other protective clothing left east China's Zhejiang Province for Italy Wednesday to help overseas Chinese in Italy fight the novel coronavirus.
"Since the outbreak, overseas Chinese of Zhejiang origin have tried every means to purchase epidemic prevention materials and support their hometown to fight the epidemic," said Zhang Weiren, vice-chairman of the Zhejiang Federation of Returned Overseas Chinese. "Overseas Chinese are now in difficulty, and their relatives in the motherland should give them the utmost support."
While holding a phone talk with Chinese Foreign Minister Wang Yi Tuesday, Italian Foreign Minister Luigi Di Maio said that the overseas Chinese living in Italy have played an active role in the fight against the epidemic, and Italy will continue to take full care of their health and safety.
On March 4, experts from Wuhan Tongji Hospital shared with doctors from Nicuarda Hospital in Milan, Italy, the experience of treating COVID-19 patients in Wuhan via video conference.
In the over one-hour exchange, Wuhan experts shared in detail the key points of prevention and control, the protective measures of medics and the Tongji treatment plan for patients.
In the meantime, Chinese non-governmental organizations are moving to help hard-hit regions across the world combat the epidemic.
The Alibaba Foundation and Jack Ma Foundation have donated millions of masks and other medical supplies to hard-hit countries such as Japan, the Republic of Korea, and Iran.
"We have received tremendous help from many countries over the past month when we were in urgent need of supplies," said Jack Ma, founder of Alibaba in an open letter. "We've just been through this, and we know what we should do at the very moment."
On Wednesday, Ma said on the Chinese social media platform of Weibo that the two foundations will donate another 1.8 million masks and 100,000 testing reagents to Italy, Spain and some other European countries that have seen rising cases of COVID-19.
"It's lucky that our eWTP smart logistics hub at Liege Airport, Belgium, still operates well at this difficult time. More medical supplies can get to where people need them the most through this lifeline," Ma said.
Jack Ma Foundation has also allocated a scientific research fund of 100 million yuan (about 14.29 million U.S. dollars) to support Chinese and overseas research institutes to expedite the creation of a vaccine against COVID-19.
Alibaba Group announced that free access would be offered to its artificial intelligence computing power for public research institutions around the world to develop COVID-19 vaccines and new drugs.
ONLINE EFFORTS
As COVID-19 cases continue to rise and spread around the world, China is also gearing up to offer online help for overseas Chinese.
Chinese embassies in Italy and Japan have opened free online medical consultation services at Alibaba Health to assist overseas Chinese.
East China's Zhejiang Province is home to over 2 million overseas Chinese all over the world, half of whom are in European countries.
On March 10, the internet hospital platform of Zhejiang launched health consultation services for overseas Chinese. Nearly 70 hospitals at the platform provide services for overseas Chinese in hard-hit countries, including psychological counseling assistance.
Zhejiang has also launched such services on China's social media platforms. Wencheng County has set up 24 WeChat groups to provide health consultation services to more than 10,000 overseas Chinese.
Chinese medical doctors have also reached out to help overseas Chinese that are stranded in European countries through WeChat counseling.
Zhao Hong, a doctor at the Second Hospital of Anhui Medical University in east China's Anhui Province, was invited to a WeChat group consisting of overseas Chinese from Anhui by her husband, who currently works at Anhui Federation of Returned Overseas Chinese.
"My husband asked me to share knowledge of the virus with and offer counseling to the stressed-out overseas Chinese who are trapped in Italy due to the epidemic," said Zhao.
After a brief self-introduction, Zhao spent two hours explaining the symptoms and course of the disease as well as the prevention and control measures. Despite the 7-hour time difference between China and Italy, Zhao answered everyone's question in the group with patience.
"Thank you so much for your information. It really reassured us," said a member of the group.
Zhao has been invited to two more WeChat groups composed of Chinese nationals in Belgium, continuing her spreading of virus-related information.