Xi's letter inspires more modern Lei Fengs
People's Daily app
1565088226000
"I carefully unfolded the letter, and in the morning light I read it word by word to all the members of the team. All the members hugged and high-fived each other, and cheered," Guo Mingyi said, recalling the moment when they received a letter of reply from Chinese President Xi Jinping on March 5, 2014.

Guo, 60, from Anshan, Northeast China's Liaoning Province, who is widely known as a "modern Lei Feng" for helping those in need, set up the Guo Mingyi Volunteer Group in 2009, dedicated to charity undertakings.
Lei Feng, a PLA soldier who died in 1962 at the age of 21, has been hailed for decades as a role model for his generosity and altruism.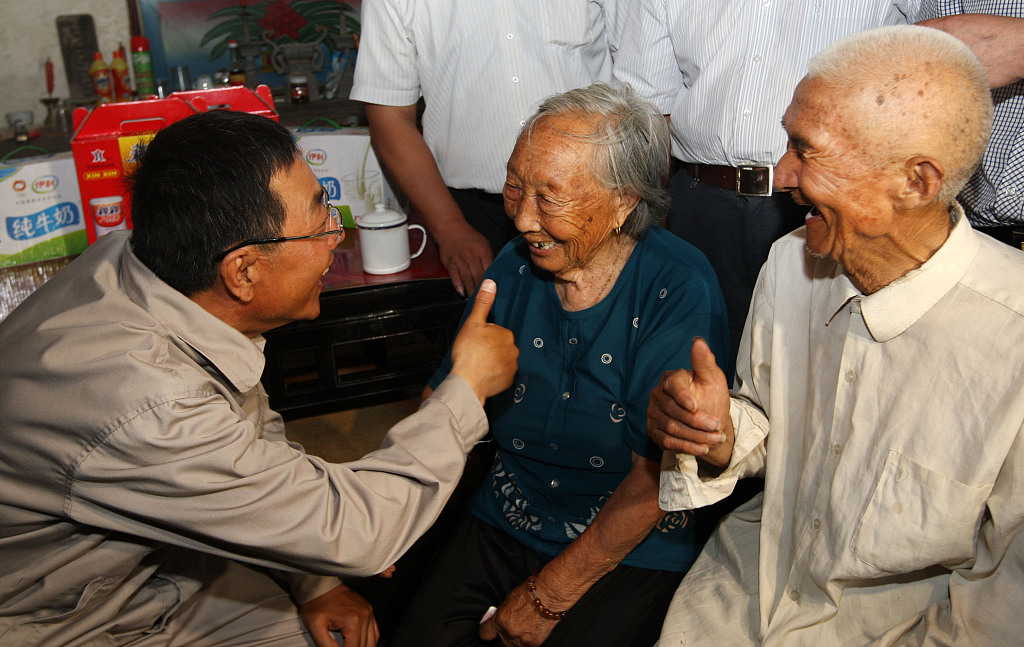 Guo Mingyi visits an old couple they have helped in Rugao, East China's Jiangsu Province, on July 20, 2013. (File Photo: VCG)
In February 2014, the Guo Mingyi Volunteer Group members jointly wrote a letter to Xi, in response to his call to promote the Lei Feng spirit and be ready to help others.
"I am very pleased to know that you are following Guo Mingyi to learn from Lei Feng, to warm people in need of help with love, and to promote serving society, helping others and being passionate in your job. I hereby express the high respect to you, to volunteers and warm-hearted people nationwide!" Xi wrote back one month later.
"I hope you will ... write the stories of Lei Feng in the new era with actions so as to make contributions to realizing the Chinese dream," Xi added.
1,300 love teams
"When there's heavy rain outside, there's light rain inside," 79-year-old Li Fuchun, who is now living in a new house, recalled living in his old shabby stone house. "The wind could squeeze in from every direction."
Li was from a registered family on the government's poverty alleviation list in a village from Huludao, Liaoning. A few years ago, his wife underwent brain tumor surgery, which placed the family in hundreds of thousands of yuan in debt, and the couple had been living in a ratty house.
In 2017, volunteers from Guo Mingyi Volunteer Group came to the village and found that the houses of many impoverished families were dilapidated. They soon set up special voluntary services, helping poor families like Li rebuild their homes.
In Jianchang County, Guo visited poor families one by one. Moved by his spirit, 195 charity branches have set up in Huludao. Together with the Guo Mingyi Volunteer Group, they have donated a total of 3.57 million yuan ($507,000) and helped 146 households rebuild their homes.
In addition, they helped those in poverty in other ways, such as building vegetable greenhouses.
Besides Liaoning, volunteers from Guo Mingyi's poverty alleviation team have set foot in remote villages in more than 10 other provincial regions, including Sichuan, Yunnan and Guizhou.
So far, a total of 1,300 charity teams named after Guo Mingyi have been set up nationwide, and they have donated over 29 million yuan in helping more than 4,900 poor families.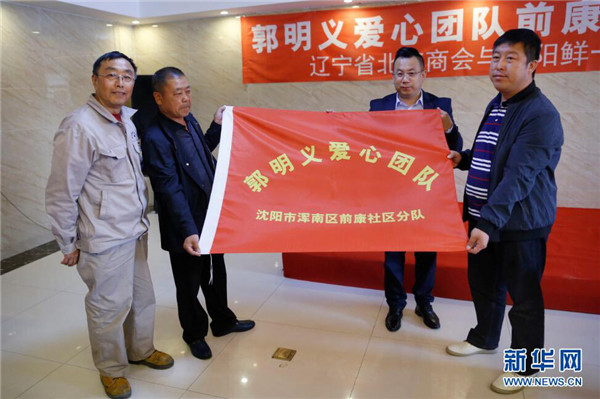 A volunteer group named after Guo Mingyi (L) is established at Qiankang residential community, Shenyang, Liaoning, on May 23, 2018. (Photo: Xinhua)
Pass love on
Many beneficiaries from Guo Mingyi and his charity teams have become volunteers. Shi Hongyan is one of them.
A couple of years ago, with donations initiated by Guo Mingyi Volunteer Group, her daughter, a college freshman who needed a kidney transplant due to uremia, underwent surgery and finished college. To support post-surgery recovery fees, the volunteers also helped Shi build a wonton restaurant.
After that, Shi and her daughter joined the group. Aside from caring for uremia patients and the disabled, Shi insists on providing old and lonely people breakfast for free, and free hot water and discounted meals for sanitation workers.
"Xi's letter has strengthened my family's confidence in participating in public service and inspired society to help each other," Shi's daughter Yuhan told People's Daily.
Fu Lina, a worker at Ansteel mining company, is also a member of the Guo Mingyi Volunteer Group. In March, she donated 400 milliliters of hematopoietic stem cells.
"Xi's letter praised the great love. My hematopoietic stem cells can save a life. What could be more valuable than this?" Fu said.
Zheng Chuandong, whose daughter survived leukemia after treatment with social donations including Guo's charity group in 2010, has voluntarily given up minimum living allowance granted by the government.
"We now can live on our own. The allowances should be spent on people who need it more," Zheng said.
There's a popular saying that "The rose is in her hand, the flavor in mine." Since 2014, the volunteers under charity teams named after Guo Mingyi totaled more than 2.3 million.
"Every request for help is a piece of trust," Guo said. "The general secretary's letter is both an encouragement and an inspiration. Our responsibility is to fulfill his requirements and make learning from the spirit of Lei Feng the common practice in the motherland."
(The original report was published on the front page of People's Daily on August 4; Compiled by Huang Jingjing)