China slams US for slander at UNGA: FM spokesperson
People's Daily app
1600842716000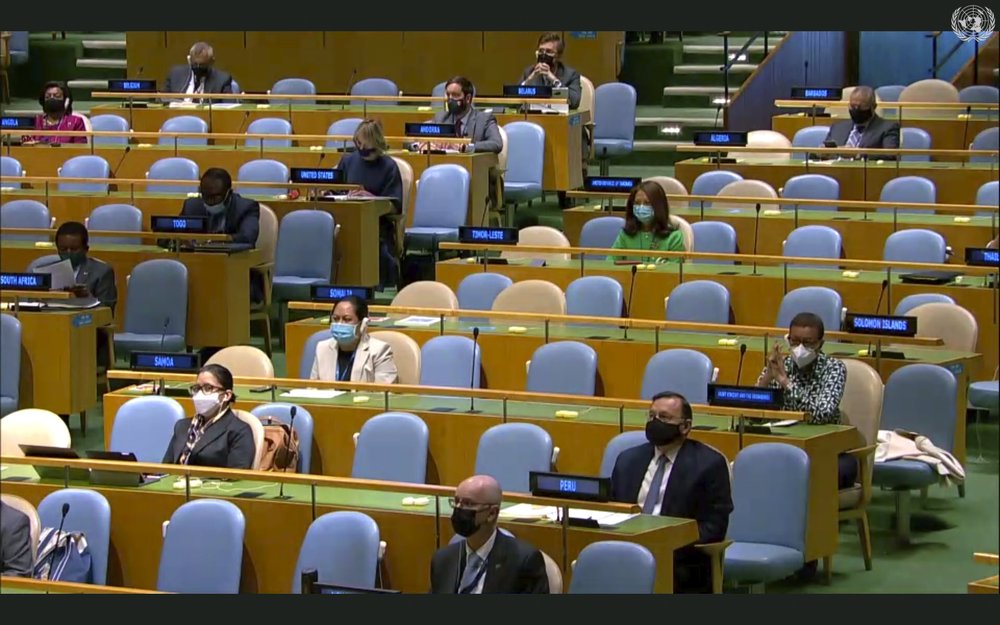 In this image made from UNTV video, representatives of different countries seated several seats apart listen to speakers during during the 75th session of the United Nations General Assembly, Tuesday, Sept. 22, 2020, at U.N. headquarters in New York. (Photo: AP)
China slammed the US for slandering it over the pandemic and environmental issues at the UN General Assembly (UNGA), a foreign ministry spokesperson said Wednesday.
Wang Wenbin, spokesperson for the Chinese Foreign Ministry, said China firmly opposes the groundless accusations by the US at the UNGA, which again showed unilateralism and bullying practices, which pose a threat to the world.
Lies cannot hide the truth. China, as the first country hit by the COVID-19, made utmost efforts to fight the virus, and managed to control the epidemic in a short period of time. China reported the outbreak, confirmed the pathogen and shared the genetic sequence with the WHO and other countries from the beginning.
It's pointless for the US to shift the blame of containing the virus to other countries, Wang said. He urged the US to stop political manipulations and abandon politicizing the virus, and start combating it with the international community.
In terms of climate change and environmental protection, China has taken a series of actions and made tremendous contributions to tackling climate change by finishing the 2020 climate action goals ahead of schedule. The US, with the largest emissions of greenhouse gases, by not approving of the Kyoto Protocol and canceling the Paris agreement, has strongly impeded the global campaign to reduce emissions and promote sustainable development, Wang added.
"We urge the US to stop playing the political game, abandon its unilateral actions, and start fulfilling its obligations to the world," he noted.
(Compiled by Chen Xinan)