Central government spokesperson strongly condemns HK rioters' petrol bomb attacks on police
Global Times
1565632365000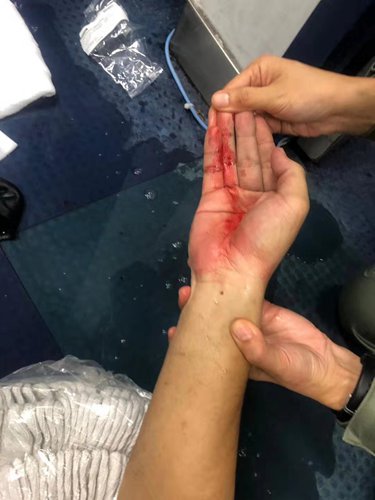 Photo taken on Aug. 11, 2019 shows the hand of an injured Hong Kong police officer. One police officer was seriously injured as gasoline bombs were thrown at police officers at multiple locations in Hong Kong on Sunday night. (Photo: Xinhua)
A spokesperson for the Hong Kong and Macao Affairs Office of the State Council on Monday strongly condemned the acts of a very small number of rioters in Hong Kong who on Sunday hurled petrol bombs at the police, causing injuries.

"We express extreme anger and strong condemnation against such atrocious and reckless acts of severe crime," said spokesperson Yang Guang.

The spokesperson also expressed solicitude for the police injured.