Greenhouses bringing prosperity to villagers in Taihang Mountains
With winter coming, Gu Jun recalled how inconvenient it had been to take a shower in his old village among the mountains in Hebei province.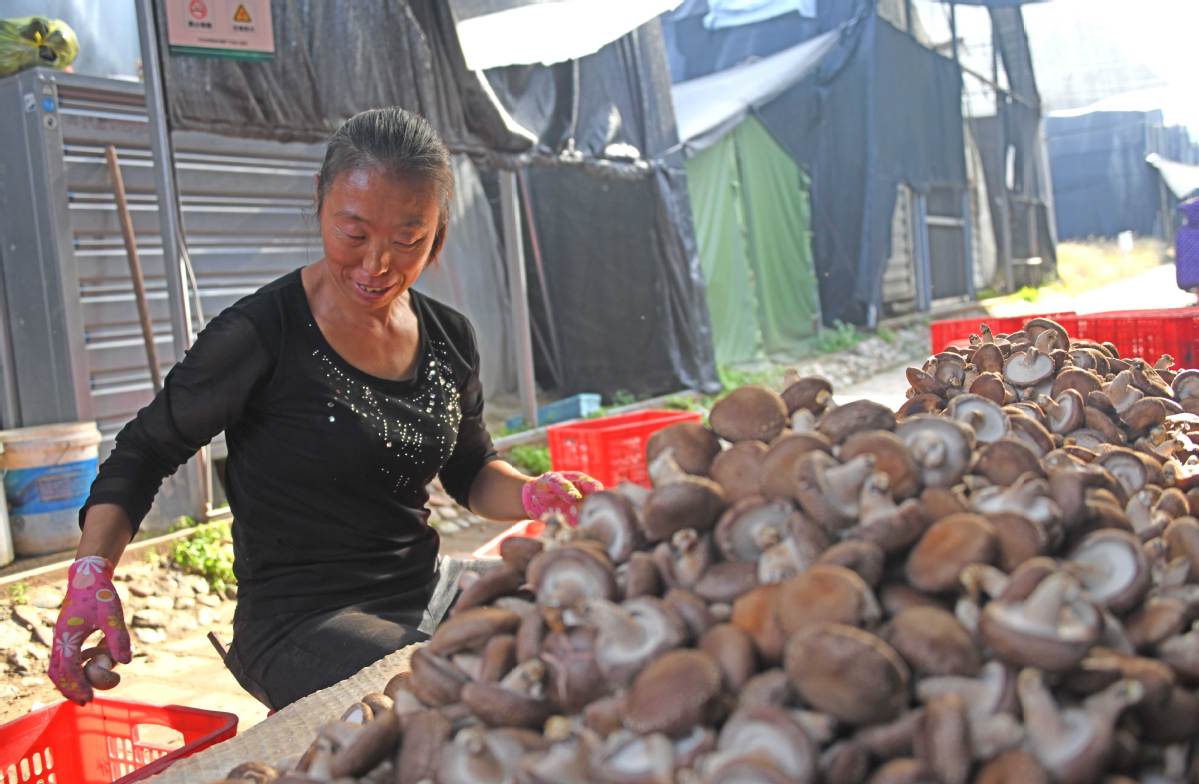 "We needed to go to the county center 10 kilometers away to take a shower at a public bathroom," Gu said, because houses in the village didn't have bathrooms like apartments do in cities.
Gu, 58, is a resident of Selingkou village in Fuping county, Hebei province, about 250 kilometers southwest of Beijing.
The county is located deep in the Taihang Mountains, which start from the capital and run through the provinces of Hebei, Shanxi and Henan.
His life has dramatically changed in the past three years as his hometown carried out a series of poverty alleviation measures.
Before 2017, he was stricken by poverty. He had suffered a blood clot in his brain and couldn't work for a decade, spending money and time in recovery.
During those difficult times, his family-consisting of his wife, a daughter and a son-lived on the minimum livelihood guarantee provided by the government and also borrowed money from relatives.
In 2017, the county government brought in a company to develop the edible fungus industry and provide job opportunities to local villagers. The villagers could take charge of greenhouses and sell produce to the company.
Gu was interested because he had recovered from his decade-long illness thanks to frequent exercise. "I thought it was a good opportunity for me to start over and make a living," he said.
But he needed to come up with 65,000 yuan ($9,800) to rent a greenhouse and buy supplies.
"For me, it was an enormous figure," Gu recalled. "I couldn't raise that much money because at the time I already owed about 80,000 yuan to my relatives."
Fortunately, to help villagers like Gu, local banks were willing to loan them money, and half the interest would be covered by the local government.
Gu borrowed 100,000 yuan from a bank and rented a greenhouse to plant shiitake mushrooms in 2017. By the end of that year, he had earned 40,000 yuan.
"This was an amazing turning point in my life. Since then, my pocket has been bulging," Gu said. He added that all he needs to do is manage the greenhouse and plant the mushrooms well.
"The company will purchase all of our produce and give us money each month, like a salary," he said.
In 2018, he rented three more greenhouses and earned about 100,000 yuan. Last year, he reduced the number to two and earned a similar amount.
"Four greenhouses are too many for me to manage, and the quality of my mushrooms would decline," he said.
Gu has paid back all the money he borrowed from the bank and his relatives and started accumulating savings. "I couldn't imagine my life would change to such a good state."
He said he appreciated the supportive measures taken by the local government to help poor people make a living and live a better life.
About a year ago, Gu and his family moved from their old house in the village to a new residential community built by the local government to provide better living conditions.
"The apartment is clean and warm in winter, and the most important thing is that we can take a shower each day," Gu said, recalling that in the past they could shower only two or three times a month at a public bathroom.
Including Gu, more than 100,000 residents in Fuping have escaped poverty since 2014 after gaining stable jobs created by industries nurtured by the local government.
Except for the edible fungus industry, Fuping has developed several major industries to fuel the local economy and create opportunities for locals to better their lives.
In Fuping, about 87 percent of its 2,496 square km of land is mountainous, which has restricted its development.
"The biggest bottleneck of development was the lack of industries," said Liu Jing, Party secretary of the county.
The current industries, including planting suitable fruits and Chinese medical herbs on mountains, breeding livestock and developing tourism with local natural resources like mountainous scenery and traditional villages, have been deemed suitable in the county, Liu said.