Hubei tightens anti-virus outbreak measures, seals off residential communities
Global Times
1581885695000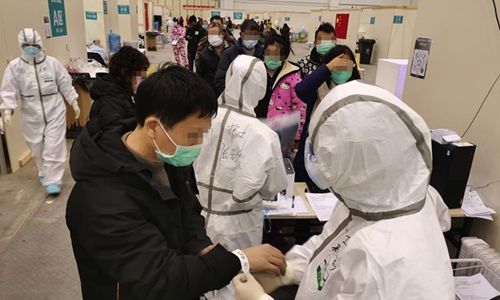 Medical workers receive patients for treatment at "Wuhan Livingroom" in Wuhan, central China's Hubei Province, Feb. 8, 2020. (Photo: Xinhua)
The government of Hubei, the epicenter of the COVID-19 outbreak, has rolled out intensified measures, including locking down all residential communities in urban and rural areas, closing all non-essential public places as well as banning public gatherings and private vehicles in order to fight against the virus.

The notice, published on Sunday, stipulates that all residential communities in urban and rural areas in Hubei are subject to the strictest 24-hour lockdown management, which prevents all outsiders and vehicles from entering if deemed unnecessary.

Residents are restricted from going out of their communities and medicines and daily necessities are collectively purchased and delivered to residents, the notice said.

Traffic control measures have also been strengthened across the province. All motor vehicles are forbidden to drive on roads except for special vehicles such as vehicles for epidemic prevention, official vehicles, public transport vehicles, vehicles for medical workers, vehicles transporting daily necessities, police cars, ambulances, emergency vehicles, and garbage collection vehicles.

Non-essential public places are required to close, and public gatherings are suspended. Those who purchase medicine for colds, fever, and cough are asked to submit real-name registration.

All residents are to undergo thorough health examinations without exception. Those who have had close contact with COVID-19 patients and suspected patients are to be put under quarantine, the notice said.