China's defense expenditure open and transparent: white paper
People's Daily app
1564037249000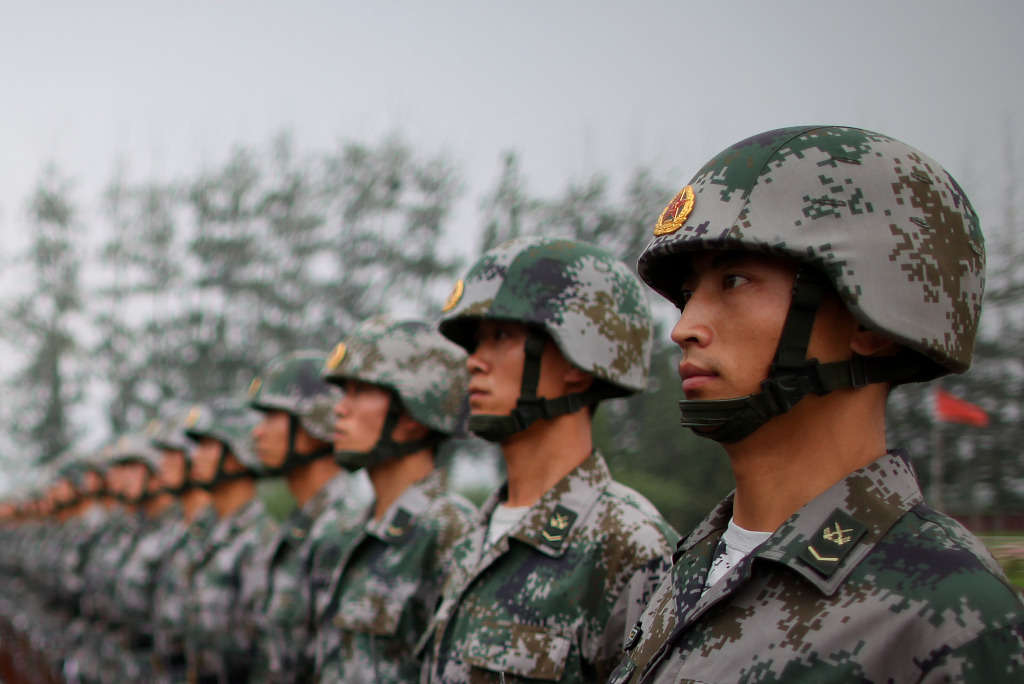 (File photo: VCG)
China's defense expenditure is open and transparent, and its spending is reasonable and appropriate, according to a white paper released by the State Council Information Office Wednesday.
The white paper titled "China's National Defense in the New Era" concluded that compared to other major countries, the ratio of China's defense expenditure to GDP and to government expenditure, as well as the per capita defense expenditure of the country, remains relatively low. China is the lowest among the permanent members of the UN Security Council (UNSC) in terms of defense spending as a percentage of GDP.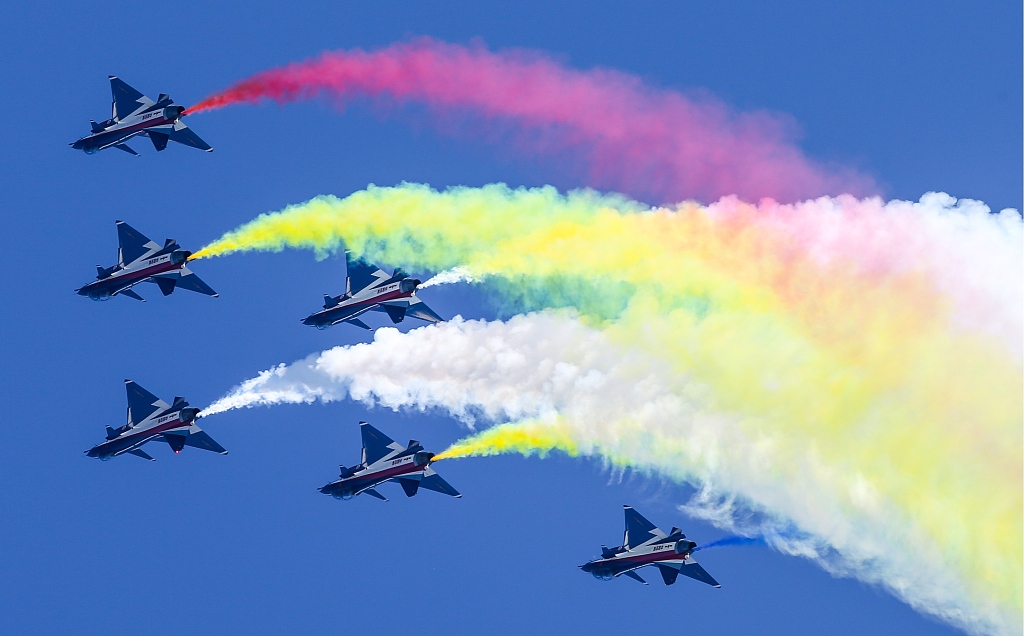 Chengdu J-10 fighter aircraft of the Chinese aerobatic team August 1st release colourful smoke during a demonstration flight as part of the Army 2018 International Military and Technical Forum. (Photo: VCG)
Since reform and opening-up, China has increased its defense spending from a level of sustainability to moderate growth. The white paper pointed out that defense expenditure, on the whole, has grown with the growth of the national economy and government spending.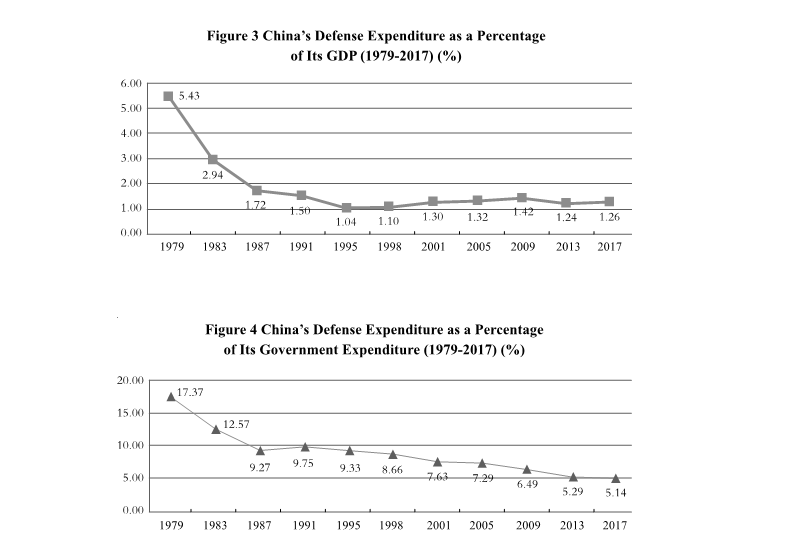 But the defense expenditure as a percentage of GDP has fallen from a peak of 5.43% in 1979 to 1.26% in 2017. It has remained below 2% in the past three decades. Defense spending as a percentage of government expenditure was 17.37% in 1979 and 5.14% in 2017, a drop of more than 12 percentage points. The figures are still on a clear downward trend, according to the white paper.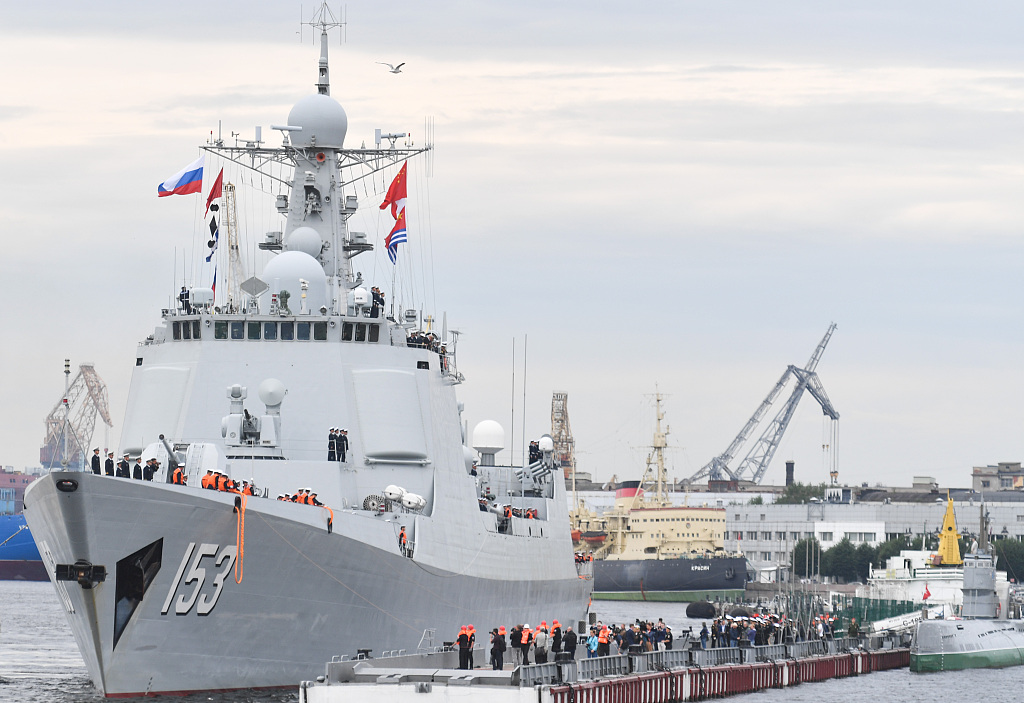 The Type 052C guided missile destroyer Xi'an of the Chinese Navy Surface Force and its crew are stationed in the waters of the Neva River ahead of the 2019 Russian Navy Day Parade in St. Petersburg, Russia. (Photo: VCG)
From 2012 to 2017, China's defense expenditure increased from 670 billion yuan ($97 billion) to 1.04 trillion yuan ($152 billion). China's GDP and government expenditure grew at an average of 9.04% and 10.43%, respectively, while its defense spending increased by an average of 9.42%. Defense expenditure accounted for an avergae of 1.28% of GDP and 5.26% of government expenditure. The percentage of China's defense expenditure in GDP remained stable and grew together with the increase in government expenditure, it said.
China is the world's second largest economy. The fact that China's defense expenditure ranks second in the world is determined by the requirements of its national defense, the size of its economy, and the defensive nature of its national defense policy. It stressed that in terms of total spending, China's defense expenditure in 2017 was less than a quarter of the US.
As a percentage of GDP, from 2012 to 2017, China's average defense expenditure was 1.3%. Comparative figures were: the US about 3.5%, Russia 4.4%, India 2.5%, the UK 2.0%, France 2.3%, Japan 1.0%, and Germany 1.2%. China ranks 6th among these countries in terms of defense expenditure as a percentage of GDP and is the lowest among the permanent members of the UN Security Council.
In terms of the usage of China's defense expenditure, the paper said it's assigned to three sectors – personnel, training and sustainment, and equipment. In terms of scope, defense expenditure covers all active forces, reserve forces and militia.
There is still a wide gap between China's defense expenditure and the requirements for safeguarding national sovereignty, security and development interests, for fulfilling China's international responsibilities and obligations as a major country, and for China's development.
In step with national economic development, defense expenditure of China will maintain a moderate and steady growth, the white paper said.
(Compiled by Yu Lidong)