China's first gear rail train with independent intellectual property starts rolling
China's first gear rail train with complete independent intellectual property rights rolled off a production line in Ziyang, Southwest China's Sichuan province on Thursday.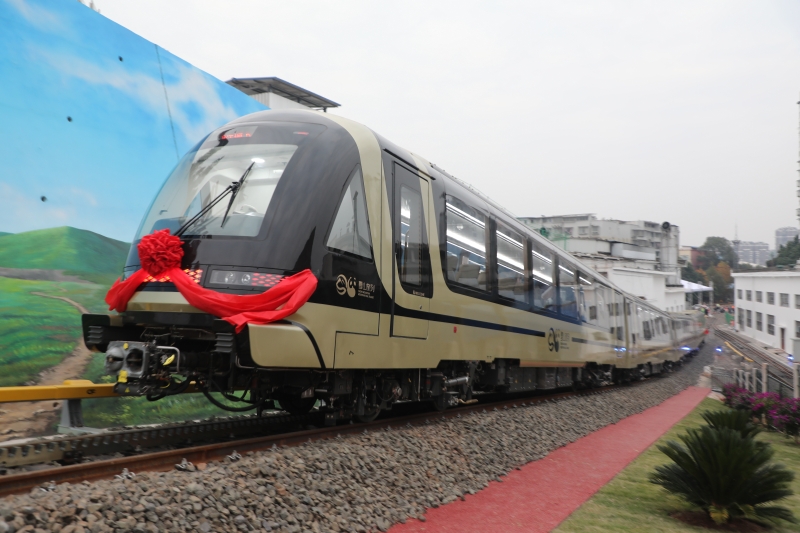 The new electric train uses a dual traction mode of wheel rail and gear rail. On the wheel rail section, its speed can reach 120 km/h, and on the gear rail section, the speed can reach 40 km/h.
The train has four cars and can carry as many as 145 passengers. There are three different types of seats to meet passengers' different needs.
In the aspect of intelligence, the train has applied high-tech technologies such as Beidou/5G Internet of Things automatic driving, automatic protection, intelligent analysis of big data storage in operation, etc.
It will be used on the country's first geared rail railway line linking Dujiangyan and Mount Siguniang in Sichuan. The first section of the railway line will open to public in 2023, and the whole line will be available in 2026. It will help shorten the travel time from 5 hours to 2 hours.
The train has good capability to climb slopes. Climbing along the steepest ramp of the Dujiangyan-Mount Siguniang line, the train will rise to a height similar to a 20-story building while running about 600 meters.
CRRC Ziyang Co Ltd, developer and producer of the train, built the country's first test platform for the gear rail wheel drive device and the first geared rail test line. It has led the compilation of the local standards on general specification for mountain gear rail vehicles in Sichuan province.