Guangzhou airport enhances screenings
New measures have been introduced at Guangzhou Baiyun International Airport in Guangdong province to prevent the coronavirus from being imported to the Chinese mainland as confirmed cases outside the country continue to grow.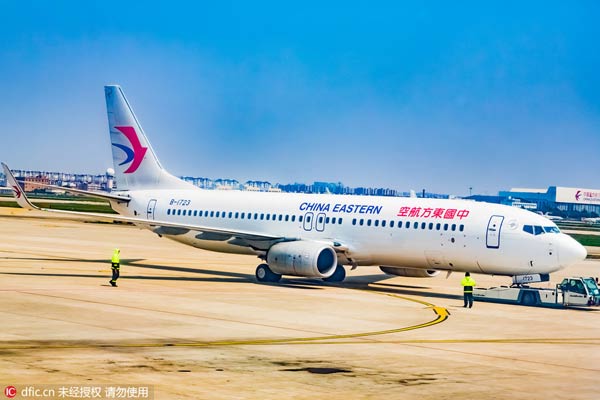 A plane of China Eastern lands at Baiyun International Airport in Guangzhou, capital of South China's Guangdong province, March 25, 2016. (Photo: IC)
The measures have helped establish a solid line of defense in the airport, one of the mainland's three busiest, to prevent importation of the infection, a statement released by the airport said on Wednesday.
In addition to measuring the body temperatures of arriving passengers, the airport has introduced red, yellow and green categories to separate passengers and offer precise, targeted tests to prevent cross-infection. The measures started on Wednesday.
A passport marked red indicates the passenger has come from a nation or region hit hard by the novel coronavirus and the destination is a city in Guangdong province.
"These red passengers will have special places to retrieve their luggage and will be led by staff to the exits, where they will take special shuttle buses to designated isolation areas for two weeks of medical observation," the statement said.
Passengers with yellow passports will transfer to other cities within 12 hours. This group will have special waiting rooms and will be guided by staff through transfer and check-in procedures.
A green passport means the passenger is not coming from an affected country or region and has not passed through one. These passengers can leave the airport by themselves through special channels after a body temperature check.
The airport has set up designated desks for planes that fly to airports in places that have been hardest hit by the epidemic. Passengers will use special channels and counters to complete entry and customs procedures after a body temperature check.
The airport has also set up fever investigation rooms, buffer rooms and epidemiological rooms to strengthen the screening of people suspected of having the novel coronavirus pneumonia, or COVID-19. Those rooms are in the T1 and T2 terminals.
Passengers with suspected cases of coronavirus infection will be sent to designated medical institutions for further medical observation or treatment, the statement said.
Meanwhile the airport has strengthened and expanded disinfection facilities in public places.
Qiu Jiachen, Party secretary and chairman of Guangzhou Baiyun International Airport Co, said the airport, one of the major entry and exit airports on the mainland, would spare no effort to help prevent imported infections.
Airport operations have returned to between 500 and 600 flights arriving and departing daily.