Manzhouli bordering Russia receives batches of medical supplies for severe cases
Global Times
1587418174000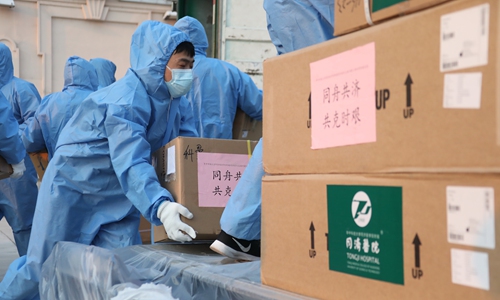 Workers unload medical supplies from hospitals in Wuhan in Manzhouli, North China's Inner Mongolia Autonomous Region, for the fight against the novel coronavirus in the China-Russia border city on Friday. (Photo: Xinhua)
Another batch of medical supplies and seven ambulances dispatched by China's National Health Commission (NHC) arrived Monday at the rail station in Manzhouli, a city on the border with Russia in North China's Inner Mongolia Autonomous Region.

The supplies also included two sets of DR (Computed Radiography) machines and a CRRT (Continuous Renal Replacement Therapy) machine, reported The Paper.

Manzhouli, the largest land port in China with about 210,000 residents, is still dealing with the pressure to treat nearly 80 imported cases from Russia, after the passenger channel of the city's border port closed on April 8.

An employee with Manzhouli's health authority surnamed Liang told the Global Times on Monday that the city is currently not facing a shortage of medical supplies. In addition to the support from the central government, they are also receiving supplies from other channels, including donations from the society.

China's NHC on Friday sent a dozen types of medical supplies including ECMOs, ventilators and oxygen generators to Manzhouli by plane, which authorities believe will ease the medical pressure and provide timely support.

Two hospitals in Wuhan also donated two ECMO and eight invasive ventilators, 55 non-invasive ventilators, 50 oxygen generators, as well as an ECG monitor, blood gas analyzer and injection pump, which cost about 15 million yuan ($2.1 million) in total.

China has sent a medical group to Manzhouli to provide medical treatment. The patients are undergoing quarantine and treatment in designated medical institutions in Manzhouli, and are in stable condition, The Paper reported.

A Beijing-based doctor surnamed Ji told the Global Times on Monday that both the DR and CRRT machines, as well as ECMO and ventilators, are mainly used in severe cases.

Considering the patients in Manzhouli are in stable condition, this move is more about making adequate preparations for possible incidents like sudden deterioration and ensuring that all patients can get timely treatment and rescue, said Ji, noting it is a big lesson learned from Suifenhe and Wuhan's experiences.

Inner Mongolia recorded zero new imported cases from abroad and zero asymptomatic infections on Sunday, with only one case coming from Harbin.

There are still 88 imported cases in the province, of which 74 are in Manzhouli, and 10 suspected cases have also been found.

Construction of a backup hospital with 200 beds was completed on April 13, which will reportedly open when the occupancy rate of existing designated hospitals in the city reaches 80 percent.

As of April 13, Manzhouli had 280 wards with 600 beds, and 1,370 isolation rooms for arrivals, CCTV reported.

According to Manzhouli customs, 1,408 people have entered China through the city since China adopted strict measures to restrict port entrance on March 28. In order to strengthen the medical capacity of Manzhouli, Hulun Buir city of Inner Mongolia has sent eight medical teams, whose members are experts in respiratory, critical care and infectious diseases, to Manzhouli.