China's FM calls on ASEAN to jointly maintain stability of South China Sea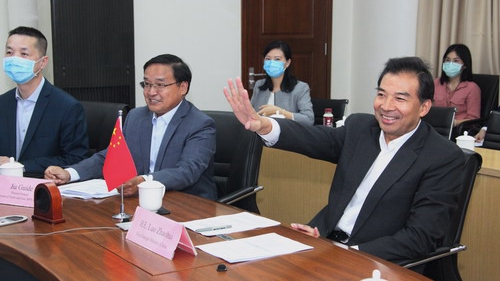 Chinese Vice Foreign Minister Luo Zhaohui (R) attends a symposium on the South China Sea, September 2, 2020. (Photo: CGTN)
Chinese State Councilor and Foreign Minister Wang Yi has hailed the positive outcome of China-ASEAN dialogue and cooperation on maintaining the stability of the South China Sea.
Speaking at the opening of the International Symposium on the South China Sea: From the Perspective of Cooperation, Wang said the two sides have kept maritime dialogue and cooperation despite the COVID-19 pandemic.
China and the Association of Southeast Asian Nations members are committed to the full and effective implementation of the Declaration on the Conduct of Parties in the South China Sea, and the two sides maintained close communication on advancing the negotiation of Code of Conduct during the pandemic, he continued.
Co-hosted by the Chinese Foreign Ministry and the National Institute for South China Sea Studies, the event was attended by former politicians, officials and scholars from various countries in the region and beyond including Russia, Thailand, Indonesia, Singapore, Cambodia, Laos and Britain.
Wang called on regional countries to work together to reject outside inference.
Without naming the United States, Wang said some outside country is interfering in the South China Sea dispute based on its geopolitical interests, sowing relations between countries in the region and disrupting the regional situation.
China's Vice Foreign Minister Luo Zhaohui, who also made a speech at the event, said interference from the U.S. has been a source of risk in the South China Sea, calling on countries in the region to jointly reject these risks and safeguard peace and stability.
The symposium was held ahead of foreign ministers' meetings on East Asia cooperation next week and amid U.S. attempts to contain China, Luo noted.
"At this background, I'd like to reiterate that China's position and commitments on South China Sea remain unchanged," he said. "We will continue to work with ASEAN countries to make the South China Sea a sea of peace, friendship and cooperation."