Postgraduates and PhDs are continuing to define China's primary education system
Global Times
1575832370000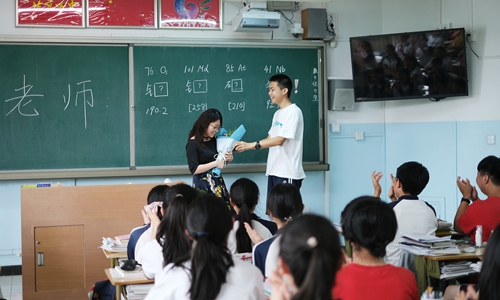 A student presents a bouquet on behalf of his classmates to their teacher Yu Jie during their senior high school class. (Photo: VCG)

A recruitment list from the No.1 Middle School affiliated to Central China Normal University ignited debate on China's social media platform. The list released on November 18 shows that six out of nine of the candidate teachers in the first round are PhDs from top Chinese universities. The rest are all postgraduates from Tsinghua University (THU) and Peking University (PKU). Some netizens perceived PhDs being recruited at high schools as a waste of talent. Others expressed the hope it might raise primary education standards.

Zhou Bin, a professor with East China Normal University based in Shanghai, told the Global Times that recruiting more high-end talents to primary schools is a trend to develop primary education.

According to the Chinese Ministry of Education, only 4.71 percent of teachers in junior high schools and senior high schools had a master's degree or above in 2017, while the percentage in Japan's public junior high school system is 7.5 and 15.2 percent in Japan's public senior high schools.

Zhou believes well-educated teachers provide qualified teaching methods for students.

Feng Shuo, who graduated from Tsinghua University in 2015, teaches Chinese language and literature in the high school affiliated to Renmin University of China in Beijing.

As Feng recalled, more than half of the newly recruited teachers to the school in 2015 were postgraduates and PhDs from Tsinghua University and Peking University, as well as other top universities such as Beijing Normal University and Beijing Foreign Studies University. The situation remained the same in 2016, and the number of PhD graduates and postgraduates recruited to the school saw an increase in 2017 and 2018.

"Teachers of physics, chemistry and biology are all PhDs graduates from THU and PKU, and they would take high school students to university laboratories to do some research projects, which helps students to choose a college major they love and get familiar with the scientific researches in the universities in advance," Feng told the Global Times.

"A teacher's knowledge should be far more than that of the students," Feng said. "A teacher should have a bucket of water before giving students a glass of water."

Primary education has higher requirements in both experience and skill, which requires teachers with refined and efficient teaching methods now.

Qualified postgraduates and PhDs from THU and PKU influence students in a subtle but effective way. "Teachers who graduated from top universities inspire students with their own excellent learning experience, which gives students lifelong benefit," Feng said.
"With sound knowledge foundation and research ability, postgraduates and PhDs also hold seminars and optional courses in addition to traditional classroom courses, which provides students deeper insights to the subjects," said Feng.

Wang Jie, a postgraduate from PKU, is a biology teacher in Beijing Etown Academy. Wang started teaching in 2015. She told the Global Times most of her colleagues recruited to the school that year were postgraduates and PhDs from THU and PKU.

"On one hand, we can share with students our experience as successful learners in the class, which is an incentive to students. On the other hand, students tend to believe and worship highly educated teachers from top universities," said Wang.

Jiang Xinglong, a deputy headmaster of No.1 Middle School affiliated to Central China Normal University, said the school needs these excellent postgraduates and PhDs as they play an exemplary role in cultivating students' innovation capability and interdisciplinary learning, according to a video report by Pear Video.

Jiang said that a PKU postgraduate recruited by the school in 2016 performed excellently so the school decided to hire more graduates from top Chinese universities.

Level-up primary education

Zhou told the Global Times that more highly educated graduates teaching in the primary education sector contributes to developing classroom standards.

On Wednesday, a group of 15-year-old students from Beijing, Shanghai, East China's Jiangsu and Zhejiang Province (B-S-J-Z China) helped rank China as the top scoring country of the 2018 Program of International Students Assessment (PISA) education test.

B-S-J-Z students beat 78 participating countries and regions in all three test items (reading, mathematics and science) with scores of 555, 591 and 590 respectively.

In January 2015, Shanghai represented the Chinese mainland in the test of the Teaching and Learning International Survey (TALIS) and ranked first in the 38 participating countries and regions, according to thepaper.cn.

Shanghai students also ranked in the top position in the PISA education tests in 2009 and 2012.

TALIS and PISA are student assessment programs devised by the Organization for Economic Cooperation and Development (OECD) to measure 15-year-olds' ability to use their reading, mathematics, science skills to meet challenges.

"The result shows that China's primary education is among the best in the world," Zhou said.

Zhou said that in China, a teaching team comprised of PhDs, postgraduates and graduates are replacing the old teaching staff who graduated from junior colleges and vocational schools.

Management and institutionalization in China's primary education system make it among the best in the world, which makes it critical that standards are consistently improved, said Zhou, noting that some world's leading universities such as Cambridge announced it would accept results of the Chinese college entrance examinations as a standard for their undergraduate enrollment. A school should not only boost students' development, but also improve the performance of its teaching staff.

Without well-educated teachers, development in primary school can hardly be attained, said Zhou.

"In the beginning, I was asked many times whether teaching junior high school students is unworthy of my education, but I believe with the development of people's education, there will be more top university talents go to primary education, which should be encouraged" said Wang.