New dining trends emerge for 2023 Chinese New Year's Eve reunion dinner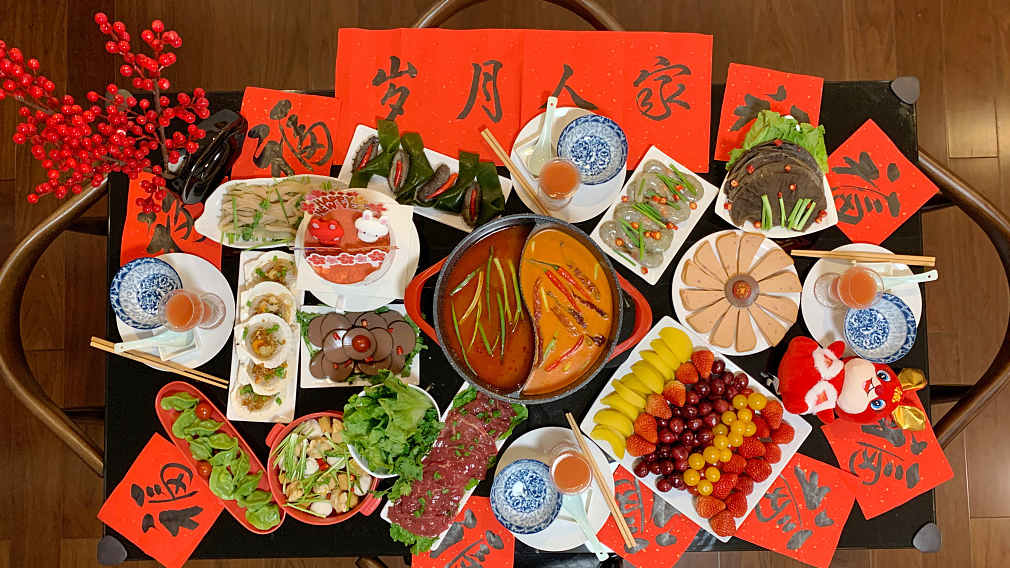 New consumption trends emerged during this year's traditional and beloved "reunion dinner" on Chinese New Year's Eve, considered the most important part of the Spring Festival, according to a report by China-based e-commerce giant Pinduoduo.
As China emerges from the pandemic, tens of millions of people have returned home for family reunions, resulting in a surge in spending on New Year's food and specialties.
This year, seafood orders from rural areas surpassed those from first-tier cities like Beijing, Shanghai and Guangzhou for the first time on Pinduoduo's platform, said the report.
Seafood purchases grew the most among young people in small towns, pushing up the proportion of seafood orders in counties and rural areas.
Overall, domestic seafood sales increased by 140 percent month on month, and imported seafood such as giant tiger prawns, Argentine red prawns, and Arctic sweet prawns increased by 220 percent compared to the previous month, according to the report.
Another distinct feature of this year's Chinese New Year celebrations was the fusion of flavors between the north and the south. For example, south China became a significant consumer of leek and egg dumplings, a traditional northern staple, with Shanghai, Zhejiang Province, and Guangdong Province generating the most dumpling sales in the country.
In contrast, southern staples saw an increase in popularity in northern China, with sales of glutinous rice balls increasing by more than 110 percent month on month before the Spring Festival, particularly in Beijing, Shandong Province, and other northern regions.
The report also revealed a generational shift in consumption, with young people increasingly opting to purchase time-honored brands, often favored by older consumers. This caused sales of popular brands such as renowned Peking roast duck restaurant Quanjude, and authentic Beijing-style pastry shop Daoxiang Village to surge by more than 70 percent month on month.
Among these, Jinhua ham and Xuanwei ham became the most popular New Year products, registering month-on-month sales growth of more than 800 percent.
"The dishes are larger and the flavors are more diverse in the Year of Rabbit," said a company representative, according to Zhejiang Media Group, who also noted that this year's Spring Festival promotional activities would continue until January 30, to ensure a stable food supply and "a happy and prosperous New Year."