Saving pigs would also benefit people
A research team from the Chinese Academy of Agricultural Sciences have reportedly isolated a strain of the African swine fever virus that has spread across China.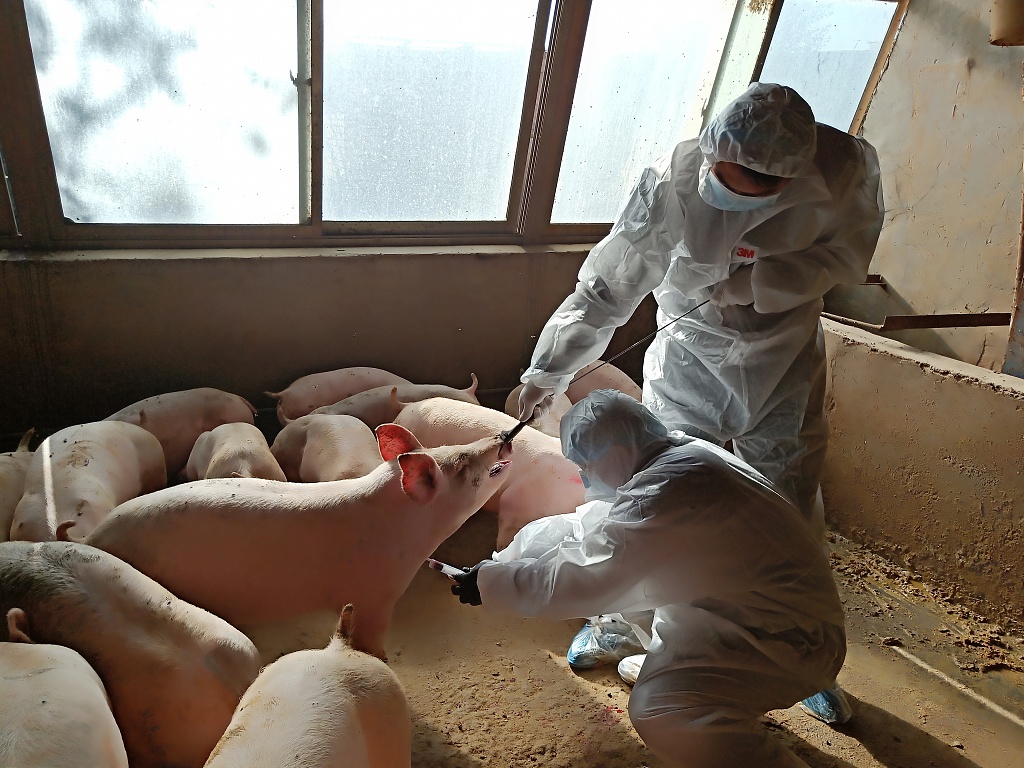 Photo: VCG
The disease, which causes severe hemorrhaging of the internal organs, was first identified a century ago in Kenya. It is particularly deadly to pigs because it spreads easily and there is no treatment or vaccine for it.
It is estimated that about 1.2 million pigs have been culled in China because of the outbreak, which has put thousands of small producers out of business. The scale of the outbreak is unprecedented as China accounts for around half the pigs in the world, and thousands of farmers raise and depend on pigs for their livelihoods.
Before the current outbreak, there had been warnings that the virus could be a significant threat to the global pig industry as vaccine development had been hampered by a poor understanding of its transmission and immunity to it.
According to reports, the research team has analyzed the three-dimensional structure of the African swine fever virus, which will hopefully lay the foundation for effective new vaccines for the disease.
Considering the seriousness of the African swine fever outbreak in China, it urgently needs controlling. This would also help minimize the risk of transmission to humans.
The virus is not a threat to humans at the moment. However, that does not exclude the possibility of genetic mutations that might imperil humans. The possibility might be low, but we should not forget that the human immunodeficiency virus (HIV), which causes AIDS, came from chimpanzees first, and the deadly SARS outbreak was first found in bats.
For now, the news will hopefully curb the rising trend of domestic pork prices. For the past few months, with reduced pork supply prices have risen rapidly.
The national consumer price index for October rose by 3.8 percent, despite the fact that prices of vegetables, fruits and communication fees all dropped. The main reason for the rise was pork prices, which have risen by 101.3 percent.
As the most consumed meat in China, pork prices are directly related to people's daily lives. The culling of pigs infected with African swine fever is not the only cause of the rising price of pork, but curbing the outbreak would help increase supply of pork and bring down the price.