Chinese vaccine candidates praised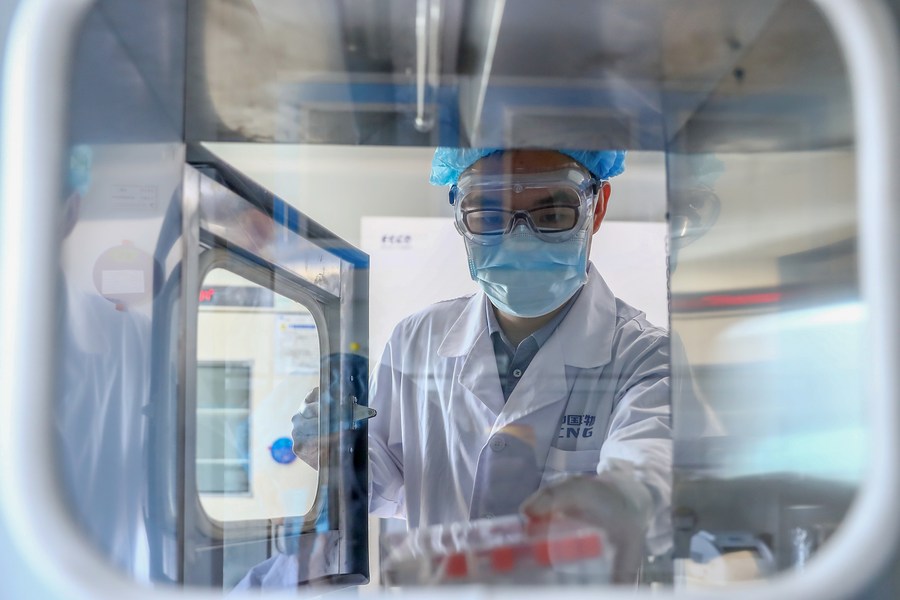 Two Chinese COVID-19 vaccine candidates undergoing third-stage clinical trials in parts of West Asia, North Africa and South America have won support and recognition from high-ranking foreign officials as the trials draw to a close.
China National Pharmaceutical Group, also known as Sinopharm, said third-phase human trials for its two inactivated vaccines are progressing smoothly in a handful of countries including the United Arab Emirates, Bahrain, Egypt and Peru, and trial results from the 50,000-plus participants are "better than expected".
"More than 50,000 volunteers have been vaccinated, and the sample population covers 125 different nationalities," the company said in a post on its WeChat instant-messaging account on Wednesday.
"Many senior political officials have provided strong support to us and took the lead in being injected with the experimental vaccines," it said. "They also expressed full confidence in the safety, efficacy and ongoing trials of vaccines developed by Sinopharm."
Among the high-profile volunteers is Sheikh Mohammed bin Rashid Al-Maktoum, prime minister of the UAE. He posted a picture of him receiving a Chinese-made vaccine on Nov 3 on Twitter.
"We wish everyone safety and great health, and we are proud of our teams, who have worked relentlessly to make the vaccine available in the UAE," he said in the post.
More than 10 high-ranking UAE officials, including its ministers of health, foreign affairs and cabinet affairs, had previously been inoculated with Chinese-made COVID-19 vaccines, Sinopharm said.
In Bahrain, Crown Prince Salman bin Hamad Al Khalifa was vaccinated on Sept 16, joining a growing pool of volunteers including several health officials and an adviser to the crown prince, Sinopharm said.
Hala Zayed, Egypt's minister of health, was inoculated on Sept 28. She encouraged Egyptians to actively participate in the clinical trials and praised Sinopharm for its contributions to the global fight against the virus, the company said.
As the third-phase trials in foreign countries are nearing a close, Sinopharm reiterated its determination to ensure its vaccines' safety by strictly abiding by vaccine development procedures and not omitting any steps.
Liu Jingzhen, chairman of Sinopharm, said during a forum in Shanghai last week that its inactivated vaccines have obtained emergency use approval from China, the UAE and Bahrain.