Volunteer born in the 1990s delivers medicine in Wuhan
People's Daily app
1587305657000
Since January 25, Wu You, born in the 1990s in Wuhan, volunteered by delivering urgently needed medicine and materials to people in need by on his electric scooter. He rode thousands of kilometers, helping more than 700 strangers survive the most difficult time in Wuhan, until the city ended its 76-day lockdown on April 8.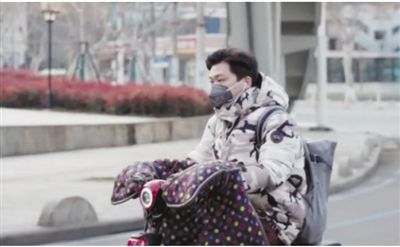 (File photo: People's Daily app)
Wu is an intern teacher at a middle school in Wuhan. He likes taking videos and rap music. The COVID-19 epidemic and lockdown in Wuhan city disrupted his peaceful life.
One of the people Wu helped was a father who lived with his 3-year-old child. The father was possibly infected with COVID-19, and isolated at home. The father stayed in his kitchen and handed cooked dishes to his child through the door. When the desperate father turned to Wu for help, the father's medicine and food were almost exhausted.
Wu found another way to help people. The materials for epidemic prevention were in short supply and medical masks were sold out. As a cat owner, Wu had 500 medical masks at home to prevent allergies. Wu's grandpa, a veteran, told him, "Even if a person has 10,000 masks, the masks can only save one person. It's useless to store so many masks. Why not hand them out to people in need?" Grandpa's words awakened Wu.
On January 25, the first day of the lunar New Year, Wu distributed his masks at the gate of the community.
When he handed out the masks, he found a new problem. Many empty-nest elderly people suffered from chronic diseases but lacked medicine.
At that time, a parent of a student asked Wu to help deliver masks and medicine. On social media, Wu posted, "I know a place in Hankou district selling medical masks and medicine. I can ride to Jiangan district, Jianghan district and Qiaokou district to deliver medicine for free for old people alone at home, whose family members are not in Wuhan."
Unexpectedly, he received more than 1000 requests for help from strangers.
Wu tried his best to fulfill his commitments and help people. He called his teenage student Huang Xinyuan to assist him. They bought medicine and delivered it separately. They chose eight or nine households in urgent need and not far away. They went out at 2 pm to deliver medicine and returned home after 10 pm.
The first person they helped was from Lanzhou and isolated in a hotel in Wuhan. He had dyspnea symptoms and urgently needed medicine and protective materials. Wu delivered 20 masks, a bag of Lianhua Qingwen granules, food, socks and other daily necessities.
More and more people asked for help. Wu decided to make deliveries until the epidemic faded away. Wu and Huang were responsible for different areas. Wu advanced people money for medicine and made deliveries for free, giving priority to the old and the young.
On January 27, it was raining outside. Wu received an urgent phone call at 10 pm, saying that his aunt and uncle in Wuhan were isolated at home. His uncle had dyspnea symptoms. There was no medicine at home, and his other relatives were not around.
Wu put on his raincoat and went out. He also took a box of oranges as an alternative to vitamin C, which was not available at the time. They lived in a new apartment complex 10 kilometers away, which could not be found on the map. He could only find it according to the approximate location and description. Wu shouted their names in the rain one building after another, he finally got a response at the sixth building. When the old man got the medicine, he was so excited that he bowed to Wu to express his thanks.
Three days later, Wu learned that the old man got better after being treated in the hospital. "From that moment on, I realized that I might be saving lives," Wu said.
At first, medicine was in short supply. Wu split a box into four parts to meet the needs of more people. After the middle of February, Wu's team grew bigger - someone was responsible for online information verification, someone delivered medicine, and the distribution area grew to cover Wuhan. Wu built a WeChat group of 250 people, including psychologists, doctors and patients, who could consult online or share medical experiences. There was also a software engineer in the group, who planned the daily delivery routes for them
In the meantime, Wu garnered more the 1 million fans on Weibo. His team received donations from all over the world. His volunteer team in Sichuan received important medicines and 4 tons of vegetables. A group of writers in Beijing sent protective clothing and medical alcohol. Overseas students sent medical masks.
Doubts arose with his increasing popularity. Some people said he was a showman. Others suspected he got rich during the epidemic. Wu doesn't want to waste time explaining. He worked just as hard as before the criticism.
Wu made vlogs to record his journey to deliver medicine. In most of the shots there are empty streets with dim yellow street lights at night. The scene shakes along with the whirring wind, and Wu shares his work arrangements.
He used the social media services Weibo and WeChat Moments to keep records of his routes. He has been to the most remote places parts of Wuhan. He often arrived home late, sometimes still working at 3 or 4 am.
The furthest journey was to a remote medical isolation point at the junction of Wuhan and Huanggang. It was nearly 90 kilometers there and back. On February 11, he decided to make an exception because of a specific situation : A person asked for help seven times in a row. Her family members were isolated in different places, and she began to have a fever and was short of medicine for two days.
Wu and online volunteers planned the route: from Jianghan District to Wuchang District and then to Qingshan District, delivering medicine to nine people in sequence, and finally reaching the farthest delivery. However, the actual distance is much more. It was after 11 pm when the medicine was finally delivered to the patient. Wu arrived home at 4 am. It took 15 hours to deliver the medicine.
Wu once posted on Weibo: "I will treat the world tenderly, and hope the world will treat me tenderly." Unexpectedly his wish was soon fulfilled.
At the beginning of February, Wu's grandma had a sudden cerebral hemorrhage. Doctors were busy fighting the epidemic and his grandma could not be treated. Wu posted on Weibo to ask for help and his message was forwarded 10,000 times. With help from a connected person reached through social media, his grandma got an injection at Nanjing Road Central Hospital, and her condition stabilized. At the end of February, his grandma's condition worsened again. With more help from online, an operation was arranged his grandma at Puren Hospital, and her condition gradually improved.
By the end of March, the express delivery system in Wuhan started working again, with the gradual opening of public transportation including the subway system. Fewer and fewer people asked for help.
Wu said that in more than two months of helping others, he gained a lot. "It's rare to have a chance to look at this city and its people carefully in normal times."
In more than two months, he has received numerous "thanks" and praise from millions of netizens. Wu feels that all the fatigue and doubt was worth it. He is regretful for missing some of the people who seek help in the early stage of the epidemic . He now wants to "help more people, not only amid the epidemic, but also after the epidemic," he posted on Weibo.
There are more than ten river crossing bridges in Wuhan. He has crossed all of them over the last two months. His favorite bridge is the Wuhan Yangtze River Bridge, which is regarded as a landmark of Wuhan. Wu grew up by the river. In his spare time, he likes to take a walk on the bridge, enjoy the beautiful scenery of the Yangtze River, listen to the ships' whistles and let his mind wander.
Wu now has a deeper understanding of his hometown. He said, "In this heroic city, everyone has a hero's gene."
(Compiled by Yang Fan)