WHO cooperation with China a message of global solidarity: Dutch virologist
Global Times
1581634047000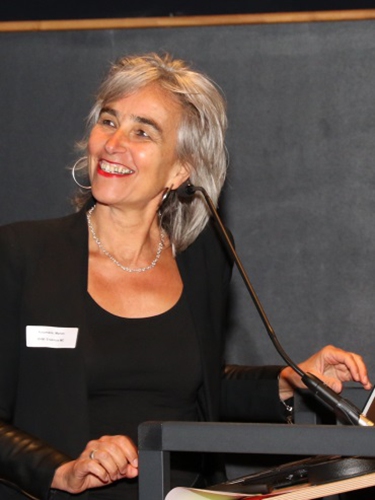 Professor Marion Koopmans, head of the viroscience department at the Erasmus MC Rotterdam. (Photo: Global Times)
The World Health Organization (WHO)-led team of international experts in cooperation with the Chinese side sent a message of global solidarity as the whole world will benefit if the novel coronavirus pneumonia (COVID-19) outbreak in China could be stopped, a Dutch virologist who served several WHO committees told the Global Times.

China and the WHO will form a joint expert team to conduct in-depth discussions and evaluations of the COVID-19 epidemic and containment. The WHO's advance team that arrived in Beijing on Monday night is discussing the specific arrangements on the joint mission, Geng Shuang, spokesperson of Chinese Foreign Ministry said on Thursday's media briefing.

Professor Marion Koopmans, head of the viroscience department at the Erasmus MC Rotterdam in the Netherlands, told the Global Times in an email that it's good practice to bring in colleagues to review what is going on, what the challenges are and where the global community of experts could help.

"This is not a lack of trust in what China or Chinese scientists do or can do. But we understand the challenge and may be able to share some burden of the work," Koopmans said.

Koopmans is a proposed member of the WHO emergency committee for COVID-19. The emergency committee meeting on January 30 declared the outbreak of COVID-19 a Public Health Emergency of International Concern.

She has served as a member of the WHO emergency committee on MERS and the Food and Agricultural organization committees on MERS and Ebola.

Regarding the nationalities of the international experts who are coming to China, Koopmans said that expert advice needs to be provided by the best people for the job, and they need to be trusted and impartial in terms of how they review information.

Chinese authorities said this week that China welcomes international experts including those from the US to take part in the joint expert team.

Koopmans suggested the China-WHO joint mission discuss topics Chinese experts proposed, and research priorities that were developed during the last two days' long meetings of the WHO.

In the recently concluded 2-day WHO meeting at Geneva on Wednesday, more than 300 scientists and researchers participating both in person and online agreed on a set of global research priorities for COVID-19.

There are topics that China is working on but us joining in the efforts may move things faster, as there are so many unanswered questions about this virus, Koopmans said.

"The message is one of global solidarity, which is important. If China succeeds in stopping this, the whole world will benefit," Koopmans said.

The advanced team is expected to discuss specific arrangements for the China-WHO joint mission with the Chinese side. The purpose of the joint mission is for experts on both sides to have in-depth dialogue on the situation, efforts regarding prevention and control, and come up with advice for China and other affected countries, Geng said.