Quarantine-free travel between Hong Kong and mainland possible in 2023: HK CE
Global Times
1671267715000
As the Chinese mainland adjusts its COVID policy and scraps many of its previous restrictive measures, calls from residents of both sides for more convenient travel between Hong Kong and the mainland have been growing. The Hong Kong Special Administrative Region's Chief Executive John Lee Ka-chiu said on Thursday that it is possible that Hong Kong and the mainland will realize quarantine-free travel next year.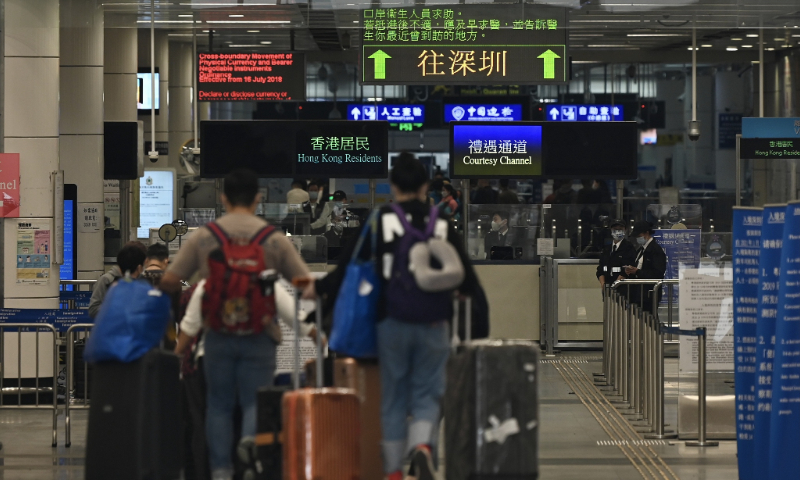 Lee expressed the hope on China's Twitter-like Sina Weibo that before realizing quarantine-free travel, higher quotas for entries into neighboring Shenzhen in South China's Guangdong Province can be given for Hong Kong, and the "point-to-point" mode of transport for cross-border trucks as well as other arrangements should be adjusted to gradually restore normal exchanges between two sides.
Last week, the quota for entry into Shenzhen from Hong Kong was raised by 1,000, and now 500 more have been added, so that 2,500 people are now allowed to pass every day, Lee noted.
Apart from entries via Shenzhen's "health station," the Shenzhen Municipal Government earlier set up an additional humanitarian care quota for people urgently needing to return to the mainland, including eight categories of those who need special care such as elderly people aged 70 or above, children aged 14 or below without guardians in Hong Kong, pregnant women and their accompanying persons.
Meanwhile, Macao Special Administrative Region announced on Friday it would adjust its quarantine policy for inbound travelers from Hong Kong, Taiwan, and overseas. Instead of the previous requirement of five days of centralized quarantine and three days of home quarantine, only five days of home quarantine will be required starting Saturday, and those wishing to go to the mainland via Macao will have to stay another three days after completing the home quarantine before setting off for mainland.
Hong Kong on Tuesday said the city was scrapping the requirement for nucleic acid testing at its airport and border control points before visiting the Chinese mainland and Macao. On the same day, the city also announced it was scrapping its amber health code from Wednesday, effectively lifting all travel restrictions for arrivals into the city who test negative.
Hong Kong's epidemiologists predicted it will still take some time before quarantine-free travel is implemented between the mainland and Hong Kong, as the mainland's epidemic situation is not yet certain, and such progress takes time.