Construction resumes in Xiongan amid epidemic prevention efforts
A bunch of projects are resuming construction in Xiongan New Area, a new economic zone near Beijing and located in Hebei province, while work on prevention and control of the novel coronavirus is strengthening.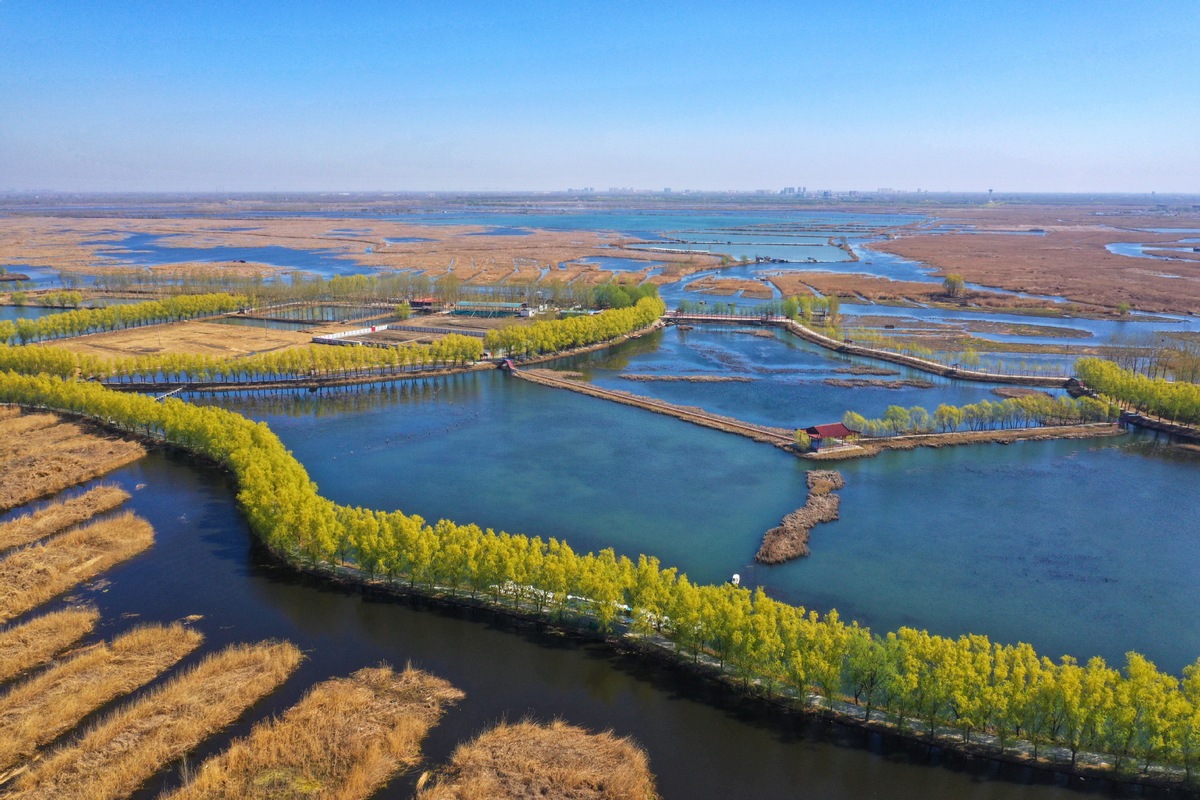 An aerial view of Baiyangdian Lake in Xiongan New Area, Hebei province. (Photo: Xinhua)
More than 20 key projects, including a business service center, highways and a concrete plant, have resumed operations with workers coming back gradually from the Spring Festival holiday, according to China Xiongan Group, a State-owned company that manages a number of projects in the area.
"We made overall plans to ensure both the virus-prevention work and construction tasks be conducted well during the special period," Chen Gang, secretary of the Xiongan New Area Communist Party of China Working Committee and director of the area's administrative committee, said on Wednesday during a conference.
Although no confirmed or suspected cases of the pneumonia were reported in Xiongan as of Wednesday, area authorities have demanded project managers check workers' health daily and conduct closed-off management on construction sites in order to prevent infections and ensure workers' safety.
"Workers will come back in batches after government approval," said Wang Xingyun, Party chief of the Xiongan Railway Station project department of the China Railway Construction Engineering Group.
The company is partly in charge of the construction of the railway station, from which a high-speed railway will link with Beijing. It is expected to start operation by the end of the year.
The local government has ordered businesses in the area to hand in applications for employees looking to return to work. According to Wang, the applications include specific information on each of their workers' health conditions and a history of their whereabouts during the past holiday.
A total of 400 workers will return after their applications are approved, he said.
The project was not halted over the holiday, as more than 100 workers stayed on-site throughout the period, he added.
Elsewhere, at the Nanjuma River flood control project in Rongcheng county, about 200 workers will be in position by Feb 20, including more than 70 that worked during the holiday, said Zhai Ruiming, one of the project's managers.
"Workers coming back need to provide testimonials on health conditions, and they are advised to lower the infection risk by not taking public transport," he said.
Workers can either return by private cars or the company will send charter buses to pick them up, the manager said.
According to Zhai, each worker will be given a face mask each day and be tested for fever twice a day.
His construction site, covering 11 hectares, has continued to operate since the novel coronavirus outbreak that occurred in January but has put entry and exit restrictions in place.
A total of 25 temporary dormitories were set up to accommodate workers so that they could live on site and avoid risk of infection.
Zhai, who has an 11-year-old child, did not get a chance to meet his family during Lunar New Year since the epidemic has kept him occupied.
"It's important to prevent the virus from spreading, but at the same time we need to try our best to guarantee the project is completed with high quality and on time," he said.
Construction for the flood control project began last June and is expected to be completed in June this year.
According to an official WeChat account of the Xiongan government, the flood control project is one of the area's basic infrastructure projects that will lay the groundwork for further construction and development.