Xiongan New Area in new stage with construction of 67 major projects
SHIJIAZHUANG, Jan. 7 (Xinhua) -- Construction on 67 major projects has started in the Xiongan New Area, north China's Hebei Province, marking a new stage of the development of the new area, a provincial official said Tuesday.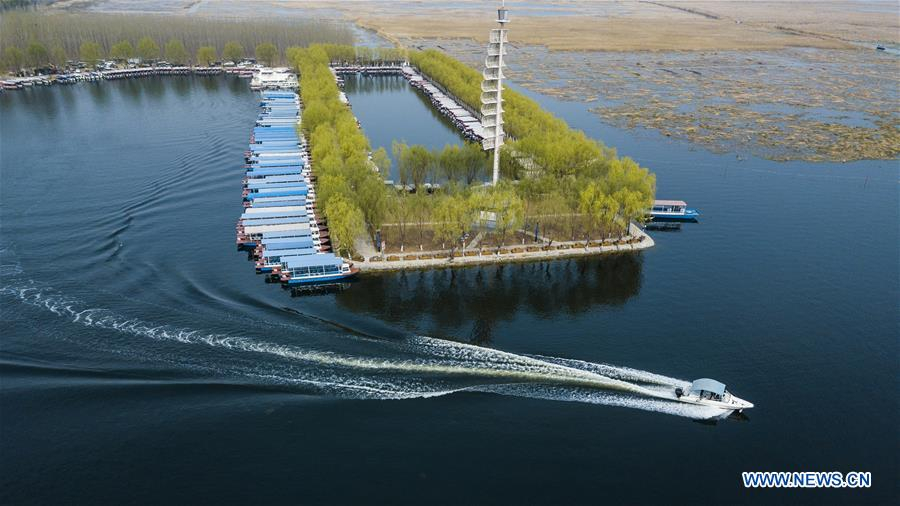 In this aerial photo taken on March 30, 2018, a speedboat leaves a pier in the Baiyangdian lake in Xiongan New Area, north China's Hebei Province. (Photo: Xinhua)
Xu Qin, governor of Hebei, made the remarks when delivering a government work report at the opening of the local legislative session.
The 67 key projects include the Beijing-Xiongan intercity high-speed railway and Beijing-Xiongan expressway.
China announced in 2017 to establish the Xiongan New Area to move non-capital functions out of Beijing.
Xu said in 2019, the plan on major urban area of Xiongan was approved by the central authorities, and 11 supporting policies regarding finance, opening up and investment approval were issued. A number of enterprises and scientific research institutions including China Electronics Technology Group Corporation and Tsinghua University Intelligent Laboratory settled in Xiongan.
Xu said in 2020, the provincial government will speed up the construction projects and implement policies of household registration, education, medical care and housing in Xiongan. New platforms will be created for drawing scientific and technological innovation developers, higher education institutes and high-end industries.