China slams UK for using joint declaration as 'excuse' to interfere in HK affairs
People's Daily
1591274801000
The spokesperson of the Chinese Embassy in the UK on Thursday criticized UK Foreign Secretary Dominic Raab's recent remarks over China's Hong Kong Special Administrative Region (HKSAR), warning London against using the Sino-British Joint Declaration as an "excuse" to interfere in Hong Kong affairs.
Raab said in the House of Commons on Tuesday that the national security legislation for the HKSAR would upend the "One Country, Two Systems" and violate the joint declaration signed by the Chinese and British governments in 1984.
In a written statement published on the Chinese Embassy website in the UK, the spokesperson called Raab's allegation over the joint declaration is a "false proposition."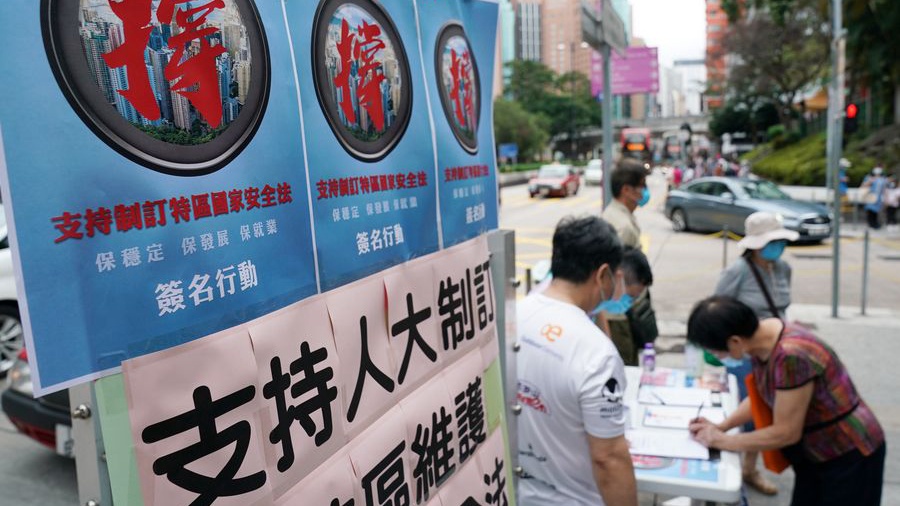 A resident signs in a street campaign in support of national security legislation for the Hong Kong Special Administrative Region in Hong Kong, south China, May 23, 2020. (Photo: Xinhua)
Noting that the declaration was signed to "address the issue of the handover of Hong Kong to China," the spokesperson said the rights and obligations of Britain laid out in it "were all fulfilled at the time of the handover on 1 July 1997."
The legislation is "purely China's internal affair," the spokesperson said, stressing that the central government is responsible for upholding national security.
China's top legislature adopted a decision to make a national security law for Hong Kong last week to counter foreign interference and attempts to seek independence of the special administrative region.
The spokesperson said the legislation "facilitates the implementation of 'One Country, Two Systems' and helps safeguard the rights and freedom of the Hong Kong residents."
"'One Country' is the precondition and basis for 'Two Systems.' 'Two Systems' is subordinate to and derived from 'One Country,'" said the spokesperson.
Chinese Foreign Ministry spokesperson Zhao Lijian commented on Raab's remarks on Wednesday, saying that Britain has no jurisdiction or supervision over Hong Kong.