Violence pales 'Pearl of the Orient' economic outlook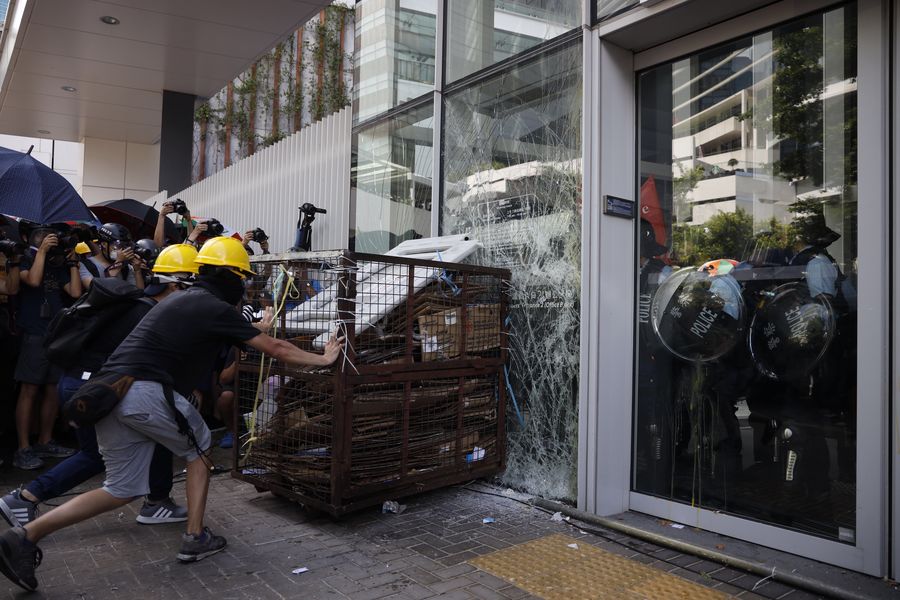 Violent radicals attempt to break into the Legislative Council building in Hong Kong, south China, July 1, 2019. (Photo: Xinhua)
The flagrant violence has already taken a heavy toll on Hong Kong's already-weak economy.
Tourism sector has turned from a summer boom into a chilly winter.
The HKSAR government has announced a package of economy-boosting measures.
by Xinhua writers Yi Ling, Fang Dong and Lou Chen
HONG KONG, Aug. 18 (Xinhua) -- As protracted violence roiled Hong Kong, the Asian financial hub -- known as the "Pearl of the Orient" -- faces a dimmed economic outlook in the coming months. Calls are mounting among the public for immediate actions to stop violence and restore order.
The demonstrations, which started over planned amendments to Hong Kong's ordinances concerning fugitive offenders, widened and turned violent over the past two months.
Protesters exhibited all manners of blatant destructive activities from blocking railways and tunnels, attacking police, defacing the national emblem and the national flag, to paralyzing the operations of Hong Kong International Airport, and brutally assaulting innocent people.
The flagrant violence has already taken a heavy toll on Hong Kong's already-weak economy.
The Hong Kong Special Administrative Region (HKSAR) government revised downward the real economic growth forecast for 2019 as a whole to 0 to 1 percent, from an earlier estimate of 2 to 3 percent.
According to Paul Chan, the HKSAR government's financial secretary, the risk of Hong Kong experiencing an economic downturn is significantly rising in the face of internal and external difficulties.
He said the recent social incidents have hit retail, restaurants and tourism, worsening economic recession.
TOURISM HIT HARD
Hong Kong's tourism sector has turned from a summer boom into a chilly winter of unemployment and economic hardship, said Wong Ka-ngai, chairman of the Hong Kong Tour Guides General Union.
A pillar industry for Hong Kong, tourism employed more than 270,000 people, contributed 4.5 percent of GDP to Hong Kong's economy in 2017.
However, Wong said, the impact now is "even worse than during the 2003 SARS outbreak."
"Many mainland tourists don't have the desire to come to Hong Kong anymore. They make up almost 80 percent of our market," he said.
Since the violent protests began, more than 20 countries and regions have warned their residents against visiting Hong Kong.
In the June-July period, average earnings for tourism workers plunged by 74 percent, while the number of tours in Hong Kong fell 74 percent on average, according to a recent survey of 1,012 people with the union.
"The violence is taking a toll on our life and Hong Kong's economy," said Dicky Yip, a tour guide.
Yip, 46, has made no money over the last two months, leaving his wife as the only breadwinner for the family of six.
"About 80 percent of the group tours of my company come from the mainland, and most of them were canceled in the past two months," Yip said.
The tour guide said he had no work to do since July when he should have been busy taking tourists to popular locales such as Wong Tai Sin Temple, Victoria Peak and Repulse Bay.
"Violent activities by a small group of people hurt the image of Hong Kong as a whole in the eyes of tourists. It is not acceptable," Yip said.
SMALL BUSINESS CHILLS
The clashes initiated by radical groups have not only disturbed business and commercial order but have frayed Hong Kong residents' nerves and made lives difficult.
Siu Lau runs a pharmacy selling dried seafood and traditional Chinese medicines in Wanchai, the wealthiest district in Hong Kong. "My shop has been open for more than 30 years. The recent turmoil caused a 50 percent drop in our business," he said.
Small and medium-sized businesses like Lau's account for 98 percent of the total number of Hong Kong businesses and contribute 40 percent of the HKSAR's employment.
"Most of our customers are regulars, some of them told me that they were not in the mood to shop," said Lau, 60, as he works with his wife in a 20-square-meter store.
Born and raised in Hong Kong, Lau was saddened by the series of violence that threaten to derail Hong Kong's economic future. "The economy will keep going down if violent and lawless protests continue," he said with a sigh.
Dim-sum seller Ah Ling, in her fifties, complained about sliding sales. She works in a small shop selling snacks and drinks in Kwun Tong, the east of Kowloon peninsula, one of the most populated districts in Hong Kong.
"We are losing customers, as you can see, people don't have to queue up. It was nothing like what it was before. Sales keep dropping," she said.
The public in Hong Kong has been irked by escalated street violence and mob behaviors. Over 470,000 people gathered Saturday in a rally at Tamar Park to demand peace and stability.
Joe Chau Kwok-ming, chairman of the Hong Kong General Chamber of Small and Medium Business, said the economic downturn is putting an extra squeeze on the small and medium-sized firms.
Many enterprises have seen a 30 percent drop in business and pay cut for employees in recent months. Chau warns that if the economy continues to deteriorate, there will be a wave of shop closures and the unemployment rate is bound to rise.
CALL FOR ORDER
A sound business environment is the backbone of Hong Kong's economy, derived from the rule of law, convenient transportation, a developed financial industry, efficient public service and the presence of international talent.
The current chaos has a direct impact on tourism, and business negotiations in the short term, but in a long run, it will threaten Hong Kong's role as the international financial and trade hub, said Witman Hung, an HKSAR deputy to the National People's Congress.
"Finance always thrives in the safest place. When Hong Kong stops being safe, investors will have to think twice. Its appeal to high-end talent will fade away and the establishment as an innovation center will also be frustrated. The effects will be detrimental," Hung said.
The American Chamber of Commerce in Hong Kong in its recent survey found that international businesses are already reporting serious consequences, ranging from an immediate hit to revenue caused by disruption to supply chains and consumption, to longer-term doubts over canceled events and shelved investments.
To prevent Hong Kong's economy from tanking, the HKSAR government on Thursday announced a package of economy-boosting measures with a total value of 19.1 billion HK dollars (about 2.4 billion US dollars).
Measures range from waiving government fees and charges on enterprises for 12 months, introducing a new loan guarantee product for smaller companies to reducing salary tax, providing subsidies to school students and extra allowance for social security recipients.
Among the measures, an increase in the amount of personal income that's tax-free alone is estimated to cost 1.84 billion HK dollars (about 235 million US dollars) and benefit 1.4 million people.
Paul Chan expressed the belief that the slew of economic stimulus measures will lead to a 0.3 percent economic growth.
According to HKSAR Chief Executive Carrie Lam, the measures are designed to help small and medium-sized enterprises cope with the deteriorating economic situation and alleviate people's burden.
She stressed the most important task at the moment is to put an end to violence and restore social order. "We all have a stake in Hong Kong.