Xi's stories: To pull all rural people out of poverty
People's Daily app
1621408476000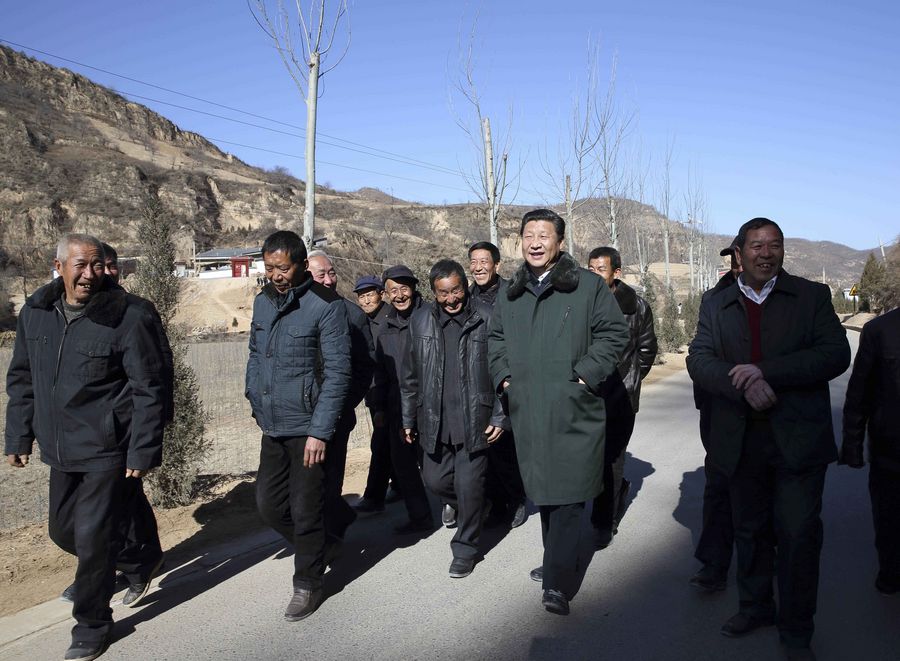 In January 1969, 15-year-old Xi Jinping started seven years of arduous work in Liangjiahe, a humble village on the remote loess plateau of Northwest China's Shaanxi Province.
He was among 17 million young urban people sent to the countryside for re-education.
With no roads or electricity, Liangjiahe at that time was mired in excruciating poverty.
The well-educated youth lived in the so-called "homes" of the villagers, which were cave dwellings dug in the mountains. Farming in the mountains, driving donkeys to mills, extracting water from the pit, cooking with firewood... these formed the villagers' daily grind.
This was what the 15-year-old Xi faced: underprivileged and primitive conditions with toilsome labor. The experience pricked Xi's heart.
Years later when Xi visited the United States as Chinese President, he recalled that experience. "At that time villagers and I lived in earthen cave dwellings and slept on earthen beds. The villagers were so poor that they often could not have a slice of meat for months. I knew what the villagers needed most!"
"Later when I became the Party Secretary of the village, I led the villagers to develop production. I understood what people needed. One of the things I truly expected was to let the villagers eat as much meat as they wanted on a regular basis. But this wish was very hard to realize at that time," Xi said.
In the 1960s and 1970s, in Liangjiahe and a myriad other villages of China, rice was so scarce that villagers could barely eat, even at festivals.
Li Yintang, Xi's neighbor, worked in Tongchuan county. Once, he returned home and brought some rice. He asked his mother to carefully steam rice and served Xi a bowl of rice.
The bowl of rice left Xi with an endless aftertaste. A few days later he reportedly bragged to a friend, "I ate white rice a few days ago!" The friend asked him, "Hey, how did you get the good stuff?" "Yintang's mother told Yintang to send me a bowl of it," he said. "It was so delicious!"
During those unforgettable days, Xi ate, lived and worked with his fellow villagers, echoing their thoughts and responding to their needs.
Sometimes the villagers gave him some pickled vegetable and he would say that life had further improved.
At the same time he would do his utmost to help villagers in distress.
One time they were toiling on the mountains. When it was time to eat, everyone took out their staple food with plain water. A woman next to him ate kangwowo, a dry snack made of bran left over from milled flour mixed with corn husk: extremely hard to swallow and digest. Xi felt sad those women had to eat it, and so he offered to exchange his corn buns for their kangwowo. The corn buns were also coarse grain, but better than the kangwowo.
After eating, Xi noticed the women had not touched the buns. Why? They told him such good food should be left for the men at home who did the harder work.
The grave reality affected Xi. "At that time, poverty in China's rural areas was engraved firmly in my mind. The villagers and I worked hard to make life better, but it was harder than climbing to the sky," Xi said later.
It was in Liangjiahe that a fiery and stoic original aspiration was forged.
Xi has nurtured a lifelong conviction to work hard and seek change. He aspires to lift impoverished areas like Liangjiahe out of poverty and pull all the rural people out of distress.
(Translated by Liu Tongshan, edited by Sun Tianren; Original story from Xi Jinping's Poverty Alleviation Stories, a book compiled by the People's Daily overseas edition and published in September 2020.)