China's consulate lodges solemn representations with Australia's Daily Telegraph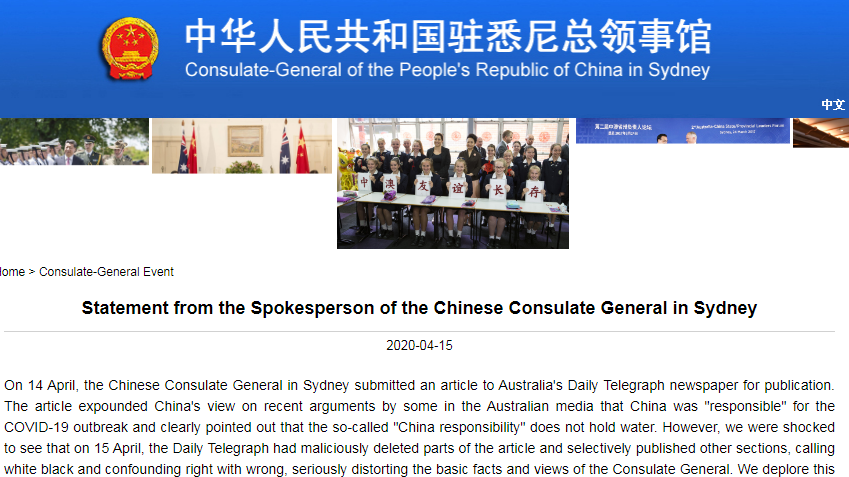 (Photo: CGTN)
The Chinese Consulate General in Sydney on Wednesday lodged stern representations with Australia's The Daily Telegraph, saying it distorted the basic facts and views of the Consulate General in an article it submitted for publication.
The article, submitted by the consulate Tuesday, expounded China's view on recent arguments by some in the Australian media that China was "responsible" for the COVID-19 outbreak and clearly pointed out that the so-called "China responsibility" does not hold water.
"However, we were shocked to see that on 15 April, The Daily Telegraph had maliciously deleted parts of the article and selectively published other sections, calling white black and confounding right with wrong, seriously distorting the basic facts and views of the Consulate General. We deplore this behavior and have lodged stern representations with The Daily Telegraph," said the consulate in a statement.
To be qualified as a media organization, objectivity and accuracy should be the cornerstone and the bottom line. "Redacting" should not be a tool used to maliciously tamper with an article from the Consulate General, it said.
Freedom of the press is not a "shield" for the deliberate dissemination of false information and irresponsible remarks, nor should there be double standards only publishing what favors one side or voice, said the statement.
The Daily Telegraph's approach will not negate China's active efforts to strengthen epidemic prevention and control and promote international health cooperation. The Daily Telegraph is only demonstrating the malicious intentions of certain people and further damaging the newspaper's reputation, it added.