Expert: China should have confidence in fighting current wave of pandemic
China's pandemic prevention and control experience has proved that with effective administrative measures and the cooperation of the general public, the goal of precise prevention and control and "dynamic zero infection" can be achieved, a leading Chinese epidemiologist said, adding that even if there is a local outbreak of the pandemic, it can still be quickly controlled.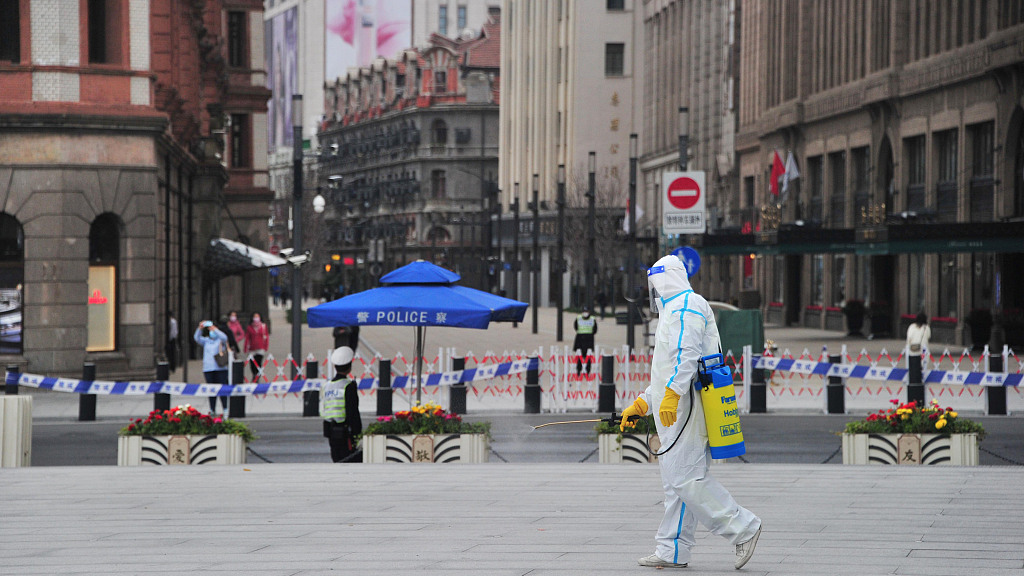 "Even in the face of the Omicron variant, as long as effective measures are taken, it can still be prevented and controlled. We should have confidence," Zhang Boli, academician with the Chinese Academy of Engineering, was quoted as saying in a recent interview with Xinhua.
In the spring of 2022, China faces grave challenges in its battle against COVID-19. People who follow the daily tally of infections in the Chinese mainland can't miss a new trend: the overwhelming majority of new local infections are asymptomatic.
The Chinese mainland recorded 1,506 new confirmed COVID-19 cases on Saturday, with 1,455 linked to local transmissions and 51 from overseas, according to data from the National Health Commission on Sunday.
A total of 11,781 new asymptomatic cases were also recorded on Saturday, and 73,689 asymptomatic patients remain under medical observation.
Among the cities, Shanghai, China's economic hub with a population of more than 24.87 million, reported 438 confirmed locally transmitted COVID-19 cases and 7,788 asymptomatic carriers on the day, according to the local health commission.
Authorities and suppliers in the city have been racing to secure daily supplies for residents as the megacity began temporary closed-off management in two phases to curb the recent resurgence in COVID-19 infections. Citywide COVID-19 antigen testing will be conducted on Sunday and nucleic acid testing on Monday, according to local authorities.
Why are so many infections asymptomatic in China's latest flare-ups?
The properties of the Omicron variant, timely screenings and high vaccination rates are contributing factors to the high proportion of asymptomatic infections during the latest COVID-19 flare-up, Zhang said.
"As it becomes more contagious, the Omicron variant is less lethal," said Zhang.
But this does not mean Omicron can be taken lightly, Zhang added, noting that it is still dangerous to the elderly and people living with underlying health problems among other vulnerable groups.
The National Health Commission (NHC) recently updated the protocols for diagnosis and treatment of COVID-19 patients, saying asymptomatic cases and those with mild symptoms will be treated in designated quarantine facilities instead of hospitals.
The large number of asymptomatic cases is also a result of early detection with rapid screenings, as well as mass vaccination of the population, Zhang noted.
The latest NHC statistics showed nearly 88 percent of the total population on the Chinese mainland had been fully vaccinated against COVID-19 by March 21 and that over 659 million had received a booster shot.
Noting that asymptomatic cases can cause the spread of the virus by stealth, Zhang called for faster epidemiological investigation and source tracing so as to stem virus transmission.
Despite recent resurgences of the epidemic in multiple locations including Shanghai, Jilin and Shenzhen, less than 0.1 percent of the people infected were in a severe or critical condition, according to the NHC.
Zhang also noted that there are a few cases of people recovering from COVID-19 to later test positive again, but they are no longer infectious, a trend which has been recognized by most experts around the world.
"So far, the phenomenon of re-positive cases infecting others has not been found. In the treatment of COVID-19 patients, integrating traditional Chinese medicine (TCM) with Western medicine can further reduce the rate of becoming re-positive," Zhang said.
(With input from agencies)