Beijing and Shanghai manage to maintain reopening steps despite sporadic infections
Global Times
1654907708000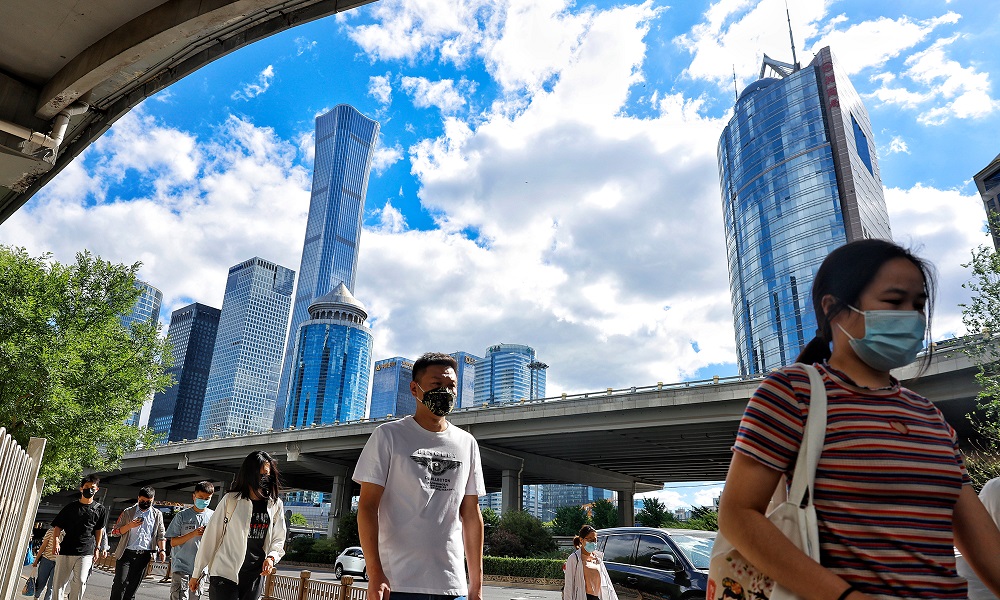 The sporadic COVID-10 cases found in Beijing and Shanghai and the tightening of regional measures have cast a shadow on the gradual reopening of China's two largest cities. But observers said the resumption of normal life and work in the two cities and across the country will not be impeded as China has updated its regular epidemic policy to better cope with the stealth Omicron based on experience from the last two months.

Beijing's club cluster infections have resulted in 29 positive cases in 12 districts as of Friday, prompting three districts including Chaoyang to suspend entertainment venues like music clubs and internet cafes. The capital announced a major reopening of dine-in services, schools and scenic spots five days ago.
The bars involved in the cluster infections include the Paradise Supermarket bar, One Third club, Fresh Club and PH club, which are concentrated in the Workers' Stadium area. Beijing authorities have conducted epidemiological investigation on all employees of the bars. As of press time, the bar-related infections have identified 4,402 close contacts who are subject to closed management.
Shanghai, which embraced the return of normal life and work on June 1, has seen half of its 25 million residents from 11 districts undergo nucleic acid testing this weekend, after three employees from Red Rose Beauty Parlor, located on Huaihai Road in downtown Xuhui district, were found COVID-19 positive on Thursday.
The parlor has 16 employees, and 481 customers have been traced, and about 90,000 related people have received nucleic acid tests, according to authorities.
Since the city lifted its lockdown on June 1, it recorded new infections at the community level, indicating that hidden transmission risks still existed among communities, Zhao Dandan, deputy director of Shanghai's health commission, said at Friday's press briefing.
As some residents have concerns over whether there will be a new citywide lockdown, officials from Jing'an and Hongkou districts on Friday clarified that closed-loop management will be carried out during PCR samplings and the management will be lifted immediately when the screening sampling is finished to reduce the impact on residents' daily lives.
"I understand the way to carry out screening during weekends, which has reduced the impact on my work," a resident surnamed Jin told the Global Times on Friday. Jin noted she also had concerns over the sporadic cases reported recently, and it would be a quick way to detect the possible infections via PCR screening.
A senior expert with the Chinese Center for Disease Control and Prevention who requested anonymity told the Global Times on Friday that despite cluster infections, megacities like Beijing and Shanghai will not easily resort to large-scale lockdowns, especially after they updated their regular epidemic prevention mechanisms in the past months to better cope with Omicron.
Beijing's lifting of major COVID-19 restrictions demonstrated Chinese megacities' successful practice in timely and targeted epidemic measures against Omicron after Shanghai's tough and difficult battle, which saw the financial hub under lockdown for more than two months.
In many cities, local governments have organized regular nucleic acid testing every two or three days since May, and Beijing requires negative nucleic acid testing results taken within 72 hours to enter public venues and transportation.
Lu Hongzhou, head of the Third People's Hospital of Shenzhen, told the Global Times on Friday that regular nucleic acid testing is valuable to detect cluster infections quickly and prevent resurgence.
"It's inevitable that sporadic cases will be detected continuously as imported cases are possible to cause sporadic domestic infections because the global pandemic hasn't been controlled," Lu said, noting that the gradual opening and normalization of life will not be impacted and regular nucleic acid testing will help increase our confidence in production and work resumption.
Lu believes we need to be more active in responding to COVID-19 in the future, meaning we should accelerate research on more effective vaccines as well as small molecule drugs.
Targeted measures, smallest impact
Shanghai has not stopped or slowed down resuming production, and various sectors have reported fully resuming production this week. SAIC Motor, China's largest automaker, sold 360,000 vehicles in May, including 86,000 to overseas markets, an increase of 97 percent year-on-year, the company announced on Thursday.
Shanghai Disney Resort reopened some of its resort locations, including a park near Disneyland and a store on Friday, after nearly a three-month closure due to recent coronavirus outbreaks.
But Universal Beijing Resort, which had planned to resume the booking of pre-sale of tickets and hotels on Saturday, announced to postpone the plan on Friday due to new flare-ups.
A former director of a think tank under China's Commerce Ministry told the Global Times on condition of anonymity that targeted regional measures will not generate a big impact on economy, but would ensure the long-term development of the economy, and that's why China is pursuing a dynamic zero COVID-19 policy.
Although domestic outbreaks increased the difficulty of China in achieving its full-year economic growth target, experts believe the full resumption of work and production in Shanghai and Beijing will inject much confidence in the economy in the second half of 2022.
Cao Heping, an economist from Peking University, told the Global Times that the full resumption of work and production in Shanghai and the return of dine-in services in Beijing come about two weeks earlier than expected, leading to a 90 percent chance of positive economic growth for China in June and a clear positive growth in August. Cao said the national unified dynamic zero-COVID policy laid a solid foundation for the recovery of the entire economy, and it's highly possible for China to achieve full-year economic growth of 5 percent or more.
The expert said the epidemic will not affect Chinese economy's long-term development potential as China still have effective resources in land, capital and workforce.