Decades-long projects seek to restore environment of Sanjiangyuan
People's Daily app
1594619152000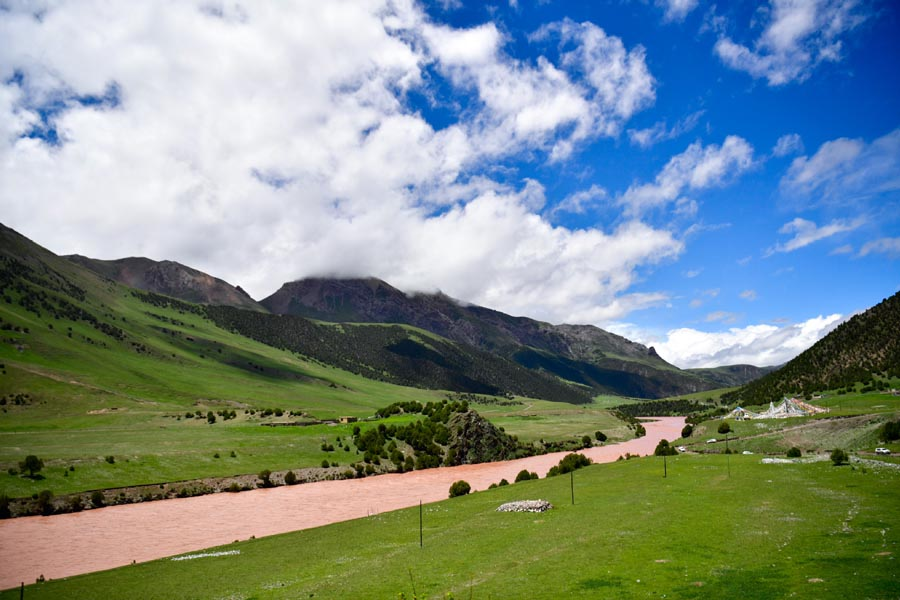 A photo taken on June 21, 2019 shows the Lancang River in Zadoi County, Northwest China's Qinghai Province. (Photo: Xinhua)
When Norbu Samdrup was 24, his family sold their 155 yaks and gave up grazing in Northwest China's Qinghai province.
He, his parents and his three sisters left the Tanggula Mountains and migrated to the village of Changjiangyuan in the suburbs of Golmud city.
Environmental catastrophe
That was the winter of 2004, when 128 herding families from six villages decided to move out of Tanggula. Norbu Samdrup's family was one of them.
They were dubbed "ecological refugees."
As a child, Norbu often played with other primary schoolchildren in the river.
"All the riverbeds dried up," he said.
After growing up, Norbu often joined his father to supervise their grazing yaks. He watched as the grasslands turned increasingly arid.
"Once upon a time, people in the town could raise as many as 70,000 yaks. But the grass was insufficient. Herdsmen had to walk 200 kilometers for grazing," said Norbu.
In 2004, Rigzin Dorje worked for the government in Madoi County in Qinghai.
He noticed and worried about the overgrazing and degrading grassland.
Lakes in the Tanggula town area shrank from 4,077 to 1,800. It became a pressing task to restore the environment of the region.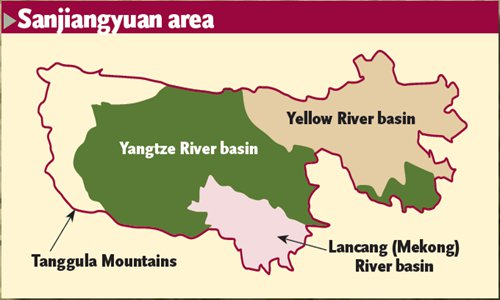 (Graphics: Global Times)
Restoration project
Sanjiangyuan, or "three-river source", is an area of Northwest China's Qinghai Province which contains the headwaters of China's three major rivers: the Yellow, the Yangtze and the Lancang.
As the upstream region for these rivers, Sanjiangyuan has a significant role in the water quality of the entire country.
In 2005, China launched an ecological project to protect and restore the ecosystem in Sanjiangyuan.
It was an ambitious project: 1,041 programs were launched including water and soil conservation, desertification control, returning grazing land to grasslands, resident resettlement and wetland protection.
Nearly 1.67 million hectares of grassland in Madoi were prohibited from pasture.
"2,334 residents from 585 herding households relocated from the core ecological zone," said Rigzin, recalling the largest migration from the source of the Yellow River.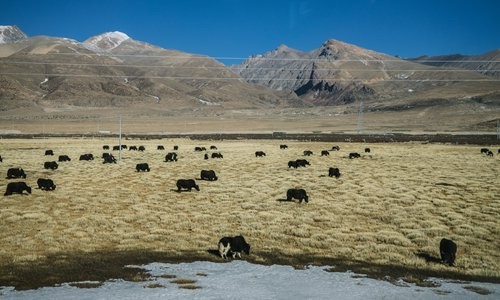 The Changjiangyuan villagers' old hometown in the Tanggula Mountains, Northwest China's Qinghai Province: a demanding environment. (File photo: Global Times)
Norbu Samdrup's family moved to a new house, with hospitals and schools nearby. They no longer pursue such a demanding nomadic lifestyle and receive subsidies for their contribution to the conservation of the grassland.
Transformation
He Wancheng has worked three decades in the Makehe forestry area. He and his
lumberjack colleagues have found new jobs, as forest rangers.
He said he wanted to "leave lush mountains and lucid waters for future generations."
Sanjiangyuan has reportedly revived.
By 2015, 10 years after the project began, grassland coverage had increased 30 percent in the region and green coverage of black soil land surpassed 80 percent. Water storage rose 8 billion cubic meters.
Nearly 100,000 herdsmen have abandoned grazing, seeing their annual income grow by 12.4 percent on average.
At the end of 2015, China approved a pilot program for its national park system and Sanjiangyuan began operating in 2016.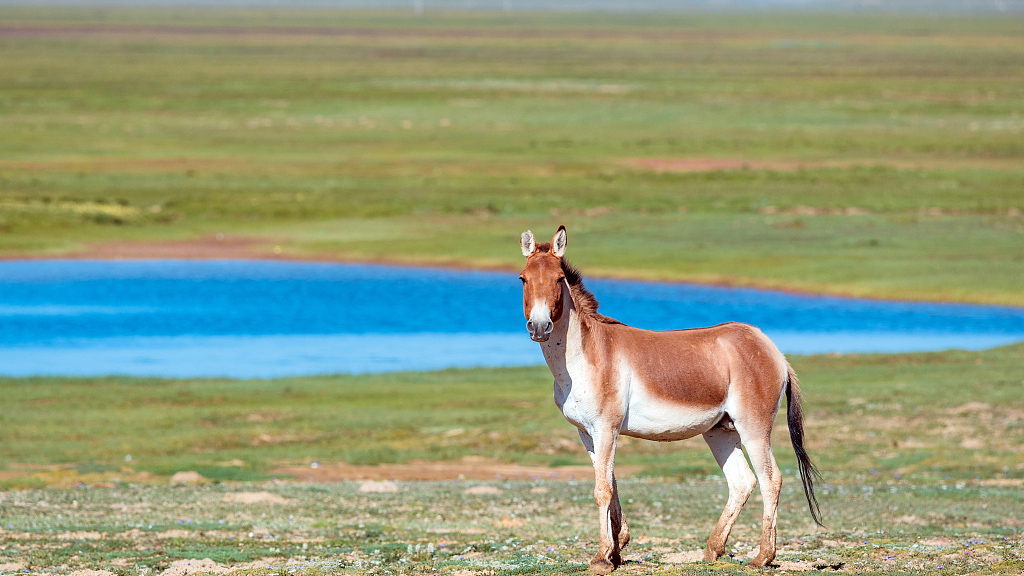 A wild donkey in the Sanjiangyuan National Park in Northwest China's Qinghai Province. (Photo: VCG)
Rigzin's new job as a law enforcement officer in Sanjiangyuan National Park holds him responsible for the territory, environment, grasslands and fishing.
He Wancheng is now director of the Sanjiangyuan National Park administrative bureau. He is working to ensure Sanjiangyuan officially becomes China's first national park by the end of 2020 as scheduled.
The lessons learned in the pilot program at Sanjiangyuan National Park will inform a blueprint for the province and future national parks.
In 2019, number of lakes in Madoi has rebounded to 5,050, setting a historical record.
Norbu Samdrup now works as a park ranger. Every month he returns to the grasslands to patrol and investigate.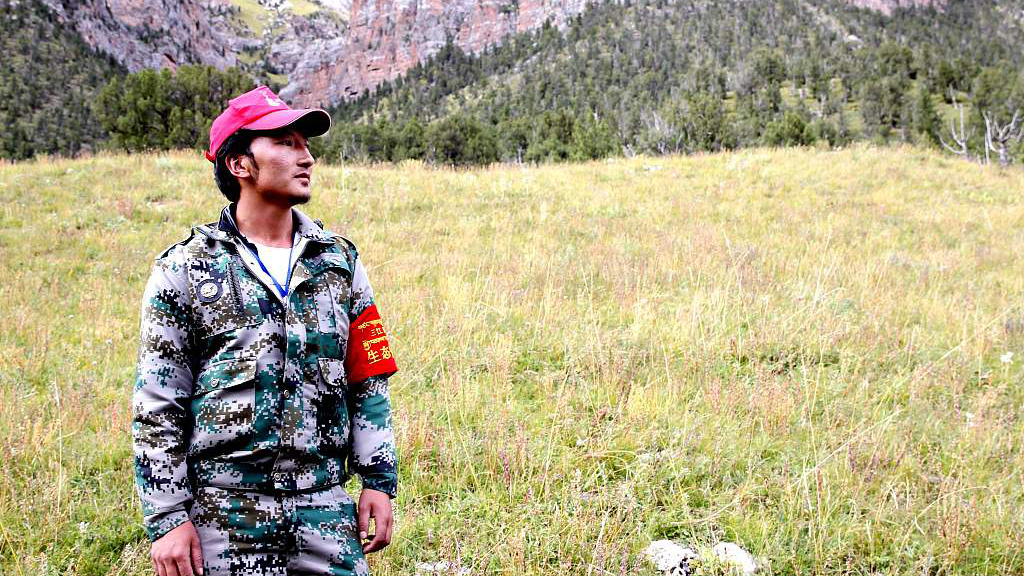 A ranger in Sanjiangyuan National Park, Northwest China's Qinghai Province. (Photo: VCG)
Norbu is one of the 17,211 rangers in Sanjiangyuan National Park. Under the "one household, one post" system, as long as one member is hired as a park ranger, the whole family can participate in the subsidized job.
"As a park ranger, I take my responsibility as the son of the grasslands," said Norbu.
(Translated and edited by Zhan Huilan and Liu Xiaochi. Original story from People's Daily Overseas Edition)