China makes remarkable achievements in poverty reduction: report
People's Daily app
1565700919000
China's eastern region has taken the lead in basically eliminating poverty, and the number of the poor in central and western China has been significantly reduced, according to a report released by China's National Bureau of Statistics on Monday.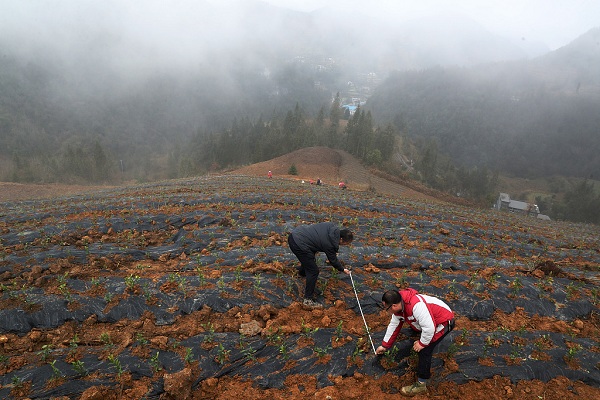 (File Photo: VCG)
Affected by complicated geographic and historic factors, China's poverty problem varies according to regional issues.
The impoverished population in the eastern rural regions was 1.47 million in 2018, a decrease of 12.2 million from the end of 2012, and a total reduction of 89.2 percent in the past six years. The rural poverty rate in the eastern region has sharply declined from 3.9 percent in 2012 to 0.4 percent in 2018, which shows that the region has basically achieved poverty elimination.
The overall poverty situation in the central and western regions is relatively prominent. Since the 1980s, China has focused on poverty problems in the central and western regions, implementing poverty reduction strategies such as educational policies and social security policies.
The poverty-stricken rural population in central China decreased from 34.46 million at the end of 2012 to 5.97 million at the end of 2018, a decrease of 82.7 percent, or 28.49 million.
In western China's rural areas, the number of the poor decreased from 50.86 million at the end of 2012 to 9.16 million at the end of 2018, a drop of 82.0 percent, or 41.7 million.
Since the 18th National Congress of the Communist Party of China in November 2012, China has implemented accurate poverty alleviation tracking methods in different regions, which have noted impressive progress.
According to the current rural poverty standards, the number of people lifted from poverty is more than 10 million each year, the report said.
Data released by the World Bank shows the incidence of poverty in China has dropped by 87.6 percent, with an average annual decline of 2.6 percent from 1981 to 2015 under the international poverty standard of $1.90 per person per day, while the global poverty rate has decreased by 32.2 percent, and an average annual decrease of 0.9 percent.
With a poverty reduction rate significantly faster than the global average, China's contribution to the world's poverty alleviation mission is over 70 percent, according to the State Council Leading Group Office of Poverty Alleviation.