Fiji
People's Daily
1562600345000
Fiji, officially the Republic of Fiji, is an island country in Melanesia, part of Oceania in the South Pacific Ocean about 2,000 kilometers northeast of New Zealand's North Island. Fiji consists of an archipelago of more than 330 islands—of which 110 are permanently inhabited—and more than 500 islets, amounting to a total land area of about 18,333 square kilometers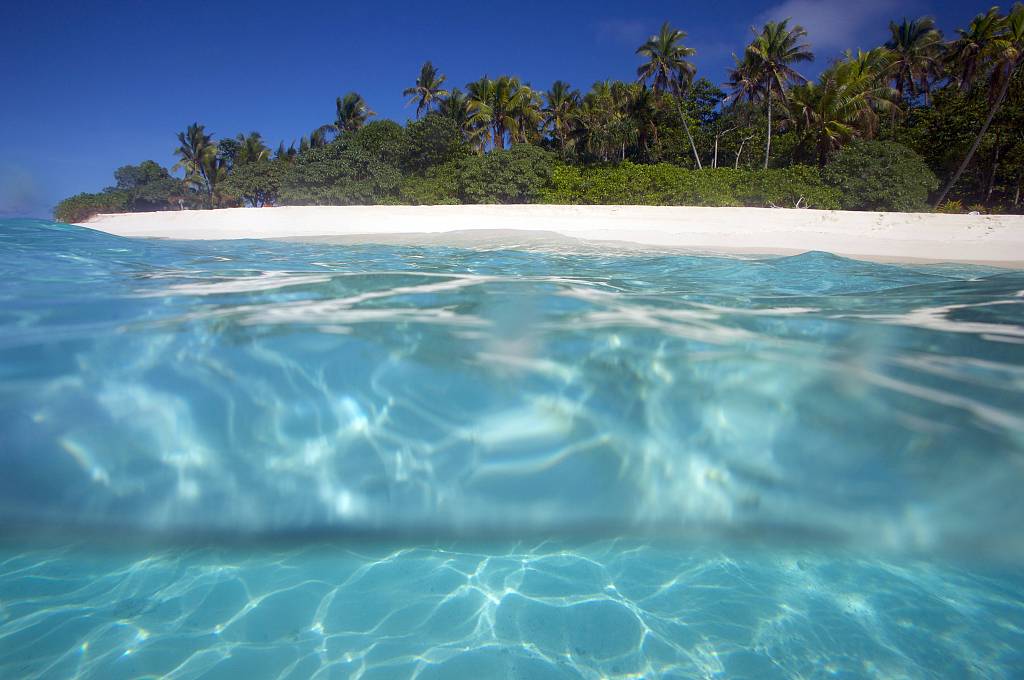 File photo: VCG
The two major islands, Viti Levu and Vanua Levu, account for 87% of the total population of 885,000 (as of 2017). Fijian is an Austronesian language of the Malayo-Polynesian family spoken in Fiji. The 1997 Constitution established Fijian as an official language of Fiji, along with English and Fiji Hindi.
Endowed with forest, mineral, and fish resources, Fiji is one of the most developed of the Pacific island economies, though still with a large subsistence sector.
Urbanization and expansion in the service sector have contributed to recent GDP growth. Sugar exports and a rapidly growing tourist industry – with tourists numbering 843,000 in 2017 are the major sources of foreign exchange. Fiji has a lot of popular tourism regions being Nadi, the Coral Coast, Denarau Island, Mamanuca Islands, etc.
Fiji's GDP in 2017 is around 5 billion US dollars and per capita GDP is 5,761 US dollars.
The currency of Fiji is Fiji Dollar, whose exchange rate to US dollar is around 2.09 to 1.
The climate in Fiji is tropical marine and warm year round with minimal extremes. The warm season is from November to April and the cooler season lasts from May to October. Temperatures in the cool season still average 22 °C.
The majority of Fiji's islands formed through volcanic activity starting around 150 million years ago. Some geothermal activity still occurs today, on the islands of Vanua Levu and Taveuni. The geothermal systems on Viti Levu are non-volcanic in origin, with low-temperature (35–60 degrees Celsius) surface discharges.
China is willing to expand cooperation with Fiji on agricultural technology, green development, investment and trade, Xi said during a meeting with Fijian Prime Minister Josaia Voreqe Bainimarama, who attended the Belt and Road Forum for International Cooperation held in Beijing from May 14 to 15, 2017.
Xi noted that the two countries are enjoying deeper political mutual trust, stronger pragmatic cooperation and closer people-to-people exchanges, while calling for continued mutual support on issues concerning each other's core interests and major concerns.
China will encourage more tourists to visit Fiji, and support Chinese enterprises to expand business in the country, he told Bainimarama.
Xi expressed China's willingness to boost coordination and cooperation with Fiji under the United Nations framework, and maintain communication and coordination on major issues such as climate change.
Voicing support for the Belt and Road Initiative, Bainimarama said Fiji is willing to boost cooperation with China under the initiative.
Fiji will deepen cooperation with China in areas including agriculture, infrastructure, trade and people-to-people exchanges, while furthering coordination on climate change and sustainable development, Bainimarama said.