South Sudan
People's Daily
1559748215000
The Republic of South Sudan
An aerial view of Juba (Photo: AFP)
South Sudan, officially known as the Republic of South Sudan, is a landlocked country in East-Central Africa.
The country gained its independence from the Republic of the Sudan in 2011.
South Sudan is a multi-tribal country with 64 tribes such as Dinka, Nuer and Bari
It is bordered by Ethiopia to the east, Kenya, Uganda and the Democratic Republic of the Congo to the south, the Central African Republic to the west, and Sudan to the north.
Capital and largest city: Juba
Population: about 12.53 million (2017)
Area: about 620 thousand square kilometers
Major languages: English, Arabic
Economy
Currency: South Sudanese pound (SSP)
The economy of South Sudan is heavily dependent on oil resources. Its oil revenue accounts for about 98% of government revenue.
Politics
President: Salva Kiir Mayardit (served as the country's first president since its establishment in 2011)
South Sudan's President Salva Kiir (Photo: VCG)
First Vice President: Taban Deng Gai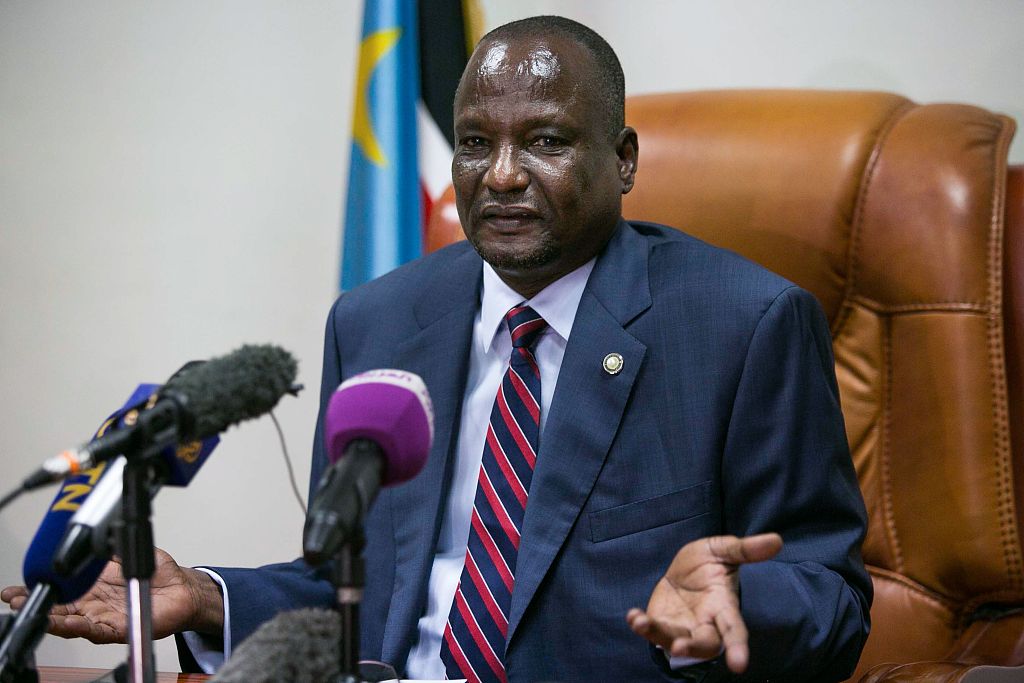 South Sudan's First Vice President Taban Deng Gai (Photo: VCG)
Vice President: James Wani Igga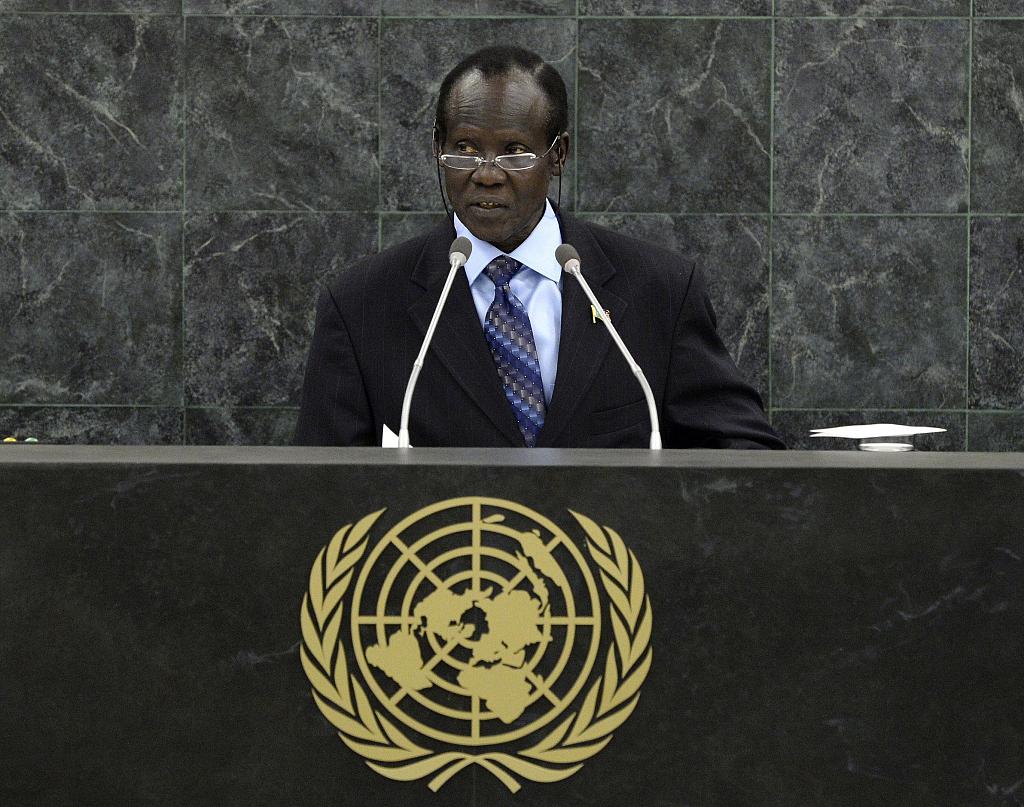 South Sudan's Vice President James Wani Igga (Photo: VCG)
South Sudan is the youngest member country of the African Union. It won admission as a United States member in 2011.
China-South Sudan Relations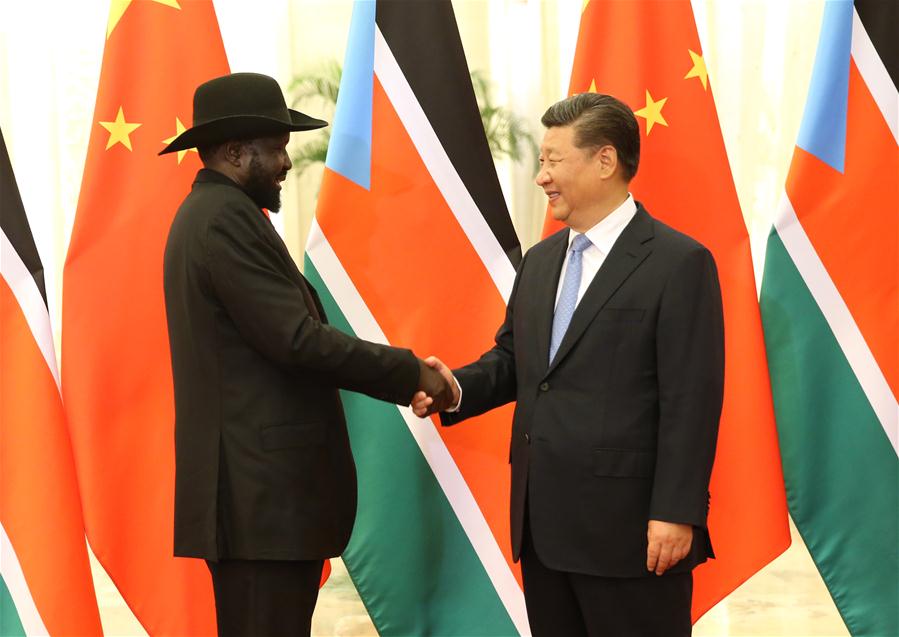 Chinese President Xi Jinping (R) meets with South Sudanese President Salva Kiir at the Great Hall of the People in Beijing, capital of China, Aug. 31, 2018. (Photo: Xinhua)
In 2013, the friendly relations between the People's Republic of China and the Republic of South Sudan grew steadily, with exchanges and cooperation in all areas yielding positive outcomes.
The two countries maintained communication at all levels. In July, Stephen Dhieu Dau, President's special envoy and Minister of Petroleum and Mining of South Sudan, visited China. Dhieu passed on a letter from President Salva Kiir Mayardit to President Xi Jinping. Ambassador Zhong Jianhua, Special Representative of the Chinese Government on African Affairs, paid four visits to South Sudan in April, June, August and December, and attended South Sudan Economic Partners Forum in the US in April.
Exchanges and cooperation between the two countries in business, culture and health made new progress. Business cooperation moved forward steadily, oil cooperation has deepened, and Chinese enterprises actively invested in South Sudan's infrastructure programs, such as road, hydro-power, telecommunication and medical care. The construction of Rumbek hospital supported by China's assistance was completed. The Chinese side donated batches of medical equipment, anti-malaria drugs, solar power batteries and lighting equipment. The two countries also signed the agreement on continued sending of medical teams to South Sudan.
In 2019, the China-South Sudan relations grows steadily.
China has provided strong support for South Sudan's peace and stability, including the country's national development, and will continue to support South Sudan's quest and provide assistance for its peace process. Chinese ambassador to South Sudan Hua Ning said infrastructure construction is an important foundation that will spur South Sudan's future development, and that road and bridge construction is a manifestation of bilateral cooperation within the framework of the Belt and Road Initiative.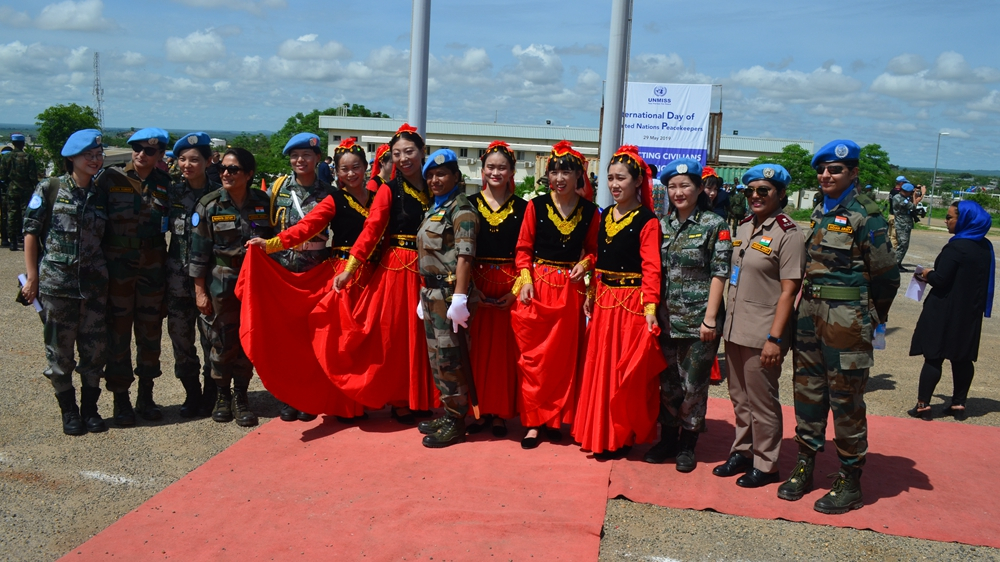 Chinese peacekeepers with other peacekeepers in South Sudan at UN House celebrating UN Peacekeepers Day. (Photo: CGTN)
China will enhance media exchanges and cooperation with South Sudan through an aid project that will see the country sponsor the setting up of a broadcasting center in Juba, a move that he noted will promote the revitalized peace process and bring new opportunities for the development of South Sudan's media industry.
China also contributes to South Sudan's health sector. China has provided medical equipment, capacity building to health workers and financial aid to improve South Sudan's health infrastructure. The China-aided Kiir Mayardit Women's Hospital in the central town of Rumbek will be completed in June. The China-aided project for the expansion and modernization of South Sudan's main public health facility, the Juba Teaching Hospital, is expected to be completed by September. South Sudan is already benefiting from a grant of about $33 million provided by the Chinese government in 2013 to modernize and expand health facilities in the country that has greatly improved health care across South Sudan.
South Sudan government and business officials are set to participate in the forthcoming first China-Africa Economic and Trade Expo, scheduled for June 27-29 in central China's Hunan Province, in an effort to woo investment into the African's youngest country.