Azerbaijan
People's Daily
1560265913000
Azerbaijan is located in the southeastern part of the Transcaucasia. It is bordered by Russia to the north, Armenia and Georgia to the west and northwest, Iran to the south, and the Caspian Sea to the east.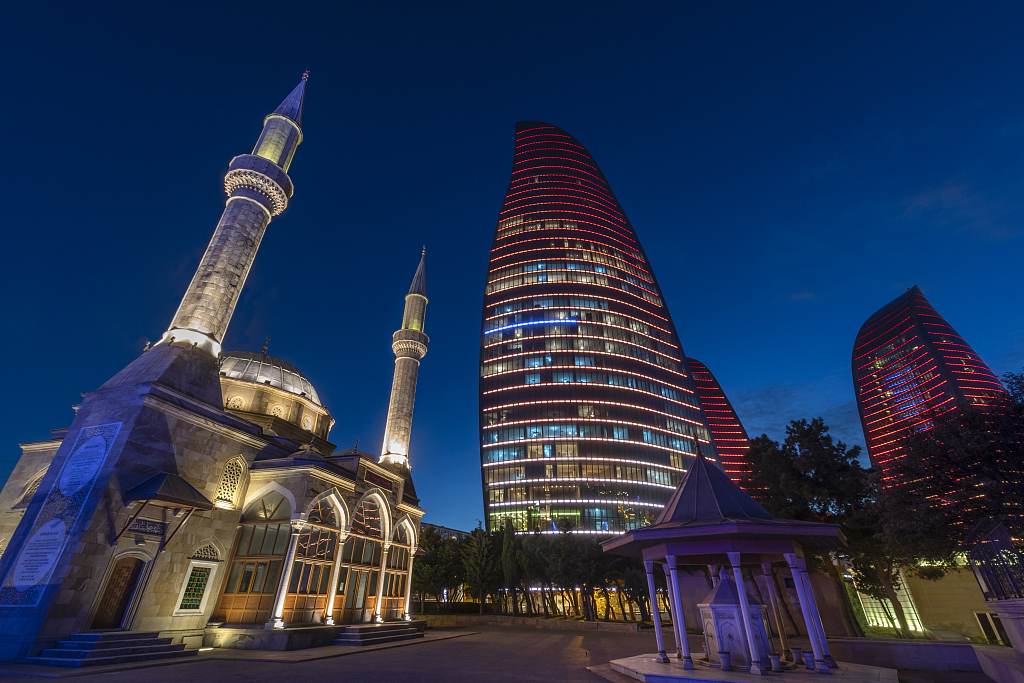 (File Photo: CGTN)
Full name: The Republic of Azerbaijan
Area: 86,600 square kilometers
Population: 989.80 million (as of January 2019)
Official Language: Azerbaijani
Capital: Baku, with a population of 2.26 million (as of January 2019)
Currency: Manat
Politics:
Azerbaijan's political situation is stable. President Ilham Heydar ogly Aliyev has a solid status and the New Azerbaijan Party under his leadership has a broad public opinion base.
Economy:
The oil and gas industry is the pillar industry of Azerbaijan. Azerbaijan's gross domestic product was 70.135 billion manats (about $41.256 billion), an increase of 0.1 percent year on year, and the inflation rate was 12.9 percent. Azerbaijan's GDP increased by 1 percent year on year from January to November 2018.
Resources:
Azerbaijan's oil and natural gas resources are abundant, mainly distributed in the Absheron peninsula and the Caspian Sea. The proven reserves of oil are about 2.2 billion tons and the natural gas reserves are about 2.6 trillion cubic meters.
Relations with China:
China and Azerbaijan established diplomatic relations on April 2, 1992. The relations between the two countries have developed smoothly and high-level exchanges have been close. China was one of the first countries to recognize Azerbaijan's independence.
China-Azerbaijan economic and trade relations have developed smoothly. In 2017, the trade volume between China and Azerbaijan was $964 million, an increase of 27.3 percent year on year. Among them, China's exports were $387 million, an increase of 11.9 percent year on year, and China's imports were $577 million, an increase of 40.1 percent year on year. The trade volume between China and Azerbaijan was $1.165 billion from January to November 2018.
In 1999, the two sides held the first meeting of the China-Azerbaijan Intergovernmental Economic and Trade Cooperation Committee and held the sixth meeting in 2016.
The two sides have cooperated smoothly in the fields of education, culture, science and technology, sports, tourism and media. The two sides cooperated to run two Confucius Institutes in Azerbaijan.
Chinese President Xi Jinping met with Azerbaijani President Ilham Aliyev on April 24, 2019 ahead of the Second Belt and Road Forum for International Cooperation to be held from April 25 to 27 in Beijing.
Azerbaijan is an important cooperative partner of China in the Eurasian region and one of the first countries to respond to and actively participate in the Belt and Road Initiative (BRI), Xi said.
China supports the development path chosen by the Azerbaijani people in accordance with their national conditions and the efforts of the Azerbaijani side to develop its economy and improve people's livelihood, he said.
China would like to work with Azerbaijan to take the BRI as an opportunity to align the development plans of the two sides, deepen cooperation in infrastructure construction and other areas, expand cultural, educational and local exchanges, and enhance mutual understanding and friendship, he said.
Azerbaijan regards China as a firm friend and partner and unreservedly supports China on issues concerning its core interests and major concerns, Aliyev said, adding that Azerbaijan has actively responded to and participated in the BRI since its inception.
The country is willing to build an international transport corridor across the Caspian Sea and promote regional connectivity by taking advantage of its unique geographic location, he said.
The Azerbaijani side is also willing to join hands with the Chinese side in cracking down on the "three evil forces" of terrorism, separatism and extremism, he added.