Zimbabwe
People's Daily app
1556006658000
The Republic of Zimbabwe is a landlocked country located in southern Africa, neighboring Mozambique, Malawi, Zambia, Botswana and South Africa, with a land area of 390,000 square kilometers. It has a population of 16.9 million and its capital and largest city is Harare.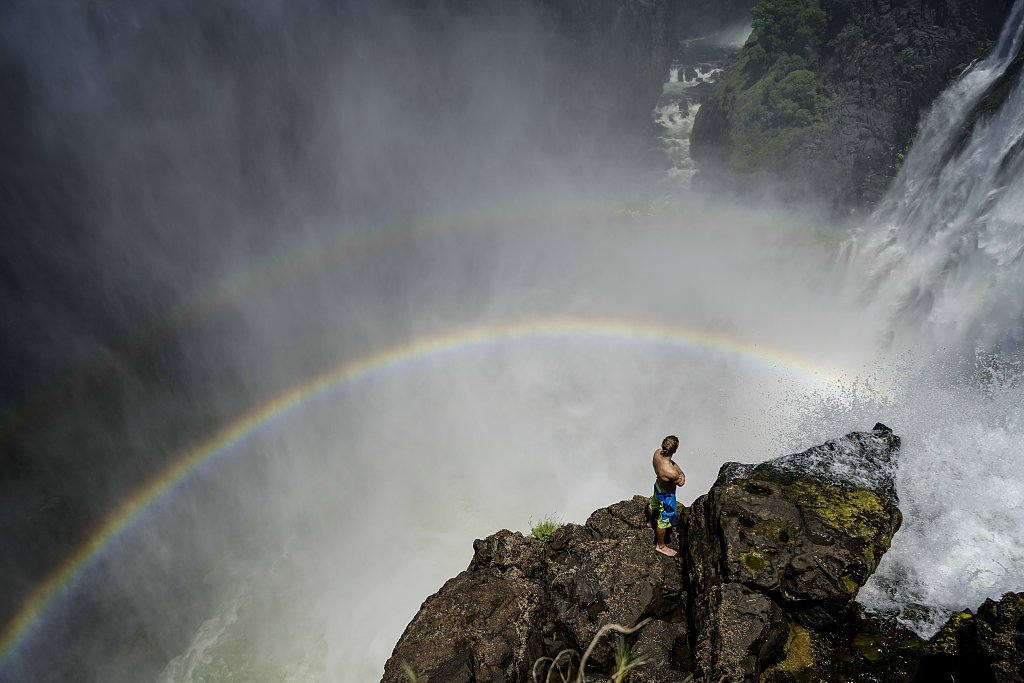 Victoria Falls, Devils Cataract, Zimbabwe (File photo: VCG)
The country declared its independence from the United Kingdom in 1965 under the name Rhodesia and gained the official independence on April 18, 1980, scrapping the colonial name of "Rhodesia". In the April 1980 elections, Robert Mugabe, head of the Zimbabwe African National Union (ZANU), won and became prime minister of Zimbabwe.
In late 1987, Zimbabwe's parliament amended the constitution, shifting the role of president from a ceremonial post to an executive one. The incumbent President Emmerson Mnangagwa assumed the office at the end of 2017.

In 2018, the country's gross domestic production (GDP) reached $19.5 billion, up 2 percent, and GDP per capita was nearly $1,200.

Headed by President Mnangagwa, the current cabinet of Zimbabwe was sworn in on September 11, 2018. The 20-member cabinet includes First Vice President Constantino Chiwenga, Second Vice President Kembo Mohadi, Minister of Home Affairs and Culture Obert Mpofu, Minister of Media, Information and Broadcasting Services Chris Mutsvangwa, Minister of Foreign Affairs Sibusiso Moyo and Minister for International Trade Sibusiso Moyo.

China established diplomatic relations with Zimbabwe on its independence day 39 years ago. According to the latest available data, bilateral trade expanded slightly by 0.96 percent in the first 10 months of 2018, topping $1.2 billion.

After decades of close ties, the two countries decided to upgrade their ties to a comprehensive strategic partnership of cooperation in April 2018 when Chinese President Xi Jinping met visiting Zimbabwean President Mnangagwa in Beijing.

Mnangagwa attended the 2018 Beijing Summit of the Forum on China-Africa Cooperation (FOCAC).

In their meeting, Xi said he appreciated that Mnangagwa had expressed his willingness to jointly develop the Belt and Road with China at the summit.

"China and Zimbabwe have always been good friends, good partners, and good brothers," Xi said, noting that China always supports Zimbabwe in safeguarding sovereignty, security, and development interests, and in opposing foreign interference and independently choosing its development path.

Zimbabwe fully supports the cooperation measures proposed by China under the Belt and Road Initiative and the FOCAC framework, and expects to strengthen cooperation with China in investment, financing, infrastructure, agriculture, telecommunications, electricity, among other areas, Mnangagwa said.