New Zealand
People's Daily
1562811679000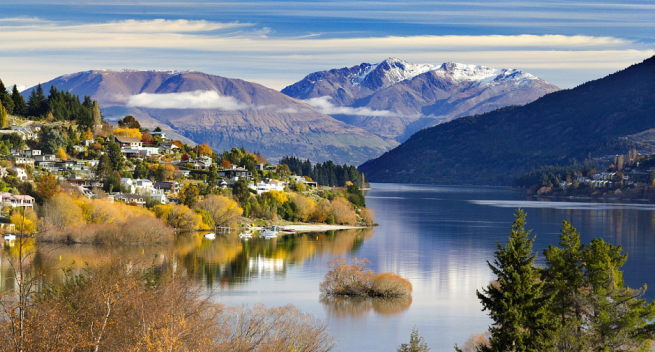 (Photo: VCG)
Full name: New Zealand
Area: 270,000 square kilometers
Population: 4.91 million
Capital: Wellington
Official language: English and Maori
National Day: February 6
Geography
New Zealand is located near the center of the water hemisphere and is made up of two main islands and a number of smaller islands. The two main islands (the North Island, or Te Ika-a-Māui, and the South Island, or Te Waipounamu) are separated by Cook Strait. Besides the North and South Islands, the five largest inhabited islands are Stewart Island, Chatham Island, Great Barrier Island, d'Urville Island and Waiheke Island. There are many volcanoes and hot springs in North Island and glaciers and lakes in South Island. New Zealand has a temperate marine climate with the average temperature is about 20℃ (68℉) in summer and 10℃ (50℉) in winter. The annual average precipitation is 600-1500 mm.
(Photo: VCG)
Economy
GDP: NZ$ 293 billion
GDP per capita: NZ$ 59,000
Currency: New Zealand dollar (NZD)
New Zealand has an advanced market economy, ranked 16th in the 2018 Human Development Index and third in the 2018 Index of Economic Freedom. New Zealand is heavily dependent on international trade, particularly in agricultural products. Exports account for 24% of its output, making New Zealand vulnerable to international commodity prices and global economic slowdowns.
Politics
New Zealand is a constitutional monarchy with a parliamentary democracy, although its constitution is not codified. Elizabeth II is the Queen of New Zealand and thus the head of state. The Queen is represented by the governor-general, whom she appoints on the advice of the prime minister. The governor-general can exercise the Crown's prerogative powers, such as reviewing cases of injustice and making appointments of ministers, ambassadors and other key public officials, and in rare situations, the reserve powers (e.g. the power to dissolve parliament or refuse the royal assent of a bill into law). The powers of the monarch and the governor-general are limited by constitutional constraints and they cannot normally be exercised without the advice of ministers.
Governor-General: Patsy Reddy
Prime minister: Jacinda Ardern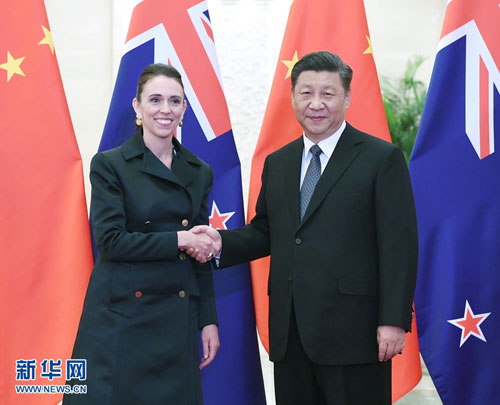 (Photo: Xinhua)
Bilateral relations between China and New Zealand
On December 22, 1972, China and New Zealand established diplomatic relations. Since then, driven by the high-level political mutual trust and mutually beneficial business ties, the comprehensive cooperative relationship for win-win outcome between these two countries continued to grow with a sound momentum.
On the morning of March 28, 2017 local time, Premier Li Keqiang and Prime Minister Bill English of New Zealand jointly visited the research and development center of Haier and Fisher & Paykel in Auckland. On August 7, Foreign Minister Wang Yi met with Foreign Minister Gerry Brownlee of New Zealand on the sideline of the East Asia Summit Foreign Ministers' Meeting in Manila, the Philippines.
On March 28, 2018, Vice Foreign Minister Zheng Zeguang and Secretary of Foreign Affairs and Trade Brook Barrington of New Zealand co-chaired the 21st political consultation between the two Foreign Ministries in Beijing. Both sides exchanged in-depth views on respective domestic situations and diplomatic policies, China-New Zealand relations as well as international and regional topics of common interest and agreed to make joint efforts to promote bilateral relations for healthy, stable and forward-looking development.
On March 15, 2019, President Xi Jinping sent a message of condolences to Governor-General Patsy Reddy of New Zealand over the shooting incidents in New Zealand's Christchurch City. In the message, Xi Jinping said that I was shocked to learn about the serious shooting incidents in Christchurch City, New Zealand, which have caused heavy casualties. On behalf of the Chinese government, the Chinese people and in my own name, I expressed deep sympathy with and sincere condolences to the New Zealand government and the New Zealand people, while expressing profound grief for the victims and wishing the injured an early recovery.