Malaysia
People's Daily
1562826883000
Facts
Official name: Persekutuan Malaysia

Area: 330,803 sq km

Capital: Kuala Lumpur

Seat of Government: Putrajaya
Population: 32,049,700 (2017 est.)

GDP: $1.068 trillion (2019 est.)

GDP per capita: $32,501 (2019 est.)
Official languages: Malaysian

Currency: Ringgit (RM)

Prime Minister: Mahathir Mohamad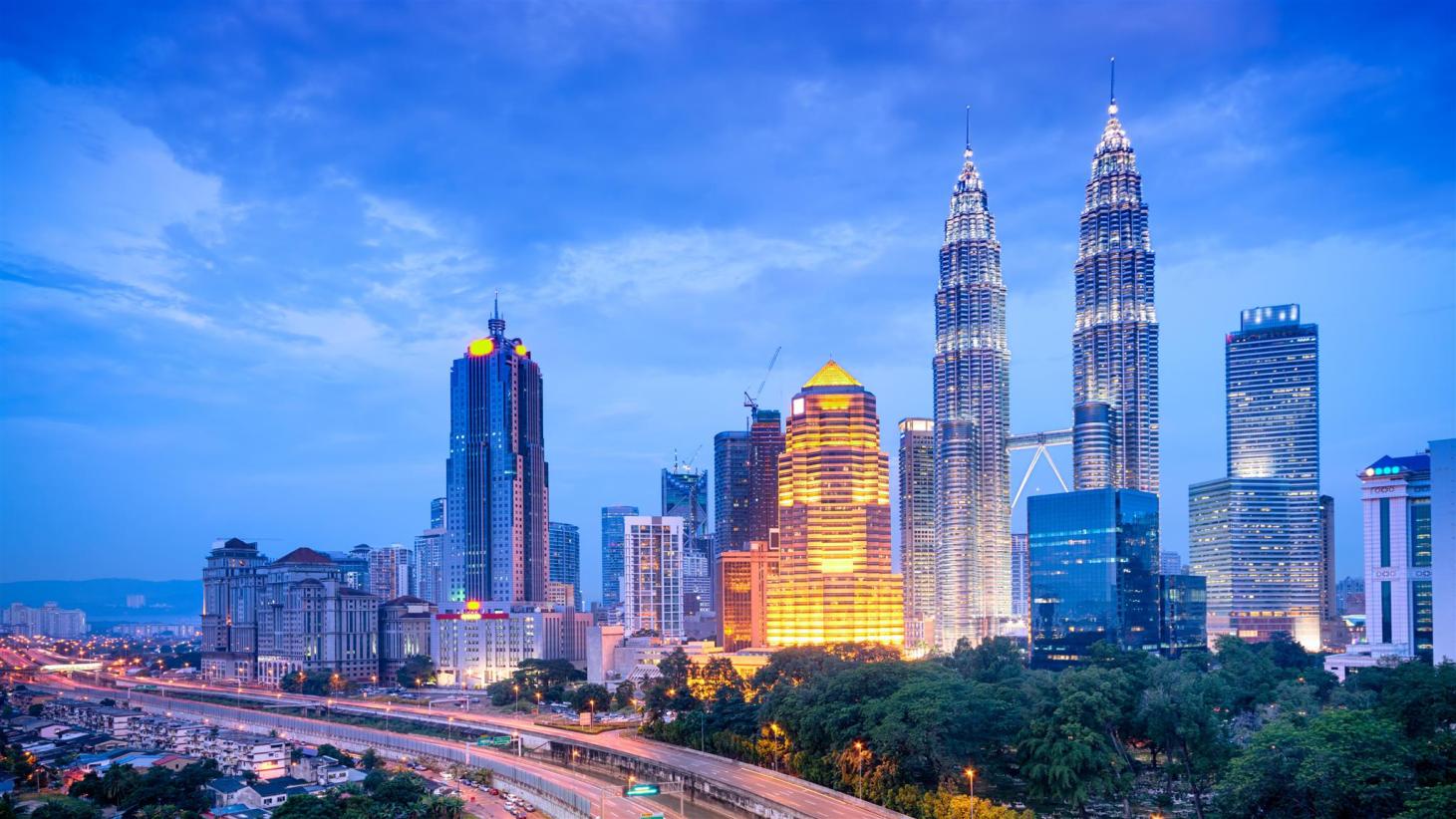 Geography

Malaysia has land borders with Thailand in West Malaysia, and Indonesia and Brunei in East Malaysia. It is linked to Singapore by a narrow causeway and a bridge. The country also has maritime boundaries with Vietnam and the Philippines. The land borders are defined in large part by geological features such as the Perlis River, the Golok River and the Pagalayan Canal. Some of the maritime boundaries are the subject of ongoing contention.
East Malaysia, on the island of Borneo, has a coastline of 2,607 km. It is divided between coastal regions, hills and valleys, and a mountainous interior. The highest mountain ranges form the border between Malaysia and Indonesia. Sarawak contains the Mulu Caves, the largest cave system in the world, in the Gunung Mulu National Park which is also a World Heritage Site.

Located near the equator, Malaysia's climate is categorized as equatorial, being hot and humid throughout the year. The average rainfall is 250 centimeters a year and the average temperature is 27 °C. Malaysia faces two monsoon winds seasons, the Southwest Monsoon from late May to September, and the Northeast Monsoon from October to March.

Malaysia is located on the Sunda shelf, and is tectonically inactive. The oldest rocks in the country date from 540 million years ago, and are mostly sedimentary. The most common form of rock is limestone, formed during the Paleozoic Era. Malaysia has the 29th longest coastline in the world. The two distinct parts of Malaysia, separated from each other by the South China Sea, share a largely similar landscape in that both West (Peninsular) and East Malaysia feature coastal plains rising into hills and mountains.

Economy

Malaysia is a relatively open state-oriented and newly industrialized market economy. The state plays a significant but declining role in guiding economic activity through macroeconomic plans. Malaysia has had one of the best economic records in Asia, with GDP growing an average 6.5 percent annually from 1957 to 2005. The economy of Malaysia in terms of gross domestic product (GDP) at purchasing power parity (PPP) in April 2019 was estimated to be $999.397 billion, the third largest in ASEAN and the 25th largest in the world.
International trade, facilitated by the shipping route in adjacent Strait of Malacca, and manufacturing are the key sectors. Malaysia is an exporter of natural and agricultural resources, and petroleum is a major export. Malaysia has once been the largest producer of tin, rubber and palm oil in the world. Manufacturing has a large influence in the country's economy, although Malaysia's economic structure has been moving away from it. Malaysia remains one of the world's largest producers of palm oil.

The overall infrastructure of Malaysia is one of the most developed in Asia and ranked 8th in Asia and 25th in the world. Malaysia is ranked 19th in the world for its quality roads, quality of port infrastructure and quality of air transport infrastructure but ranked 39th in quality of electricity supply. Its telecommunications network is second only to Singapore's in Southeast Asia, with 4.7 million fixed-line subscribers and more than 30 million cellular subscribers.

Malaysia's energy infrastructure sector is largely dominated by Tenaga Nasional, the largest electric utility company in Southeast Asia, with over RM99.03 billion ($dx.zz) of assets. Malaysia's road network is one of the most comprehensive in Asia and covers a total of 144,403 kilometers. Malaysia has 118 airports, of which 38 are paved. The national airline is Malaysia Airlines, providing international and domestic air services.

Education

The education system features a non-compulsory kindergarten education followed by six years of compulsory primary education, and five years of optional secondary education. Schools in the primary education system are divided into two categories: national primary schools, which teach in Malay, and vernacular schools, which teach in Chinese or Tamil. Secondary education is conducted for five years. In the final year of secondary education, students sit for the Malaysian Certificate of Education examination.
Since the introduction of the matriculation program in 1999, students who completed the 12-month program in matriculation colleges can enroll in local universities.

Media

Malaysia's main newspapers are owned by the government and political parties in the ruling coalition, although some major opposition parties also have their own, which are openly sold alongside regular newspapers. A divide exists between the media in the two halves of the country. Peninsular-based media gives low priority to news from the East, and often treats the eastern states as colonies of the Peninsula. The media have been blamed for increasing tension between Indonesia and Malaysia, and giving Malaysians a bad image of Indonesians. The country has Malay, English, Chinese, and Tamil dailies.
Since conventional media is so tightly controlled by the government, Malaysia has a lively alternative media scene, characterized by such news portals as Malaysiakini and The Malaysian Insider which take advantage of the government's pledge not to censor the Internet despite its stranglehold on most mass media outlets.

Health

Malaysia is classified by The World Bank as an upper middle income country and is attempting to achieve high-income status by 2020 and to move further up the value-added production chain by attracting investments in high technology, knowledge-based industries and services. In 2016, the neonatal mortality rate for Malaysia was recorded at 4.4 deaths per 1,000 live births. Between 1967 and 2016, neonatal mortality rate of Malaysia was has shown a decline at a moderating rate to shrink from 16.6 deaths per 1,000 live births in 1967 to 4.1 deaths per 1,000 live births in 2016.
In the year 2016, global average of life expectancy at birth for both sexes was 72.0 years. Life expectancy at birth for Malaysia in the year 2016 for both sexes was 75.3 years. Japan has the highest life expectancy at birth for both sexes in the year 2016 which is 84.2.

In Malaysia, mass vaccination is practiced in public schools. The vaccines may be administered by a school nurse or a team of other medical staff from outside the school. All the children in a given school year are vaccinated as a cohort.

Bilateral ties

Malaysia became the first ASEAN country to establish diplomatic ties with China on May 31, 1974.
The bilateral ties have developed with the partnership between the two countries remaining constant over the years thanks to their adherence to the principle of non-interference in each other's internal affairs and striving to be good neighbors.

Bilateral relations and cooperation between China and Malaysia have been developing fast in recent years. China has been Malaysia's largest trading partner since 2009, and total trade volume reached a record high of $108.6 billion in 2018. China has also been Malaysia's largest source of foreign direct investment in manufacturing for the past three years.

Chinese tourists who visited Malaysia in 2018 increased by 29 percent, achieving a record of 2.94 million visitors, surpassing 2.28 million visitors in the entire of 2017.

The value of bilateral trade reached a record high of $108.6 billion in 2018 while the number of tourist arrivals from China to Malaysia increased by nearly 30 percent to just short of 3 million.

China has been Malaysia's largest trading partner for 10 consecutive years as of 2018, and will most likely remain as the largest foreign investor in Malaysia's manufacturing sector for the third consecutive year.