Armenia
People's Daily
1560234523000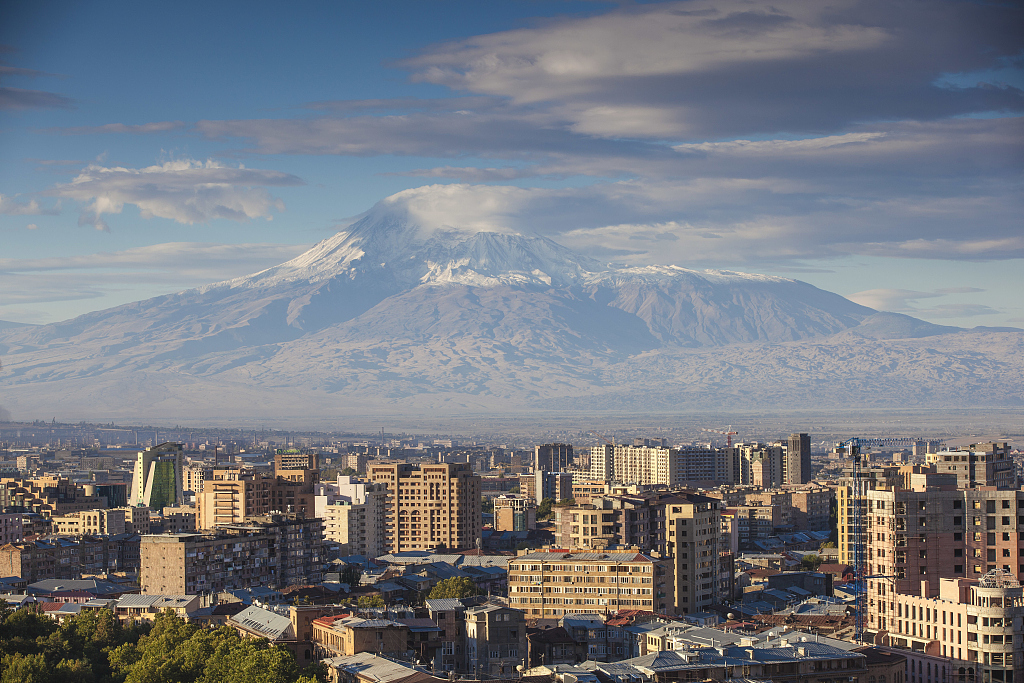 Republic of Armenia
Armenia, officially the Republic of Armenia, is a landlocked country in the South Caucasus region of Eurasia.
Located in Western Asia on the Armenian Highlands, it is bordered by Turkey to the west, Georgia to the north, Azerbaijan to the east, and Iran to the south.
Capital and largest city: Yerevan
Population: about 2.9692 million (2019)
Area: about 29.7 thousand square kilometers
Major languages: Armenian
Currency: Dram (AMD)
Economy
GDP:
$10.5 billion (2016)
$11.6 billion (2017)
GDP growth rate:
0.2 percent (2016)
7.5 percent (2017)
Head of State
President: Armen Sarkissian (elected as president in March, 2018 and took office on April 9)
Armenia is a member of the United Nations, Eurasian Economic Union, Commonwealth of Independent States and so on. On Nov 24, 2017, Armenia and the European Union signed a new Comprehensive and Enhanced Partnership Agreement.
China-Armenia Relations
People's Republic of China and the Republic of South Sudan formally established diplomatic relations in 1992.
The friendly relations between the two countries have grown steadily, with exchanges and cooperation in all areas yielding positive outcomes.
Cooperation in economy, trade and people-to-people exchanges continued to grow.
In recent years, bilateral trade between China and Armenia has continued to grow. In 2015, the total import and export volume between China and Armenia is $297 million with a year-on-year grow rate of 14.4 percent. In 2016, the total import and export volume is $369.8 million with a year-on-year grow rate of 24.6 percent. In 2017, the total import and export volume is $426.1 million with a year-on-year grow rate of 15.2 percent.
Some 8,500 Chinese citizens visited Armenia in 2018, according to national statistical committee of Armenia. In May 2019, Armenian government approved the proposal on mutual removal of visa requirements with China, which means that Armenian and Chinese citizens will be able to stay, travel or use the countries' territories for transit purposes for 90 days in 180-day period without a visa.
Armenia and China enjoy broad prospects of cooperation within the framework of the Belt and Road Initiative. Within the initiative, Armenia and China can enlarge cooperation in many fields, for example, agriculture, commodity trade, air transportation and building free trade zones. Armenia's small and medium-sized enterprises that import Chinese products and technologies will also be benefited, according to Mher Sahakyan, head of the "China-Eurasia" Council for Political and Strategic Research Foundation