Guinea
People's Daily app
1559834481000
Known as the "geological miracle", Guinea is rich in mineral resources. But as one of the least developed country in the world, it is still struggling to get shake off poverty.
Full Name: The Republic of Guinea
Area: 245,857 square kilometers
Population: 12.4 million (2016) The country has more than 20 ethnic groups. More than 40 percent of its population are Fulani, 30 percent are Malinke and 20 percent are Susu.
Life expectancy: 54.5 years on average (2012)
Languages: The official language is French. Other languages spoken include Susu, Malinke and Fulani or Pular.
Religion: About 85 percent of the population are Muslim, 5 percent Christian and others with indigenous religious beliefs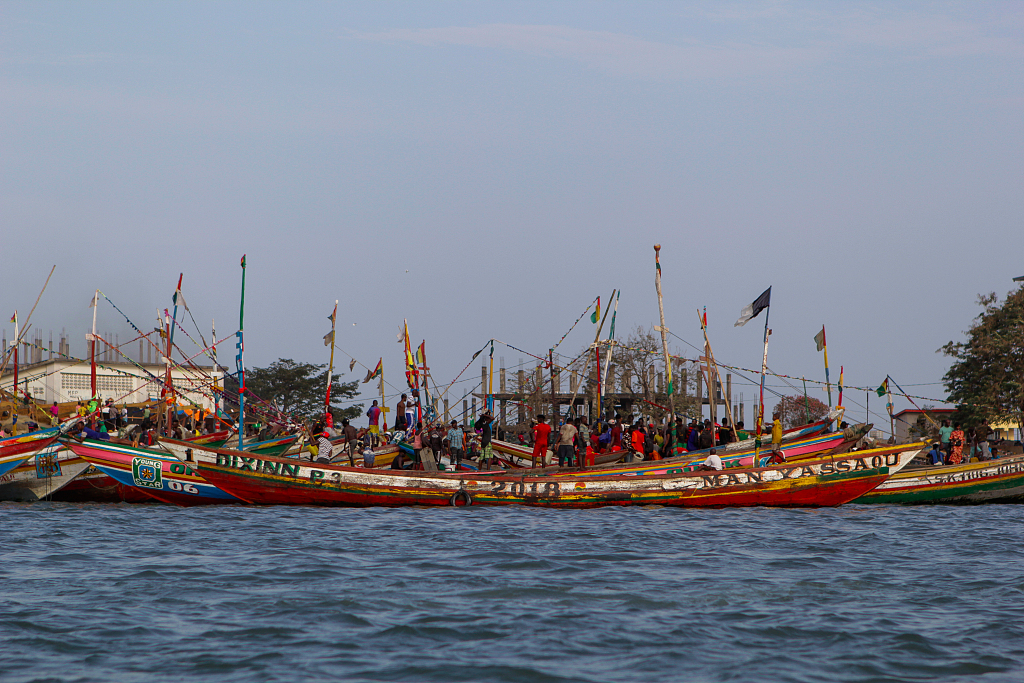 Conakry (Photo: VCG)
Capital: Conakry, with a population of 2.2 million
Head of State: President Alpha Condé, elected in 2010 and reelected in October 2015
Independence Day: October 2
Currency: Franc guinéen (GNF) $1≈7,014 GNF
Location: A west-coastal country in West Africa, bordering Guinea-Bissau, Senegal and Mali to the north, Cote d 'Ivoire to the east, Sierra Leone and Liberia to the south, and the Atlantic Ocean to the west, with a coastline of 352 kilometers.
Climate and Geography: It lies mostly between latitudes 7° and 13°N, and longitudes 7° and 15°W. The climate is tropical monsoon in coastal areas and tropical savanna in inland areas. The annual average temperature is 24-32℃.
Politics: Since Alpha Condé came to power, he has carried out a series of reforms in administrative, judicial and security institutions, and maintained political stability. The country started to enforce a multi-party system in April 1993. Now it has 124 parties, including Rassemblement du Peuple de Guinée, Union des Forces Démocratiques de Guinée, Union des Forces Républicaines and Union du Progrès et du Renouveau.
Economy: It is one of the least developed country in the world. The economy is dominated by agriculture and mining, the industrial base is weak, and it is not self-sufficient in food. Rich in natural resources, it is known as the "geological miracle," with large reserves of aluminum and iron ore. The proven reserves of aluminum ore rank first in the world. In addition, there are also reserves of diamonds, gold, copper, uranium, cobalt, lead, zinc and others. Its water resources are also abundant, with its highlands being home to sources of three three major rivers in West Africa, earning the nickname of the "water tower" of West Africa. The arable land is 6 million hectares, 80 percent of which remains uncultivated, with a great potential for agricultural development.
GDP: $9.2 billion (2017)
GDP per capita: $724 (2017)
Inflation rate: 8.9 percent (2017)
Relations with China:
China established diplomatic relations with the Republic of Guinea on October 4, 1959. Guinea was the first sub-Saharan African country to establish diplomatic relations with China.
Since then, China funded the building of many infrastructure projects in the country, including its radio and television center, hydrogen power station, theaters, presidential office building and hospitals.
In September 1960, the two sides signed a trade and payments agreement. In 2018, bilateral trade volume totaled $3.55 billion, with $2.2 billion of Guinean exports to China.
There are also cultural exchanges like art performances and kung fu training. China has also provided scholarship to Guineans since 1973. By the end of 2017, a total of 596 students studied in China with these scholarships.
Both sides have had close high-level governmental exchanges. The friendly relations continue to grow.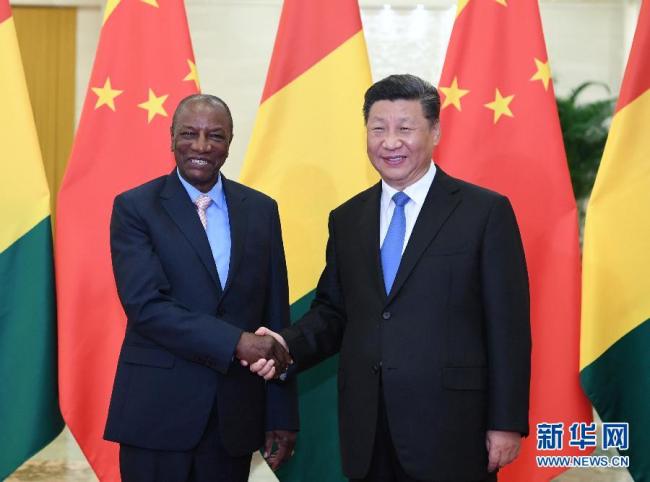 On September 1, 2018, Chinese President Xi Jinping met with visiting Guinean President Alpha Conde in Beijing.
Conde was in Beijing to attend the 2018 Beijing Summit of the Forum on China-Africa Cooperation (FOCAC).
Xi said the comprehensive strategic and cooperative partnership between the two countries developed rapidly in recent years, the Xinhua News Agency reported.
China cherishes traditional friendship between the two countries and is willing to work with Guinea in Belt and Road construction in a bid to deepen friendship and turn it into fruitful cooperation, Xi said.
The Chinese president also called on the two countries to maintain close communication and coordination on issues such as safeguarding the multilateral trade system and peace and security in Africa, so as to protect the common interests of the two countries and all developing countries as well.
Conde said Guinea values its participation in Belt and Road construction and hopes that the initiative could boost connectivity in energy and telecommunications, and contribute to the industrialization process of Africa.
It's not the first time the two presidents met.
On September 5, 2017, Xi met with Condé in Xiamen, East China's Fujian Province, who was in China for the Dialogue of Emerging Markets and Developing Countries.
During the meeting, Condé said Guinea was willing to enhance cooperation with China in fishery, mining and West African development and pledged closer dialogue and deeper cooperation in international affairs between the African Union and China.
After the meeting, the two leaders witnessed the signing of a series of bilateral cooperation documents.
Source: fmprc.gov.cn, Xinhua