Oriental Republic of Uruguay
People's Daily
1561605952000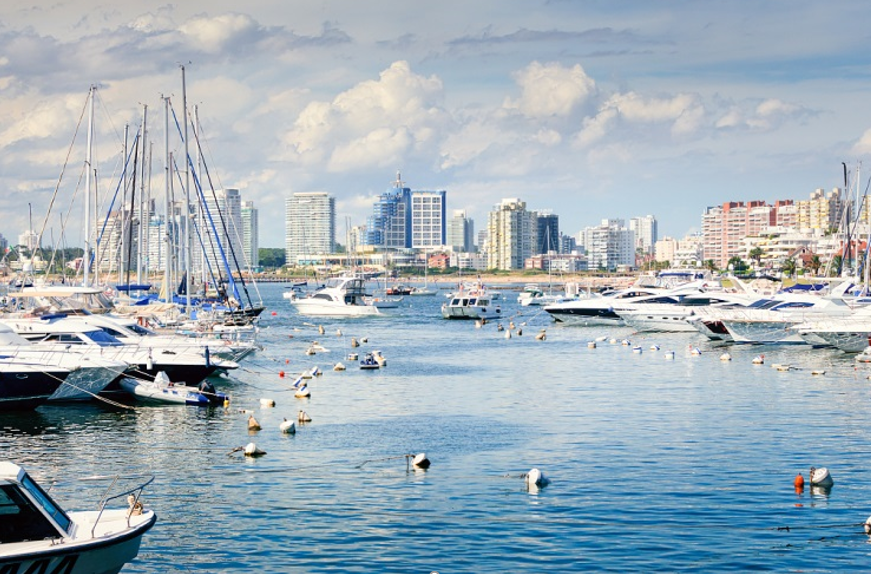 Punta Del Este in Uruguay (Photo: VCG)
Area: 176,200 square kilometers
Population (2017): 3.493 million
Capital: Montevideo
Official language: Spanish
Geography: It is a country in the southeastern region of South America. It borders Argentina to its west and Brazil to its north and east, with the Río de la Plata (River of Silver) to the south and the Atlantic Ocean to the southeast.
National Day: August 25
Economy
GDP Per capita (2018): $16,603
Growth rate (2018): 1.6%
Currency: Uruguayan peso (UYU)
Uruguay is at a medium level of development in Latin America. It has a small economy and single industrial structure, depending on exports. Agriculture and animal husbandry are more developed. Main productions and exports are meat, wool, aquatic products, leather and rice. The service industry accounts for a high proportion of the national economy, mainly in finance, tourism, logistics and transportation.
Politics
Head of state: Tabaré Ramón Vázquez Rosas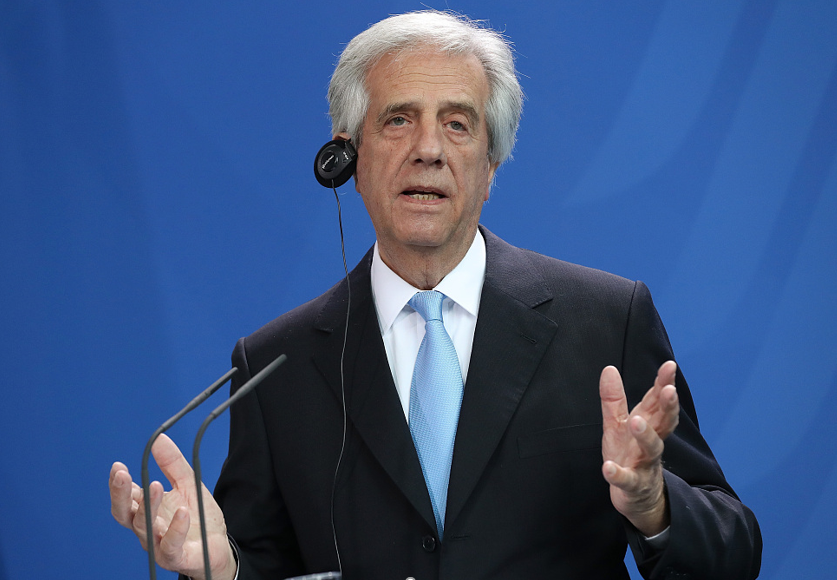 (Photo: VCG)
Tabaré Ramón Vázquez Rosas is a Uruguayan politician serving as the 41st and current President of Uruguay since 2015. He is a member of the leftist Broad Front coalition (Frente Amplio).
Uruguay is a representative democratic republic with a presidential system. The members of government are elected for a five-year term by a universal suffrage system.
China-Uruguay relations:
China and Bolivia established diplomatic relations in 1988. Relations between the two countries grew fast across the spectrum.
In May 2013, former President José Alberto Mujica Cordano paid a working visit to China, had talks with President Xi Jinping and met with NPC Chairman Zhang Dejiang. The two sides signed six cooperation documents in economy and trade, education, telecommunications and other areas.
On October 18, 2016, President Xi Jinping held talks at the Great Hall of the People with President Tabare Vazquez of Uruguay. The two heads of state decided to establish China-Uruguay strategic partnership based on mutual respect, equality and mutual benefit, so as to deepen and expand mutually beneficial and friendly cooperation in various fields between the two countries and jointly write a new chapter of bilateral relations.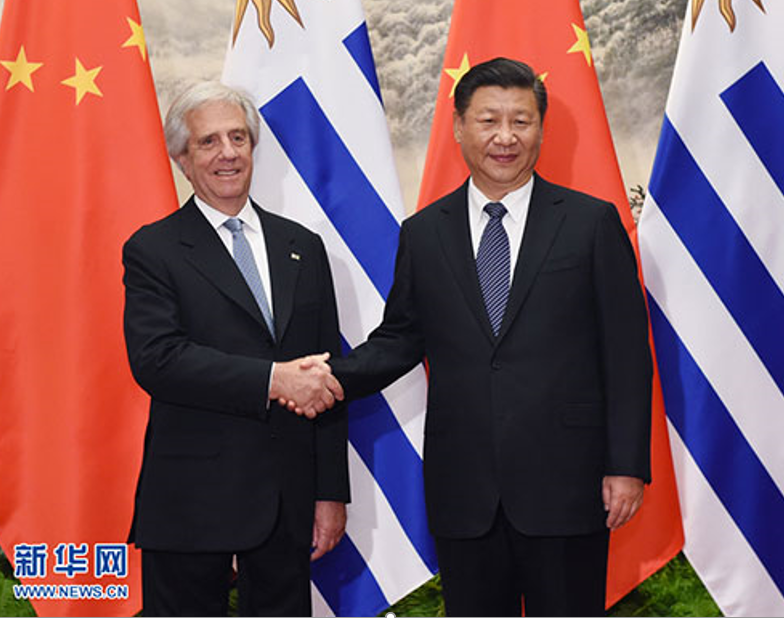 (Photo: Xinhua)
On October 18, 2018, Vice Foreign Minister Qin Gang held the sixth dialogue between China and Southern Common Market (MERCOSUR) with Deputy Foreign Minister Ariel Bergamino of Uruguay, the rotating presidency of MERCOSUR, Vice Foreign Minister Ronaldo Costa Filho of Brazil, Vice Foreign Minister Juan Angel Delgadillo of Paraguay, and Undersecretary of the Ministry of Foreign Affairs and Worship Javier Arana of Argentina in Montevideo, the capital of Uruguay.
On April 29, 2019, State Councilor and Foreign Minister Wang Yi met in Beijing with Foreign Minister Rodolfo Nin Novoa of Uruguay, who came to China for the second Belt and Road Forum for International Cooperation (BRF).