Champagne salute to students' graduation and teacher's spirit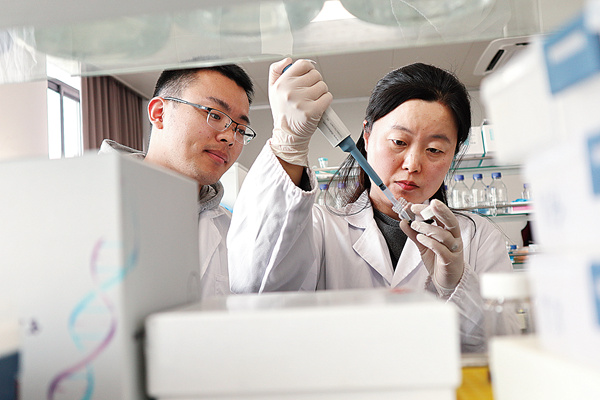 No haste, no waste in this scientist's laboratory with infinite possibilities.
As graduation time approaches, Zhang Xin rearranges her shelves to make room for more empty Champagne bottles. "To me, each empty bottle is full of memories," says Zhang, adding that 10 such bottles adorn the shelves in her office.
A leading interdisciplinary researcher in China, Zhang is also an academic supervisor to master's and doctorate students. She is the deputy director and principal investigator of the High Magnetic Field Laboratory at Hefei Institutes of Physical Science, Chinese Academy of Sciences.
"After master's and doctorate students finish their dissertation and pass the defense, we open a bottle of Champagne for each of them to celebrate," says Zhang. "After we drink from it, they sign their name on the bottle and put the date they graduated in to mark the wonderful time they have spent in our lab," says Zhang, admiring a bottle left by her first PhD student in 2016.
Zhang, who was born in 1979, studied medical science at the Beijing Medical University, which later became part of Peking University in 2000, and went to study at the Indiana University in the United States in 2001.
She has been focusing on research involving magnetic fields and how to use them to improve human health.
After completing her PhD, she did post-doctoral work at the Harvard Medical School until 2012. Since then she has been working at the CAS institute based in Hefei, capital of East China's Anhui province.
The institute has state-of-the-art research facilities, and using these Zhang's team has achieved many breakthroughs. For example, the team concluded that healthy mice are safe in environments having magnetic fields of up to 30 tesla-a unit to measure magnetic flux density. The earlier known safe upper limit was 16 tesla.
The results proved very important in the development of ultra-high field magnetic resonance imaging, or MRI, equipment, which is widely used in hospitals.
Diagnosing different diseases using MRI requires various magnetic flux densities, but scientists need to first verify the safe upper limit by exposing animals to different magnetic fields in experiments, she says.
Zhang's team also observed for the first time that the orientation and morphology of mitotic spindles-a structure that separates chromosomes during mitosis (cell division)-can be changed using a ultra-high magnetic field. This finding is also helping in cancer research.
Yu Biao, one of Zhang's PhD students, says the supervisor's office seemingly has a magical power to solve problems and calm nerves. Yang Xingxing, another PhD student, says Zhang has always been the first person to open the door of the laboratory in the morning.
Calligraphy art work done by her father-in-law adorns the walls in Zhang's office. One of them reads: "What we know is limited, while what we don't know is infinite." Another piece says: "Haste makes waste."
Zhang strives to avoid any haste, while maximizing the time she can spend at work.
Zhang notes that there are fewer women than men in research institutes. "For example, about 20 percent of scientists at the associate professor level in our institute are women," the professor says. "At my level, it's less than 10 percent."
She hopes more women will break the mold and do what they like in life, rather than playing traditional roles that were expected of them in the past. She regrets that the society often takes it for granted that women should spend more time caring for their families.
One of Zhang's students mentioned in the acknowledgments section of her dissertation that Zhang was a role model for her, balancing her career and family life well.
"I try to take all the help I can get," Zhang says, noting that she gets a lot of help from her parents-in-law.
Her husband, himself a scientist, too, spends as much time as possible with their children, Zhang says. On second thoughts, she says that the cooperation she receives from her husband should not be called "help". It is just what being a father entails. And she wants more fathers to do their bit.